Impact of Courier Sector on the Economy
As Nigerian economy is yielding to the change occasioned by the redefinition of the world economy as a result of globalization forces, the courier sector in Nigeria is assuming a different character and shape in the discharge of its primary functions.
As geographical boundaries are shrinking, globalization increases commerce and brings about heightened need for information and communication. The development also witnessed a lot of foreign direct investments into Nigeria.
Thanks also to the relative peace in the country promoted by democracy and civil rule. These foreign companies and local ones depend on the courier sector for solution and logistics needs.
They depend on express companies for their day-to-day needs for movement of time sensitive documents and packages. Some of these companies include banks and financial institutions, manufacturing sector, Information and Communication Technology sector, oil and gas industry, aviation and shipping services and media & publishing companies.
The courier industry has remarkably helped businesses to conduct their operations better and cheaper too with their fast delivery. The sector has increased productivity as it enables companies to organize production more efficiently. Spare parts are stocked and delivered based on actual need rather than on projections. Production shut downs and idle periods are therefore minimized.
The express companies have also helped to provide full logistics support to many organizations and made such organizations to concentrate on their own key competencies.
They offer such services such as internal mail management, warehousing, freight forwarding and haulage in addition to their express package movement.
It is often said that goods are never produced unit they get to the end users; the courier sector has brought a lot of innovations in the efficiency of the transportation sector introducing such services as unaccompanied shipments on commercial airlines, time definite delivery and overnight deliveries.
With the number of courier companies in the upswing, by the latest count, two hundred and thirty four courier companies are fully accredited by the Courier Regulatory Department of the Nigerian Postal Service to do business in Nigeria, at least 5000 people are directly or indirectly engaged in the sector. This to some extent has reduced the number of applicants in the labour market.
The extent of training and level of expertise that has been acquired and assimilated by Nigerians since the entry of foreign players into the Nigerian market in the 1970's has added colour and impetus to the evolution of the modern day courier in Nigeria.
With competition in the system, global best practices have therefore become the target of most of the courier companies and this is healthy to the economy.
The total investment in the courier sector in Nigeria at present is said to be N10 billion but the sector has given signs that it is a high growth sector capable of equaling the GSM feat and that given a favourable environment to operate, is capable of attracting more investments into the economy. Liberalization will no doubt kick-start a fierce competition in the industry and government will generate a lot of revenue to the economy.
Cloud Market Poised for Adoption in Nigeria
COVID-19 has exposed Nigeria's market to the advantages that cloud can offer a business, and there is a shift in mindset to embrace the cloud operating model (including from on-premise to colocation), with security now front-of-mind for organisations and businesses.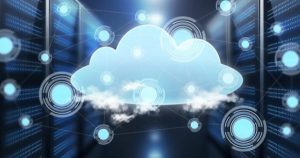 This is according to Laurel Onumonu, AGM & Head Cloud Business Unit at Lagos-based Cyberspace Limited.
Onumonu spoke during VMworld 2020, hosted recently and virtually by VMware, and said Nigeria's cloud landscape is opening up and gaining momentum, with more interest from businesses in leveraging the technology.
VMware executives said from a broad market perspective, while the overall response to cloud services and adoption does depend on the size of the business and region, the general objective is to become cloud ready.
At VMworld 2020, the company unveiled Virtual Cloud Network innovations that it believes will help customers create a modern network that better supports current and future business initiatives.
"With advancements across the VMware networking and security portfolio, customers will be able to more effectively manage the rapid shift to remote work, deliver traditional and modern applications faster and more securely, and reduce the cost and complexity of connecting and protecting the distributed enterprise," the company added.
According to VMware businesses today, and the IT and application development teams supporting them, are racing to adapt to a new normal. Application architectures are more modern and cloud native; on premises datacentres are extending to include multi-cloud and edge compute environments; and the work environment is no longer a single campus or branch, but rather anywhere an employee can connect to the Internet.
This new reality introduces complexity that the network of the past 20 years was not designed to address.
"Customers tell us they want the same level of automation they have in the public cloud across their entire environment. But while they can automate some parts of their network, other parts such as firewalls and load balancers still require manual tickets for provisioning. That's why partial automation is an oxymoron; it's a half-built bridge that does nothing to get customers to where they want to be," said Rajiv Ramaswami, chief operating officer, products and cloud services, VMware.
"The VMware Virtual Cloud Network delivers the automation and economics of the public cloud across every element of the network and spanning the entire distributed enterprise at a time when agility and cost matter more than ever."
VMware will deliver new Virtual Cloud Network innovations across three areas – automation that enables the public cloud experience; modern application connectivity and security services; and solutions that re-imagine what's possible in network security.
The company also announced Project Monterey—a technology preview focused on evolving its architecture for the datacentre, cloud and edge to address the changing requirements of next-generation applications, including AI, machine learning and 5G applications.
VMware is also announcing that it is collaborating with ecosystem partners to deliver solutions based on Project Monterey including Intel, NVIDIA and Pensando Systems and system companies Dell Technologies, Hewlett Packard Enterprise(HPE)and Lenovo.
"Organisations are introducing increasingly sophisticated applications from cloud-native to machine learning to streaming apps that are distributed and data intensive," said Ramaswami. "We're announcing Project Monterey to help customers address the shifting requirements of next-gen apps. By re-imagining the architecture of the datacentre, cloud and edge, we expect to offer customers the freedom to run these apps in the best environment.
According to the Cloud in Africa 2020 Report, released in early September by World Wide Worx, in partnership with F5, Dell Technologies, Digicloud Africa, and Intel, COVID-19 has pushed cloud computing to the front of decision-makers minds.
The study maps out latest cloud trends across continent, including South Africa, Nigeria, Kenya, Zambia, Zimbabwe, Namibia, Botswana and Malawi.
It showed that 91% of surveyed respondents deemed cloud computing to be "important" in helping with business' response to the crisis.
Furthermore, eight out of ten respondents (80%) believe that cloud computing has made a significant contribution to governments' efforts in dealing with the pandemic.
The most common uses by governments were remote working (69%), public communications (55%), and crisis coordination (50%).
RexPay Drives Advancement in E-commerce and Online Payments
At the turn of every new decade, there is always a groundbreaking technology that comes to define that era. With the creation of social media platforms like Facebook and Twitter in the 2000s, our world was never going to be the same again.
The addition of Instagram, Snapchat, Tinder, TikTok and the wholesale embracement of WhatsApp as a primary platform for communication and business in the 2010s meant that so many barriers in business had finally been removed, especially in developing countries, and with specific emphasis on Nigeria.
Anyone who might have visited Lagos, the economic capital of Nigeria, some ten years ago, would have noticed how retailers were doing everything to scale the hurdles that confronted them daily.
Overpriced shops, outrageous advertising budgets and several regulatory considerations that seemed to stifle their chances at business success were short-circuited or completely bypassed by the innovative spirit of these traders. The trunk and bonnets of cars became pseudo-shops for displaying their wares instead of renting shops that cost more than any profit they could ever have hoped to make. For marketing, word-of-mouth advertising came in handy. Anything that stood in their way of survival had to give way somehow.
As social media became commonplace and people began exploring all the possibilities that lay therein, these retailers were not left out too. They soon discovered that they did not actually need to display their wares on their cars anymore, as social media surely offered a better alternative for reaching even more people, and without the usual stress associated with screaming at the top of their voices on streets and in marketplaces.
By just posting their items on social media, they could get people to indicate interest in those items and then close out the sales offline or via DMs.
But in all of these, there seemed to be a missing piece in the online sales puzzle – the issue of payments. While some retailers made do with transfers, a number of them still insisted on collecting cash from their customers because of the perceived lack of trust with that option of payment.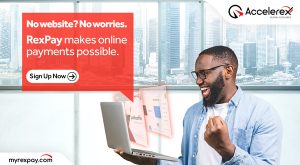 RexPay, an online payment gateway by Global Accelerex, has just been launched to fix that problem. It is a platform that helps social media sellers receive payments in a fast, convenient and secure manner. The interesting thing is that they do not need to own a website for this to happen.
Customers also get to enjoy the freedom to choose between multiple payment options – card, account transfers (internet banking), USSD or QR. This means people can go with their preferred mode of payment and pay seamlessly from the comfort of their homes or offices rather than being boxed into one option only.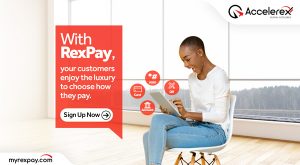 Custom-built with the sole objective of bridging the gap between online businesses and their customers, any seller can easily sign up to the RexPay platform in less than five minutes, then begin to receive payments immediately. This is a significant departure from the practice of keeping sellers waiting till the next day before their accounts can be activated.
The safety of the platform guarantees peace of mind to customers who choose to pay with their cards, because there is no chance that their card details will ever be compromised. When considered alongside its quick sign-up process and ease of use, signing up to RexPay becomes a no-brainer for entrepreneurs who intend to scale their businesses in the shortest possible time.
For small businesses that have not grown to the point of hiring accountants, RexPay assists them with easy financial reporting, as all their payments can be simply viewed either on their mobile or desktop devices. With this in place, it is easier for sellers to gain business insight from the reporting tool, which will further help them with planning and forecasting. This, together with the other highlighted features, makes the payment product every online retailer's best friend.
Big businesses like airlines, e-commerce platforms, revenue-collecting agencies, power distribution companies; educational institutions like schools and vocational centers; and religious organizations like churches and mosques are not left out. End users can easily buy tickets online, settle bills, pay taxes and fees, and also make donations to worthy causes, using this payment gateway.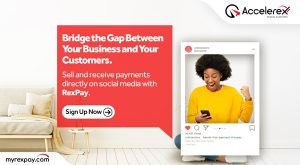 With RexPay, online sales have come full cycle. A new vista of opportunities is now within reach for online businesses who were hitherto faced with limitations around receiving payments and balancing of books. This new payment gateway by Global Accelerex takes away all that trouble and gives them the liberty to focus on what is most important: scaling their businesses in this rapidly evolving times.
For more information, visit www.myrexpay.com. Sign up here. To learn more about Global Accelerex, visit www.globalaccelerex.com.
Stanbic IBTC Supports Educational Institutions with School Loans
Stanbic IBTC Bank PLC, a subsidiary of Stanbic IBTC Holdings PLC, has introduced a School Loan product for private primary, secondary and tertiary institutions, to enable them meet their short-term financial requirements.
After several months of physical and economic disruption due to the COVID-19 pandemic, schools are gearing up for proper resumption to contribute meaningfully towards national development continually. One of the apparent effects of the pandemic on the educational sector is the inadequacy of funds.
The Stanbic IBTC School loan is available to privately owned schools for the establishment, expansion or upgrade of primary and specialised facilities. It can also be used for short term working capital requirements.
Remy Osuagwu, Executive Director, Personal and Business Banking, Stanbic IBTC Bank PLC, said "The School loan product is designed to support institutions which have been in operation for at least five years. We understand the current financial situation of the country, especially the effect of the pandemic, which has disrupted plans and processes."
"Stanbic IBTC will continue to provide solutions aimed at mitigating the effect of the pandemic on both individuals and organisations," he added.
Remy further reiterated that the School loan product is not restricted to the pandemic period as institutions can always apply for it. The tenor of the loan ranges from 90 days to 48 months, and the minimum applicable loan is N1 million.
For further information, visit the Stanbic IBTC Bank website or any of the Bank's branches nationwide. Terms and Conditions apply.