Lagos Lauds SAP, Tips Africa Code Week to Bridge Digital Skills Gap
The Lagos State Government has identified 'Africa Code Week' (ACW), a continent-wide initiative to spark the interest of African children, teenagers and young adults in software coding, as a digitally revolutionary approach to get the youths acquainted with the required skills set to face future workplace/ technological developments.
Spearheaded by SAP as part of its social investments to drive sustainable growth in Africa, Africa Code Week (ACW) is the story of hundreds of schools, teachers, ministers, community centres, code clubs, NGOs, businesses and non-profits getting together to give birth to the largest digital literacy initiative ever organized on the African continent.
Speaking at the week-long AfricaCodeWeek 2016 in Lagos, Mr. Femi Odubiyi, Commissioner, Lagos State Ministry of Science and Technology, said that with SAP's long-term goal through ACW, to empower over 200,000 teachers and positively impacting the lives of five million children and youth within the next 10 years, the programme is appropriate and critical to the State's plan to empower the youths.
Odubiyi said, "One of the things that drive this government is the action to grow and empower our youths. One of the areas through which we can articulate that, is through the information and communication technologies (ICTs). We are in the era of digital revolution. This government wants to ensure that we do not miss out of that revolution; we want to empower our future leaders who are the youths of today.
"We want to help them to develop their creativity and be able to think out of the box. Today they are using coding tools; tomorrow they will be empowered to do more than that, by developing programs on e-health, security apparatuses and so forth. What is been imbedded in them today are skills required for the future."
In reflecting on the ICT/coding curriculum for Schools in the State, the Commissioner said that ICT is consistently changing the environment; hence the State is moving with the trends. "This is the principal reason the State adopts programmes like Africa Code Week. We want to enhance the capacity of our teachers to be relevant".
To the participating teachers the Commissioner had the following message: "The teachers are the first beneficiaries; thus, they are being empowered. What they are doing now is to get the required skills to develop the future cognitive thinkers. They are trail blazers who are going to lead the digital revolution in Lagos State".
Also speaking at the event was Mr. Olu Familusi, head, Business Operations, SAP West Africa, who said that with businesses increasingly digital and globally connected, coding is the new language for individual and economic growth.
With the distinction of being the fastest growing digital consumer market on the planet, Africa continues to quickly embrace new technology and digital trends as estimated. For example, there will be 360 million Smart Phone users in Africa by 2025, there are 100 million African people active on Facebook every month, 40% of African businesses are in the planning stages of a big data project and 31% of all Africans live within 25kms of fibre node.
To this end, Familusi said, "We have to emphasis 'Digitization, Youth and the Skills Gap in Africa. Today's millennial generations are truly digital natives. Over the next 25 years, it is estimated that Africa's working-age population will double to one billion, exceeding that of China and India, with 122 million people to be added to the workforce by 2020. It is also estimated that less than one percent of African children currently leave school with basic coding skills.
"Moving forward, coding skills will almost become like the math and English. That is what we see and we are trying to address same. At this point in time in Africa, less than one percent (less 1%) of school leavers has this skill. So we have this metric around people who are coming on board, huge workforce, but how prepared are they to face the future."
Africa Code Week (ACW) is aligned with SAP's skills development program launched in 2013. Investing in IT skills for young people is critical to SAP's commitment to build sustainable growth in Africa. SAP has launched successful IT skills development programs around the world touching the lives of children and youth at various phases of education from primary to graduate. ACW builds on the success of government driven Code Week across the EU, which SAP strongly supports as a private sector partner.
Speaking on the significance of ACW, Mr. Olajide Ajayi, Nigeria's Coordinator of Africa Code Week, emphasized that by sparking interest in creative computing through hands-on, playful learning,
Africa Code Week simplifies the face of coding for the young generation.
"When it comes to accessing higher skills development, training thousands of teachers, parents and educators across 30 African countries and providing access to them online with courses beyond the actual event time allows to multiply efforts and impact."
Even the results recorded in 2015 speak for themselves. The 2015 edition went viral with over 89,000 youth introduced to coding across 17 countries in 10 days only (over 4 times the initial goal of training 20,000).
What makes ACW unique is that, by sparking interest in creative computing through hands-on, playful learning, Africa Code Week simplifies the face of coding for the young generation.
ACW is aimed at spreading digital literacy across the continent and start shaping tomorrow's skilled workforce for sustainable growth in Africa.
SAP already invests in Skills for Africa, which provides additional business and IT skills to recent university graduates.
ACW reinforces that commitment to graduates while extending it to primary and secondary students, creating a full lifecycle of skills support for young people in Africa.
FG Regrets Begging Musk, U.S. Billionaire for Ventilators
Federal Ministry of Finance, Budget and National Planning has deleted a tweet in which it pleaded with Elon Musk, American billionaire, for ventilators to treat the COVID-19 pandemic.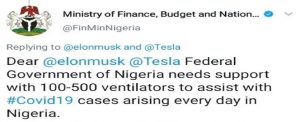 Mr. Yunusa Abdullahi, special adviser on Media and Communications to the minister, said in a statement that the tweet was not done with the permission of the minister.
The statement read; "An unauthorised post was made on the verified Twitter handle of the Federal Ministry of Finance, Budget and National Planning. The fact of the post is regrettable because of which it is brought down.
"We have made sure our internal processes are strengthened that such doesn't happen again. The error is highly regrettable."
However, Mr. Bashir Ahmad, President's Personal Assistant on New Media, who also appealed to Musk for assistance, refused to delete his tweet and even re-tweeted similar pleas.
Buhari's aide tweeted, "Hello Elon, I woke up to this your tweet all over the timeline, in this period of worldwide emergency getting ventilators is pretty hard no matter how much money you get, and that's understandable! Nigeria, my dear country is in need. Kindly send 100s here, we really need them, thanks!"
COVID – 19: TGI Group Donates Food Items to Lagos Food Bank
Tropical General Investments Group has donated food items including rice, soya oil and seasoning cubes, as part of its efforts to support the Lagos state government in the fight against the COVID-19 pandemic.
At the presentation, TGI Group provided 200 bags of 50kg Big Bull Rice produced by its subsidiary – WACOT Rice Limited in Argungu, Kebbi State, 2500 cartons of Golden Terra Oil and 3000 cartons of Terra Seasoning Cubes, produced by subsidiaries West African Soy Industries Limited (WASIL) and West African Cubes Limited (WACUB), both located in Sagamu.
Corporate Communications Manager, TGI Group, Rafiat Raji, in her address during the presentation of items, stated "in view of the stay-at-home directive, it is clear that many Lagosians are facing one level of hardship or the other.
"Therefore, we understand that it is a collective responsibility to provide support for the less privileged among us, hence our contribution to the Lagos State food bank which will provide succour to at least 20,000 families".
Mr. Gbolahan Lawal, Commissioner for Agriculture – Lagos State, who received the items alongside the Special Adviser to the Lagos State Governor on Agriculture, Abisola Olusanya, on behalf of the state government noted that the donation was a welcome development.
He commended the efforts of TGI Group in its timely response to partner with the state government in its intervention to provide food for two hundred thousand households across three hundred and seventy-seven wards to cater for the most vulnerable and indigent within the state in this period.
"This will also add to what we have in mind in terms if supporting our people. Our target is to reach 200,000 homes across Lagos, and distribution is already ongoing in multiple locations" Lawal said.
The group reassured the state Government of their commitment to keep supporting the state and country on all fronts in order to flatten the curve of the Corona Virus pandemic.
Tropical General Investments (TGI) Group is an international investment and holding company with diversified interests. Its corporate identity is based on respect for people, its communities and the natural environment as it continuously seeks to support its communities during and beyond challenging times.
LASEPA Recants, Unseals Jumia Warehouse
The Lagos State Environmental Protection Agency (LASEPA) has reopened Jumia's warehouse located at Surulere industrial road, off Allen, Ikeja.
It would be called that on Wednesday agents from LASEPA sealed off Jumia warehouse and other offices for contravening the lockdown order by the Federal government.
But in what seems like a change of mind, the agency on Thursday reopened the warehouse, citing that the online marketing store has been classified as an 'Essential supplier' in the fight to contain the novel coronavirus.
Putting up the update on its Twitter handle @LasepaInfo, the agency said the warehouse was opened "having established that Jumia can be classified as an 'Essential supplier' as contained in the Infectious Disease Regulation signed by the Executive Governor of Lagos State, Mr. Babajide Sanwo-Olu on the 27th March 2020."
The initial sealing of the popular online retail store had elicited condemnation from social media users, who lamented why the Jumia outlet should be closed down at a time Lagos residents have been asked to stay at home to stop the spread of the coronavirus pandemic.
Since the outbreak of COVID-19 pandemic, Jumia Nigeria has demonstrated responsible corporate citizenship.
The company recently announced its partnership with Lagos State Government on #MyHandsAreSafe campaign, as an information tool to curb further spread of COVID-19.
They also announced the implementation of Contactless Delivery as safety measure for customers to further enhance social distancing measures.
In response to the pandemic, Jumia announced a partnership deal with Reckitt Benckiser to enable customers have access to hygiene products at affordable prices during the lockdown.