LASG, Tech Co-create Solutions for Smart City Agenda
In fulfillment of Lagos State's promise to engage with the technology ecosystem in co-creating solutions for its Smart City agenda, Art of Technology 1.0, themed 'Bridging The Gap' was held on the 5th and 6th of December at the Lagos Oriental Hotel.
Sponsored by the Lagos State Government, through the office of the Special Adviser on Innovation and Technology and the Eko Innovation Centre, the event attracted over 1,500 people drawn from government, tech, finance and academics.
According to the Curator of Art of Technology Lagos 1.0 and Founder of Eko Innovation Centre, Mr. Victor Gbenga Afolabi, the two-day summit was building on the earlier engagement of government and the tech community during the design thinking parley which saw the co-creation of solutions in the areas of access, infrastructure, talent and capital culminating in the Lagos Innovation Master plan.
He said, "For the first time in this country, whether state, sub-regional, or national, we are having a government committed to an innovation master plan. It is part-product of the co-creation session. It is called Lagos State Innovation Master Plan; it tells us where we are going, where we need to be and how we can achieve more."
The Lagos Innovation Master plan was unveiled by Mr. Babajide Sanwo-Olu, Governor of Lagos State, in the company of Dr. Obafemi Hamzat, Deputy Governor, Lagos State; Mr. Hakeem Popoola Fahm, Commissioner of Science and Technology, Lagos State and Mr. Tunbosun Alake, Special Adviser, Innovation and Technology to the Governor of Lagos State.
In addition, the Governor announced a tech fund of N250 million to be managed by the Lagos State Science, Research and Innovation Council (LASRIC) headed by the Vice-Chancellor of the University of Lagos, Prof. Oluwatoyin Ogundipe. This will support research and development of tech-focused solutions across the six pillars of his administration's development agenda. LASRIC will also invest in research and development in the areas of Artificial Intelligence (AI), robotics, health informatics and green energy.
Buoyed by its commitment to deepening collaboration between government and the tech ecospace, Governor Babajide Sanwo-Olu also launched the Open Government Initiative, and Lagos State Solution Hub. It is expected that these initiatives will further drive synergy between policymakers in the public sector and innovators in the private sector.
Commenting on the Lagos State Solutions Hub, he said, "Democratising access to state actors is a critical strategy of this government as such, the Lagos State Solutions Hub serves as the first point of call for innovators, solutions providers and innovators on proposing their solutions to the state. It will enable us to evaluate different solutions from you, our most important stakeholders. The website is LagosSolutionsHub.com."
On the Open Government Initiative, he stated: "Data Access is seen as critical for the building blocks of a solutions culture. Open data promotes inclusiveness, participation and more fit for purpose solutions. The Open Government initiative has kicked off and we will be communicating subsequent milestones with the public soon."
Andrew Nevin, Advisory Partner & Chief Economist, PwC made a case for Lagos becoming a major player in Nigeria's tech ecosystem given the growing number of Nigerian startups coming up with innovative solutions to societal problems during his keynote address.
Juliet Ehimuan, Country Director, Google Nigeria, also a keynote speaker, discussed how technology is being deployed to solve problems in education, transportation, health and business.
Kola Aina, Founder, Ventures Platform shared practical ways for government and tech to work together in his keynote address, 'The Enabling Role of Stakeholders in Innovation.' He posited that Lagos should focus on enabling market creating innovations and strengthening the ecosystem.
Amauche Emenari, Doctoral Researcher, M.I.T., looked at how humans can leverage on artificial intelligence to build better solutions to individual and societal challenges during his keynote address.
The highly interactive event also featured hard talk conversations as well as plenary and breakout sessions on tech & culture, building MVPs, consumer-centric products (not just apps), the future of work, funding mechanics and women in tech.
Mr. Tunbosun Alake, Special Adviser, Innovation and Technology to the Governor of Lagos State, launched Idea Hub, a mentorship platform designed to help innovators take their ideas from conception to actualisation.
He said, "The platform allows people to input their ideas, get matched with mentors to get their ideas validated for execution." He added: "The Idea Hub is supposed to professionalise your idea, structure it properly, so that you get a minimum viable product and then launch into the market."
Another high point of Art of Technology Lagos 1.0 was when StanLab claimed victory in the keenly contested maiden edition of Collaborate Lagos Pitch Competition. StanLab is a 3D virtual laboratory that leverages Virtual Reality (VR) and Augmented Reality (AR) to provide practical science education to schools without traditional science laboratories.
Mr. Job Oyebisi, CEO, StanLab said, "It was an awesome experience exhibiting our product and participating in the pitch competition. We had insightful feedback from judges and participants who came to know about our EdTech product. The highlight was the MoU from the Lagos State Government and the acceleration support from Eko Innovation Centre."
Commenting on the involvement of Eko Innovation Centre, Mr. Afolabi said, "Our emphasis is on localising technology to solve our problems. As part of our commitment to Collaborate Lagos, Eko Innovation Centre will offtake the winner, StanLab and accelerate them for government adoption."
He also expressed his satisfaction with the high turnout and quality of engagement recorded at Art of Technology Lagos 1.0. "AoTLagos is positioned to continue the engagement. We have to solve our problems ourselves, let's get to work now!"
MTN Launches 'Visitor SIM', Designed for Guests Coming into the Country
MTN Nigeria has announced the introduction of its new Visitor SIM specially designed for guests travelling into the country.
The Visitor SIM comes pre-loaded with an appealing package that includes local and international call and data bundles.
This package will enable people visiting from other countries to stay connected with their friends, family and business associates on MTN's super-fast network.
MTN VisitorSIMs are easy for inbound international visitors to acquire, activate and use, in addition to which they offer far better value than any roaming tariff.
Not available from any other operator, the service is poised to deliver convenience and the best-in-class customer experience in line with MTN's brand promise.
According to Adekunle Adebiyi, chief sales and distribution Officer, MTN Nigeria, "The new Visitor SIMs will ensure that before setting foot outside the airport, people visiting Nigeria can plug in, reconnect – to loved ones, associates, tools and information, and begin sharing their remarkable experiences, with no concern about roaming charges."
MTN Visitor SIMs are available in the arrival halls of international airports and other ports of entry.
They are valid for 14 days, which can be extended up to 30 days via MTN's self-service menus or USSD.
Nigeria COVID-19 Response: UNICEF, IHS Nigeria Collaborate to Contribute Medical Supplies
United Nations Children's Fund (UNICEF) received the delivery of 115,800 COVID-19 test kits to support the fight against the COVID-19 pandemic in Nigeria. These supplies were funded by IHS Nigeria, the Nigerian subsidiary of IHS Towers.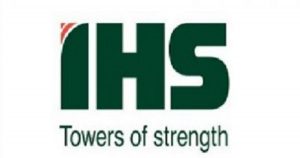 Testing remains the mainstay of the response led by the Presidential Task Force and Nigeria Centre for Disease Control (NCDC) and the first step towards diagnosing the infection. Tests enable health officials to understand the COVID-19 status of an individual and link that person to care, support and treatment while contributing to the protection of families and communities.
"Testing remains a core strategy of Nigeria's response to COVID-19. This is critical for understanding the burden of the disease on our population and targeting our response activities accordingly. The primary goal of the Nigerian Government is to control the spread of this disease.
"This donation from IHS Nigeria through UNICEF will contribute to the national stockpile of test kits managed by NCDC, and support efforts of the growing network of accredited laboratories across the country for the testing of COVID-19. We are grateful for the continued support from UNICEF, IHS Towers and other partners." said Dr. Chikwe Ihekweazu, Director General, NCDC.
IHS Towers has been a strong and continuing partner of UNICEF. At the onset of the coronavirus in Nigeria in late February, IHS Nigeria provided funding to UNICEF to urgently procure essential supplies and equipment with which UNICEF supported the Government of Nigeria in its COVID-19 response.
"UNICEF is deeply appreciative of IHS Towers' commitment to being a partner in UNICEF's work in Nigeria. Once more, IHS has shown great generosity in supporting UNICEF's ongoing efforts to work closely with the Government of Nigeria in the fight against COVID-19.
"I am very delighted to receive this huge contribution from IHS Towers, the benefit of which will reach many more children and their families", said Peter Hawkins, UNICEF Country Representative.
"We are proud to have played an important role in supporting the Government and our communities where we operate to provide crucial tools needed to fight this pandemic. We understand this virus is here to stay for the foreseeable future, but are confident that with our support, and that of our other private sector colleagues, we are helping to manage and mitigate the impact of the virus in our country" said Mohamad Darwish, Chief Executive Officer of IHS Nigeria.
This recent support of essential tests makes IHS Towers the biggest private sector donor for UNICEF Nigeria's emergency response to the COVID-19 pandemic.
Coca-Cola, Red Cross Society Expand Fight Against COVID-19 In Nigeria
In a bid to support the fight against the Coronavirus disease, the International Federation of Red Cross and Red Crescent Societies (IFRC) along with its national society Nigerian Red Cross (NRC) has started the distribution of PPEs and risk communications efforts to the tune of N228 Million to support its COVID-19 interventions in Nigeria.
This is part of The Coca-Cola Foundation's $2.5million grant to the International Federation of Red Cross and Red Crescent Societies (IFRC) to support the COVID-19 pandemic within the West and Central Africa sub-regions.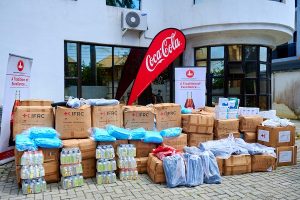 The grant, which leverages the long-standing partnership between The Coca-Cola Company and the International Federation of Red Cross and Red Crescent Societies (IFRC), seeks to support national efforts in the fight against the Coronavirus disease through the provision of essential medical supplies, personal protective equipment (PPE) and risk communications to impacted communities, healthcare personnel on the frontlines and treatment centres across the country.
Speaking on the donation, Yebeltal Getachew, managing director, Coca-Cola Nigeria Limited, explained, "The Coca-Cola System (Coca-Cola Nigeria, Nigeria Bottling Company and Chi Limited) remains committed to providing support to the communities we serve during these challenging times.
"By providing healthcare workers with much-needed PPEs, we are confident that this will go a long way in ensuring their safety as they remain on the frontlines of the fight against COVID-19.
"Coca-Cola is proud to support the Red Cross as we deliver on our purpose of making a difference across the world". 
Medical supplies being donated comprise N95 respirators, surgical masks, examination gloves, face shields, medical gowns, no-touch thermometers, disposable aprons, heavy-duty rubber gloves, rubber boots, basic masks, disposable gloves, and hand sanitizers.
Expressing his gratitude for the donation, Abubakar Kende, secretary-general for the Nigerian Red Cross Society explained, "We have identified the facilities in urgent need of these PPEs in consultation with NCDC and the Federal Ministry of Health and will subsequently be distributed to these centres.
"This will ensure that treatment centres across the country are properly equipped with necessary PPEs as we continue to fight the disease".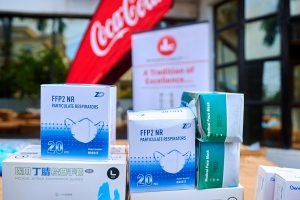 IFRC seeks to directly impact the lives of over 1.4 million people in Nigeria and across other countries in West and Central Africa under this partnership. For over a century, The Coca-Cola Company and the International Federation of Red Cross and Red Crescent Societies (IFRC) have sustained a rewarding partnership that has seen the rehabilitation and preservation of human lives across the world through the delivery of humanitarian aid and emergency response to communities affected by disasters.