Yakubu Gowon's community, Ngas in Plateau State, one of the ethnic groups in Nigeria has unveiled a website detailing the Ngas history, culture, religion, politics and economy.
www.ngas.com is a facility that has in store the rich cultural history and artifacts of the Ngas people, which also include their music, research works on the people and their general ways of life.
The Ngas people have been involved in brick-laying, carving, blacksmithing, among others.
The most prominent role they have played on the country's political scene was Gen. Yakubu Gowon's leadership which lasted for nine years.
From a very humble religious background (his parents being Christian missionaries in Hausaland); he grew up in Zaria – a detribalized Nigerian who pledged during the war that "to keep Nigeria one is a task that must be done."
Gowon applauded the brains behind the project for a job well done, adding it will afford the Ngas people the opportunity to showcase their culture to the world; and urged them to be computer literate so that they can pass their culture to generations yet unborn.
The former head of state said he will ensure that every Ngas person knows the website off-hand, and that a one-stop shop will be provided within the community to enable them access the website with just a click.
FG Supports R&D with N5bn in 2019
Prof. Elias Sulaiman Gungoro, Executive Secretary of Tertiary Education Trust Fund (TETFUND) has disclosed that the Federal Government released N5 billion last year to his agency to fund research.
He however, expressed hope that the grant will be increased to further enable it intensify on funding research.
Gungoro spoke on Tuesday at the signing ceremony of Memorandum of Understanding between the Federal Ministry of Science and Technology and the Tertiary Education Trust Fund (TETFUND) in Abuja. He also expressed hope that the MoU will help deepen participation of Nigerian researchers and achieve greater results.
In his remarks, Dr. Ogbonnaya Onu, Minister of Science and Technology, who expressed satisfaction with the MoU said that increased funding for researchers in the agencies will discourage Nigerians from patronizing imported herbs as Nigerians have more than enough herbal resources that are lying fallow.
The Minister said the collaboration was part of efforts to deepen a knowledge and innovation- driven economy, adding that research agencies will greatly benefit from the development, adding that the MoU will boost research and development and as well promote national development.
He expressed optimism that the newly signed MOU will cement synergy between research agencies and academic institutions to the overall benefit of Nigeria. With this development, he explained that research institutes will now avail their research equipments and findings to the universities so as to enhance academic excellence and outputs.
He also said that Science, Technology, Engineering and Mathematics (STEM) is the nerve center for developed nations and for Nigeria to achieve development, STEM subjects must be embraced by students and researchers.
Enyo Partners Cars45 to Unveil Premium Auto Centre
Enyo Retail and Supply, a leading fuel retailing company has strengthened its partnership with Nigeria's largest digital vehicle trading platform, Cars45, to launch a world-class auto centre.
The site, which is located at Ogolonto, Ikorodu was unveiled on Saturday 25th January, 2020 to provide consumers with superior automobile services and improve the auto service industry in Nigeria.
This initiative is part of Enyo and Cars45's commitment to customer satisfaction and providing efficient services in the Nigerian automotive industry. The unveiling of the auto centre will provide customers with access to world-class automotive services including vehicle maintenance, servicing, inspection, sales, swap and other value-added services which strengthens Enyo and Cars45 long standing partnership.
At the official launch of the centre, guests were excited with an exclusive car auction hosted by Cars45; and enjoyed free car services and diagnostics, courtesy Vehicon.
Commenting on the initiative, Chief Executive Officer, Enyo Retail and Supply, Abayomi Awobokun described the partnership with Cars45 as an extension of Enyo's efforts to strategically position itself as a brand that not only provides fuel but also creates value for its customers across board.
According to Awobokun, "Both organizations involved in this partnership are deeply invested in technology and customer satisfaction and it is only natural that we further our partnership to develop the currently fragmented automobile industry. It is also in alignment with our brand persona as the most exciting and trusted fuel retail brand in Nigeria. I have no doubts that this partnership will become the role model for delivering world-class automotive services in Nigeria".
The auto-service centre will feature Vehicon – Enyo's premium vehicle diagnostics and maintenance service outlet manned by skilled operators trained by Enyo's Mechanic and Technician Academy (MechTech) and Bosch, global leaders in auto equipment manufacturing.
It will also stock an array of global Castrol lubricants, in addition to providing certified spare parts to deliver the best possible outcomes in any automobile.
Also speaking on the partnership, Chief Executive Officer, Cars45, Etop Ikpe, noted that the relationship is a strategic one aimed at helping the company to achieve its mission to build an ecosystem that enhances, enables and drives trade within the nation's automotive sector.
"This partnership with Enyo stems from our commitment to expand our products and services across the country. On our journey to empower mobility across Nigeria and Africa, it is our desire that we are there for the consumer every step of the way.
"As such, our solutions have brought convenience and transparency to the purchase and sales of vehicles, we are championing vehicle financing to help more Nigerians own cars; inspection services that empower users to know more about the history and condition of their vehicles amongst other services that we provide.
"Our partnership with Enyo as well as the launch of the world-class auto maintenance, sales and repair facility is in line with our commitment to be that platform where anything automotive can be achieved", Ikpe added.
On his part, Corporate Development Lead, Enyo Retail and Supply, Olabanjo Alimi, said, "We recognize that there have been changes in the automotive industry in terms of automobile sophistication and parts, which has created a skills gap. We introduced Vehicon to cater to the new advanced mobility world – as customers now have access to excellent products and services for their vehicles. These services will now be available at the auto-service centre".
The launch of the auto centre comes after Enyo signed a partnership with Cars45 to sell, buy or swap cars at all Enyo Retail and Supply stations nationwide in March 2019. With the partnership, both parties aim to successfully transform the automotive industry in Nigeria.
Google Opens First Google Developers Space in Lagos
Google on Tuesday launched its first Google Developers Space in Lagos, Nigeria. Previously referred to as the Google Launchpad Space, the Google Developers Space is a hub for African developers, entrepreneurs and startups.
It would be recalled that Sundar Pichai, ceo, Google in July 2017 made a commitment to train 10m African entrepreneurs, this commitment birthed the start of Launchpad Accelerator Africa program, which now launched a space to house these efforts in Nigeria.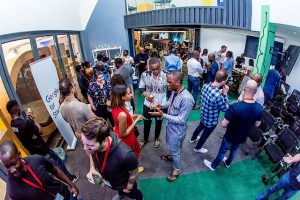 Google's aim of launching the Google Developers Space in Lagos is to provide that home, and a space where entrepreneurs, developers, VCs and investors can connect and collaborate with each other.
Speaking at the launch, Onajite Emerhor, head of Operations, Launchpad Accelerator Africa, said "Google is strengthening its commitment to supporting the entrepreneurial ecosystem in Africa by opening the Google Developers Space today.
"We have partnered with Impact Hub to bring the Space to life and worked with a local company called Spacefinish, which designed it specifically to create an environment that fosters collaboration and innovation.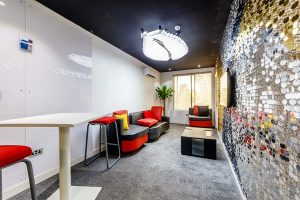 "We're looking forward to working with startups and other players in the ecosystem from across the continent at the Space".
Google does not charge for use of the space, which in addition to housing Google Launchpad Accelerator Africa will support developer meetups, training, experts office hours, Women in tech events, startup programs (outside of Launchpad), partner events that support the wider entrepreneur and developer ecosystem, as well as Google initiatives for empowering people through digital skills training.
Launchpad Accelerator Africa has worked with 47 startups since the first class kicked off in early 2018.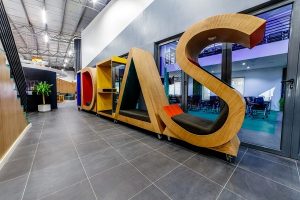 These companies have raised millions of dollars in investments, and created over nine hundred jobs across the continent. Launchpad Africa has accelerated startups from 17 African countries so far: Algeria, Botswana, Cameroon, Côte D'Ivoire, Egypt, Ethiopia, Ghana, Kenya, Morocco, Nigeria, Rwanda, Senegal, South Africa, Tanzania, Tunisia, Uganda, and Zimbabwe. The next class will kick off at the Google Developer Space in May 2020.
"This space is the next step to our support for developers across the continent. From our commitment to train 100 000 developers across Africa and the launch of developer merchant support in the Google Play store, making it possible for developers to earn money through apps they build.
"We are excited to continue our journey with the African startup and developer communities," says Juliet Ehimuan, country director, Google Nigeria.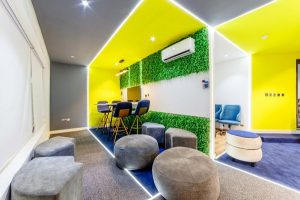 Through Google Developer Groups and Women Techmakers, Google provides training aligned with real-life job competency requirements.
There are 173 active Google Developer Groups (GDGs) in Africa, providing an opportunity for developers to meet other developers with similar interests at GDG meetup events, which include talks on a wide range of technical topics and hands-on workshops.
GDGs also host DevFests – community-led developer events focused on community building and learning about Google's technologies. Last year, more than 100 DevFest events were held across Africa.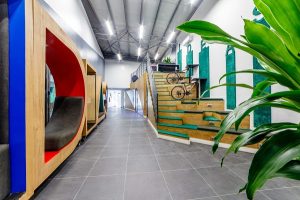 "Africa's startup ecosystem is growing and this space is our way of supporting and being a part of that growth.
"We're looking forward to working with startups and other players in the ecosystem from across the continent at the Space," Emerhor added.