Chiniki Guard, Nigerian Startup Wins $10,000 Best AI Startup Pitch @ GITEX 2019
Nigerian startup 'Chiniki Guard' has emerged the Best in AI startup at the ongoing 2019 Golf Information Technology Exhibition (GITEX) in Dubai, United Arab Emirates, UAE (GITEX) under Future Stars award.
'Chiniki Guard' is an AI product application that detects theft and prevents shoplifting.
'Chiniki Guard' was developed by a Nigerian innovator, Abdulhakim Bashir, who will be going home with $10,000.
The AI platform that can track and monitor human activity and provide real-time updates.
Chiniki Guard is among the Six StartUps sponsored by National Information Technology Development Agency (NITDA) and mentored by the Office for ICT Innovation and Entrepreneurship(OIIE); a subsidiary of NITDA.
The platform is capable of detecting and instantly prevents crimes or violations in real time.
The video analysis software can easily classify what action a shopper is taking, suspicious actions are flagged and reported instantly.
"Chinki Guard" and "247MEDIC"a health App, owned by Stephen Osawaru were the two Nigerian startups that made it to final at the ongoing 2019 Golf Information Technology Exhibition (GITEX) in Dubai, United Arab Emirates, UAE
Pantami Puts TCT's Contribution to Nigeria's GDP @ 14.07%
Dr. Isa Ali Ibrahim Pantami, minister of Communications and Digital Economy, has stated that the Informa­tion and Communications Technology (ICT) has contributed unprecedented 14.07 percent to the nation's Gross Do­mestic Product (GDP).
Dr. Femi Adeluyi, technical assistant, Information Technology to the minister of Communications and Dig­ital Economy, in a statement said the minister was delighted to hear of the growth of ICT's contribution to Nigeria's GDP in the first quarter (Q1) of 2020.
According to him, the National Bu­reau of Statistics (NBS) releases Nige­ria's GDP report for Q1 2020 on May 25.
"The report observed that the coun­try's GDP grew by 1.87 percent year-on-year in real terms in Q1 2020.
"The non-oil sector contributed 90.50 percent to the nation's GDP in Q1 2020 as opposed to the 9.50 percent contrib­uted to total real GDP by the oil sector.
"It is noteworthy that the ICT sec­tor contributed 14.07 percent to the total real GDP in Q1 2020, higher than its contribution a year earlier, which was 13.32 percent and in the preceding quarter, in which it accounted for 13.12 percent.
"This contribution is unprecedented," he said.
Pantami said that the growing con­tribution of the ICT sector to the GDP was a direct result of the focused and committed effort of the Federal Gov­ernment.
He said the Federal Government's strategic policy direction included the inclusion of Digital Economy in the mandate of the Ministry, unveil­ing and implementation of National Digital Economy Policy and Strategy as well as National Broadband Plan, among others.
9mobile Announces Alan Sinfield as New CEO
Telecoms company, 9mobile, has announced the appointment of seasoned telecoms expert, Alan Sinfield as the substantive Chief Executive Officer of the company.
He brings a wealth of global operational expertise having held leadership roles at numerous mobile, fixed-line and broadband data operators as well as retail, media, and wholesale distribution businesses across emerging markets in Asia, Africa, the Middle East, and Europe.
Sinfield succeeds Stephane Beuvelet, who held the position in an acting capacity when the new board took over the company's management in November 2018.
Sinfield has been a Chief Executive Officer since 2006. He brings extensive international and operational experience from wireless telecom, fintech, and banking sectors to his new role at 9mobile.
His global experience covers countries as diverse as the United Kingdom, Germany, Portugal, Slovakia, Iraq, Qatar, Myanmar, South Korea, Cambodia and Hong Kong. He was previously the Chief Executive Officer at Amara Communications Co. (ananda), a 4G LTE mobile broadband operator in Myanmar, and before this, he was the Chief Executive Officer of Cadcomms (qb), in Cambodia.
Other earlier roles included being CEO at Ooredoo (Starlink), a subsidiary of the listed Qatari Telecommunications Group, operating in Qatar and regionally, and also as Chief Information Officer and Chief Customer Services Officer at Orascom Telecom (IraQna), a subsidiary of the listed Egyptian Telecommunications Group, operating the first mobile network in Baghdad and surrounding territories providing voice and nascent data and satellite services.
Sinfield began his career in the Banking sector at Bank of America, where he was fast-tracked through a Management Trainee programme, later becoming a Programmer and Business Analyst where his desire to work overseas allowed him to close out the IT systems at Bank of America in Frankfurt, Germany.
Afterwards, Sinfield joined Barclays Bank in South Africa and spent three years there as a Technical Manager. He also worked for various other Banks in Portugal, Slovakia, and Hong Kong before his first foray into the telecom industry in Korea with SK Telecom, which led to an M&A role with the merger of SK Telecom & Shinsaegi Telecom.
Commenting on the appointment, Chairman of 9mobile, HRH, Alhaji Nasir Bayero, said, "Alan's wealth of experience of building high performance and high-growth organizations will play a pivotal role in strengthening 9mobile's market position in the highly competitive telecommunications industry.
"He brings with him the vision, passion and years of experience from diverse environments, which will consolidate our priorities to provide superior customer experience and sustained network quality.
"He is expected to work closely with the Board of Directors and all stakeholders to define credible and achievable long-term business plans, through the introduction of solutions to address the evolving needs of the Nigerian telecommunication market."
Also commenting, Sinfield said, "The Nigerian telecoms industry is characterized by strong competition, but it is also an industry that is important to people everywhere.
Nigeria is rich in diversity and boasts of energetic, resilient, friendly and hardworking people. I am delighted to join the 9mobile family and I look forward to using my experience and unique value propositions to lead the company in the next exciting phase of its journey.
"The goal is to build on the existing strong foundation of the company to create value that will transform the Nigerian telecoms sector. I also look forward to embracing the people, the culture and the unique knowledge that Nigeria has to offer."
Nokia C2 the Most Accessible 4G Nokia Smartphone Yet Now in Nigeria
HMD Global, the home of Nokia phones, today announces the Nokia C2, bringing long lasting entertainment and creative photography to fans, combined with 4G connectivity at the most affordable price point for a Nokia phone.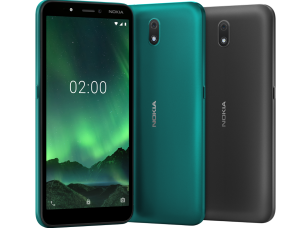 The Nokia C2 comes with a large 5.7" HD+ screen, a front facing camera with flash and HDR photography to brighten up your selfies and enough battery life to last from sunrise to sunset . Fans can watch YouTube videos offline with YouTube Go and keep their memories automatically organized, easy to find, edit and share with Gallery Go.
Joseph Umunakwe, General Manager, West, East and Central Africa, HMD Global: "One of our main objectives is to bring great smartphone experiences to as many fans as possible across markets and price points.
"We know that people are looking for a reliable way to upgrade to a 4G smartphone experience. Complementing the popular Nokia C1, with the Nokia C2 we deliver on our commitment to creating quality devices you can trust, while offering a more accessible path to 4G for selected markets.
We've added features like the large HD+ screen, front camera with flash and HDR photography, to allow fans to fully explore creating and enjoying content on a 4G-enabled device, optimized with Android™ 9 Pie (Go edition)."
HD entertainment, and a battery that lasts from sunrise to sunset
Watch all your videos in stunning quality with the 5.7" HD+ screen. The Nokia C2 helps you discover a crisper, more immersive way to watch your favourite shows. Introducing YouTube Go, a brand-new way to help you download, enjoy and share videos. The app is designed to work well even with limited storage or slower network speeds, so you can watch your videos offline.
The Nokia C2 lets you store up to 3000 songs or 13 hours of HD video thanks to lighter apps on Android (Go edition). For those who want even more, just add a memory card to make room for even more photos, videos and music. Keep the chat and apps going from sunrise to sunset with the 2800mAh battery.
Snap the most share-worthy shot
Take your selfies to the next level with the Nokia C2's front camera and flash. Shoot shareable selfies even after sundown. HDR photography is made possible using the rear camera for that extra level of detail.
The Nokia C2 brings Gallery Go to benefits to even more people, so they can edit their favourite photos with just one simple tap. Plus, find and manage shots faster with automatic organisation.
'The best of Android (Go edition), with the new Google Assistant button'
Discover more space for the things you love with Android Pie (Go edition) – enjoy YouTube Go, Google Go and millions of other helpful apps on the Google Play Store.
The Nokia C2 also comes with the Google Assistant button – the fastest way to your Google Assistant. You can ask questions, see your schedule and even dim the lights.