Obi, Ex-Gov Anambra State Says TD is Company to Trust
Peter Obi, business magnate and former Governor of Anambra State, has hailed Technology Distributions Ltd. (TD Africa) as an organization built on integrity and sound credentials.
He stated this while speaking at Celebrating You 2019, an annual year-end dinner/awards party organized by Sub-Saharan Africa's biggest ICT products distributors, TD.
The event, arguably the most eagerly-awaited celebratory event in the Nigerian ICT ecosystem, was held on Sunday December 8th 2019 at the prestigious Eko Hotels & Suites, Victoria Island, Lagos.
On an annual basis, Celebrating You focuses on sharing deep insights with attendees on diverse areas of the economy. The 2019 edition was not different as Obi proved a fitting resource person who drew from his personal experiences in addressing guests.
''I must mention that I have a special relationship with TD which is based on performance. It is a company that you can rely on. I remember many years ago while I was still in office at exactly 1am when I called Mr. Leo Stan Ekeh to say I wanted to buy 30,000 laptops. I still recall his response till today. He told me that he does not do business with state governments and that even if he wanted to, he does not think the Anambra State Government could afford to pay for the 30,000 laptops without credit.
''I assured him that the laptops would all be paid for which we did upfront without collecting a bank guarantee. And they were supplied by TD and all of them deployed to specifications down to the very last one. I must confess, the execution beat our expectations. Today, the feat achieved by the Regina Pacis school girls who shocked the world at Silicon Valley, USA in 2018 can be attributed to this effort by TD and the Zinox Chairman. Though we paid for the equipment but TD added huge value and Anambra is better for it till date.  Also, Anambra State has continued to emerge tops in school knowledge tests and examinations conducted over the past couple of years. The investment in technology and TD's contribution played a key role in making this happen,'' he said.
Obi, who was the Special Guest of Honour and who was wearing the cap of entrepreneur at the event, further described TD's place in the Nigerian ICT distribution landscape as very essential to the current developments and gains recorded in the sector. Further, he urged budding entrepreneurs and small business owners to borrow a leaf from TD's remarkable consistency, track record of delivery and integrity which has seen it all the way to the top.
Also speaking at the event, Chief Executive Officer (CEO), TD Africa, Mrs. Chioma Ekeh identified tenacity as the enduring attribute that has kept the organization at the top of its game over the past 20 years.
''This quality, more than anything else, sets TD apart and makes us different. We keep our promises,'' she said.
Further, she heaped praises on the entire Management and staff of TD, whom she described as the lifeblood of the company, even as she expressed deep gratitude to the special guests and other attendees for honouring the invitation.
The Zinox Group Chairman, Ekeh who extended best wishes of the season to all, also assured younger entrepreneurs that there seems to be light at the end of tunnel with the rebranding of the Ministry of Communications to Ministry of Communications and Digital Economy by President Muhammadu Buhari and with a tested hand as the Minister.
''The new addition resonates confidence and assures certified future for smart entrepreneurs,'' he enthused.
Meanwhile, the event witnessed the presentation of awards to deserving Original Equipment Manufacturers (OEMs) and other channel partners. Top winners on the night include Dell-EMC, Huawei, Konga, Edgebase Line Ltd. Allied Computers, HPI, among others. The event also witnessed top-notch performances from A-list artistes including Kizz Daniel, Flavour, comedian SLK and Okey Bakassi who doubled as the MC/compere.
Equally important, Celebrating You remains arguably the only one which brings together the major competing local and international Original Equipment Manufacturers (OEMs) and other stakeholders in the industry under one roof, albeit in a fun and relaxing atmosphere.
In attendance was a host of knowledge-driven resource persons including former Vice Chancellor, University of Lagos, Prof. Ibidapo Obe; Chairman TDBoard of Directors, Prof Anya O. Anya; former Deputy Governor of the Central Bank of Nigeria (CBN), Ernest Ebi; Group Deputy Managing Director, Access Bank, Roosevelt Ogbonna; among many others.
Ekong, UNILAG Postgraduate Student Charged for Allegedly Defrauding Konga
Aniekan Charles Ekong, a  postgraduate student of the University of Lagos (UNILAG), has been charged to court by the Police for defrauding Konga to the tune of over N7.5m.
The alleged fraudster, a former employee of the foremost e-Commerce giant, was arraigned before a Lagos Magistrate Court on Tuesday, August 11, 2020.
According to the charge sheet , Mr. Aniekan Charles Ekong, who hails from Akwa Ibom State, faces a three-count charge of stealing the sum of N7.5m belonging to Konga, impersonation and fraud allegedly perpetrated against the company.
Investigations reveal that the suspect, whose employment had previously been terminated by Konga, was tracked down by the Police to Uyo, the Akwa Ibom state capital.
From there, he was brought back to Lagos and subsequently charged to court for the alleged offences. Findings by our correspondent also reveal that the suspect had allegedly started living large shortly after his exit from Konga, before enrolling for a Master's in Business Administration (MBA) programme with the University of Lagos.
Aniekan, who was arraigned before Magistrate A.O. Ajibade, however, pleaded not guilty to the three-count charge.
Subsequently, the Presiding Magistrate granted him bail. However, he was remanded under Police custody pending the fulfilment of his bail conditions which include the sum of N500,000; provision of two sureties who must be blood relatives who will tender their Tax Clearance Certificate from the Lagos State Inland Revenue Service (LIRS) for three years. Also, one of the sureties must own a landed property in Lagos State.
When contacted, an official of Konga who did not want his name in print because the case is presently sub judice revealed that the suspect's employment with Konga was terminated a while back due to some unprofessional conduct exhibited.
Further, the source disclosed that Konga retains a strict zero-tolerance policy for fraudulent practices and other unethical conduct among staff, noting that anyone found wanting within the organization, irrespective of their position or status, will face the full weight of the law.
The case has been adjourned to Monday, September 7, 2020 for commencement of trial.
Real Estate Stakeholders to Discuss Impact of Remote Working @ #BuiltConverse by #StartupSouth
Stakeholders representing different segments in the built industry will converge online bi-weekly (starting from Friday August 14, 2020 at 1300 (W.A.T)) to discuss different topics affecting the space in an event on Youtube titled #BuiltConverse.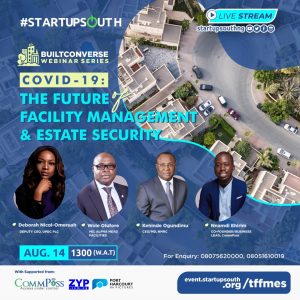 #BuiltConverse by #StartupSouth is a virtual tech/innovation Real Estate solutions Event created to explore and discuss challenges and opportunities from a technological Innovation angle.The theme of the maiden session of the event by #StartupSouth is COVID-19: The Future of Facility Management & Estate Security.
In a statement, Uche Aniche,  convener of #StartupSouth said: "It is estimated that 8 out of 10 of all companies across the world implemented universal work-from-home policies as a result of COVID-19 lockdown and roughly 7 out of every 10 (67%) of these organizations have no intention to return to regular office facilities post-pandemic."
He further revealed that discussions at #BuiltConverse Edition1 will provide a deep dive on the impact and opportunities of COVID-19 on Facility and Estate Management space. Some of the touch points will include Security, Safety and Convenience for both managers and users.
Speakers/panelists include Deborah Nicol-Omeruah – Deputy CEO, UPDC Plc, Wole Olufore, MD, Alpha Mead Facilities, Kehinde Ogundimu – MD, Nigerian Mortgage Refinancing Company and Nnamdi Ehiri – Co-Founder, CommPass.
The series will attract facility managers, real estate professionals,technology innovators, the general public and feature keynotes presentations, panel discussions, Product Demo and Q&A.
This first edition is supported by CommPass (www.thecommpass.com) – a Startup within the #StartupSouth network that provides a simplified cloud-based solution with features that include convenient & contactless Access Control. Safety & Emergency Management for  facility management.
Link to full Agenda: https://docs.google.com/document/d/11RcIyLSGHEQ2TpkSWx6XSTnBDLijAnJCJa6KBw1dZ2M/edit?usp=sharing
Lagos Slams N25m Licensing Fee on Uber, Other Ride-Hailing Operators
Lagos State Government has announced plans to commence the regulations of ride-hailing startups operating in the state.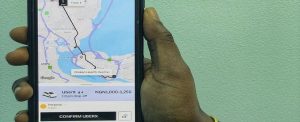 Under the new regulations, ride-hailing operators like Uber and Bolt that have over 1000 drivers henceforth will pay ₦25 million licensing fee and ₦10 million annual renewal fee.
Those that have less than 1000 drivers, they will pay a licensing fee of ₦10 million and an annual renewal fee of ₦5 million. Operators who directly own their cars and employ their drivers will pay only the license fee of ₦5 million if such operators have below 50 drivers.
Those who have over 50 drivers will pay ₦10 million for the operating license.
Additionally, ride-hailing operators are also expected to pay 10 percent "service tax" on "each transaction paid by the passengers" and are mandated to renew their licenses three months before the expiration of the current license.
These regulations are contained in the Guidelines For Online Hailing Business Operation of Taxi in Lagos State 2020.
Besides the licensing and the renewal fee, the Ministry also stated in the online ride-hailing business guideline that they want "Access to e-Hailing Taxi Companies' database (e.g drivers details, accident reports, etc).
The Ministry and her Agencies shall have access to the database of the operators/companies operating e-Hailing Taxi Business in Lagos State.
Bolanle Ogunlola spokesperson for Lagos State Ministry of Transport confirmed that the new regulations will start on August 20.
She said the enforcement of the guidelines will not start until after a stakeholder meeting is held.
According to a document titled, 'Guidelines for Online Hailing Business Operation of Taxi in Lagos State 2020' issued by the Lagos State Ministry of Transportation,: Part 4.1 subsection 5 of the document titled, 'e-Hailing Taxi Operation', stated that all drivers must pay 10 per cent generated on every trip to the Lagos State Government.
"All operators of e-hailing taxi service must pay the state government 10 per cent service tax on each transaction paid by passengers to the operators," the document partly read.