Professionals Not Fully Recognised for IT Projects, Implementation
Aside describing information technology practitioner of non-CPN certification, or NCS membership an impostor, the Nigerian Computer Society (NCS) believes that professionals have not been given fair share of IT projects for implementation by successive governments in the country.
Professor Sola Aderounmu, NCS President said it has become imperative for anyone or corporate body bidding for ICT/IT projects must be a member of the professional body, as a measure to curb such projects failures in the country.
The president represented by Iyiola Ayoola, executive secretary of NCS during a chat with Nigeria CommunicationsWeek spoke on critically issues in the IT industry in the country. Excerpts.
Theme for 2017 NCS Int'l Conference
"Over the years, Nigeria has depended on crude oil and this time there must be massive diversification to the information technology which is the mainstream of any economy in today's world. This informed why NCS choose its theme for this year's international conference to reflect on ICT and innovation for achieving the SGDs; ICT encompasses every sphere of the economy.
Why Diversifying to ICT Has Delayed in Nigeria
"ICT, as the case may be, it's not really in the hands of the technocrats or professionals. The implementers are not given the opportunity because everybody is ascribing the responsibility to themselves. That is the bane of ICT development in the country viz-a-viz using ICT for national development. Once it becomes all comers affair, the professionals will be reduced to the background. Only about last three years that other professionals have seen reasons to side the NCS advocacy for us to have ICT/IT in the hands of professionals. If a quack doctor is caught today, everybody will frown at it, but when a quack IT professional is caught, the society tends to easily condone such illegality. It cuts across policy formulators to implementers. The NCS has been on vanguard (advocating) for things be done properly.
"Let us ensure square pegs are fitted into the red holes; unfortunately, the sector has been turn into Tom, Dick and Harry game. Anybody can acquire system from anywhere. A situation where someone who studied Yoruba is implementing ICT projects and when you probe into that, the answer you get is: oh, he is certified in IT. They travel to Dubai, China and other countries, procure hardware and package as their handiwork. That should be discouraged, if we are interested in developing our ICT sector. When government is giving out contract, everybody wants to get a cut from the cake. We are now 'shouting' for local content development and recognition.
"It has not been benchmarked; everybody runs to the Presidency to get contract. Come on, who are you! Before now, government would announce for everybody to bid for contracts. And once the contracts are won, most of them are delivered in sub-standard manner.
What is the Standard?
"Anybody bidding for ICT/IT projects must be a member of the Nigeria Computer Society (NCS). Why do we insist? NCS tries to distinguish who is qualified or not. It is important to know the pedigree of people (in the industry) before they are allowed to deliver certain projects. That's why most IT projects are delivered half-way or abandoned. The industry must be sanitized in such manner that whoever is implementing project does not import e-wastes, outdated products; who will buy nineteenth century products now! This is the true way for this country to move forward. Continuing without standardization is clinching to under-development.
How Do We Start In Setting Standards For National IT Implementation?
"We partake in Microsoft, Cisco, Oracle and other certifications and they have really helped us as a nation. Nevertheless, it will not be out of place if we implement national IT certifications or standardization. Ideally, that is the policy thrust of the National Information Technology Development Agency (NITDA) and we at NCS are happy that the current DG is seriously looking at that direction. To groom professionals, it behooves on the Computer Professionals (Registration Council of Nigeria)-CPN to regulate the industry.
"They ought to be the 'eye' of the industry in fishing out professionals who can be presented to the government as credible enough to execute IT projects. ICT/IT professional is the one who is fully registered by the CPN. By implication, you are a certified professional. Without that, you are not considered a professional. CPN has a template to get you certified. And for you to be certified, you must first be a member of NCS. What are our criteria for registration? First, membership. Who are the members? There are three categories of membership- Affiliate, studentship and Corporate. We also have the Fellows as highest echelon of the membership.
NCS Plans to Woo Non-Professionalised IT Practitioners
"It is the CPN that is not doing the job. It is in the CPN Act of 1993 that one cannot practice without been certified by the CPN. If you have not obtained any degree, CPN organizes professional/certification exams. Therefore, CPN needs to sit up; NCS has been the one doing the 'shouting' for professionalization of this industry. NCS is the brain behind the formation of NCS. We wanted to be chartered which led to CPN's creation.
Assessment of ICT Industry in Last Two Years
"We are not yet where we ought to; just setting the process in motion. But, in the last decade we weren't here. It also depends on the yardstick we are using to measure. We will definitely get there, though the level of progression may not be geometrical. For example, the level of awareness on local content has not been dominant as it is today. Secondly, about eight years ago when the Independent National Electoral Commission (INEC) wanted to procure computers for its electoral exercises, we insisted on allowing local OEMs to deliver the machines. Zinox and others bided, but as the process progressed they wanted to sideline Zinox. At a point they said 80/20 foreign to indigenous companies, we still refused.
"Eventually, they listened and Zinox was given the opportunity. It was a monumental achievement for the industry. Since then, things have improved. Sometime, last year, the Federal Government indicated interest in acquiring 500,000 computers under its employment scheme, and NCS has not rested on its oars to ensuring that indigenous OEMs are given opportunity to supply the sets.
"That is how we can help naira regain its feet. We have technicians, the way-withal to develop solutions to our needs. Nigerians are resilient; rare will you see any international body or intelligent agencies of nations without a Nigerian coding. But within the country so many things are militating against us; chiefly, selfish interest! Otherwise, we have the human capacity to match any nation. That is why we are shouting: allow our professionals handle these projects.
Are We Meeting Up with International Standards?
"Quote me anywhere, as software engineer; our solutions can compete anywhere in the world. I don't see anywhere in the world we are rated as number two. Go to American defense you will see Nigerians writing codes. In terms of code, we don't develop substandard solutions. But when you are talking about OEMs, we have not perfected that aspect of development, and the reasons are obvious. The business environment is still hostile. For example, where is our Silicon Valley situated? It is when we have and transform the raw materials that we can beat our cheats and say we are there.
Nigeria En-Route to E-Voting
"Personally, I have been meditating on the technological solutions to multifaceted challenges Nigeria face today. We are a peculiar people living in this country. To be honest with you, IT cannot survive without human beings. The humans factor in Nigeria is making IT not to work. Thank God IT is taking a new dimension where we are talking about artificial intelligence, internet of things (IoT), Smart cities, machine learning, Big data, etc., these will drastically reduce human interference and 'corrupting' of IT efficiency.
"We are all political in our approach to issues. When you introduce politics you would want it to dance to the political inclinations, therefore, manipulations bring marginalization. If that structure is 'pulled down' with the help of artificial intelligence, then the human inclinations can be tuned down. But, the 'cruel' ways we do things, it will be difficult to implement e-voting in all honesty, at the moment. The step starts with putting structures in place to minimize the interference of humans in our elections.
Where Do We Start to Implementing e-Voting?
"I ask myself such questions daily. It is crucial that we first identify ourselves whether for elections or for security purposes. The data to be generated through national identity numbering must be used in planning. Without that, there is no way you can have a good election or e-voting; it is not going to be possible! The database must be up to 90% ready before INEC can think of e-voting.
"Today, we hear INEC saying anybody above 18 years can vote, then, people are fortifying their ages either for over/under declaration. And such practice can never eliminate dual voting. If you have 2000 voters in INEC database making up a ward, somebody can just declare any age, whereas if the person had been registered under NIMC project, the system will automatically knock him out. That is when the credibility of INEC can be established as far as conducing elections in Nigeria is concerned. Any data/information that cannot be verified is dunk data. That is the basis for our inability to go with e-voting.
Smart City Concepts in Redefining Governance
"To a lay man, smart city is when everything is 'joined' together. But smart city entails 'smart nation'- a society where everything is computerized, networked or talk to each other. Smart city will come as the advent of Internet of Things. NCS is in the forefront of enlightening the community about the concept. In October 2016, the Lagos State Chapter of NCS had a-day workshop where components of smart city where discussed and what the State Government is doing in that regard.
"At the Federal Government level, we are also leading discussion on how to develop a smart nation, starting with e-Governance. The whistleblower is part of the gains of smart city concept likewise the TSA. Do not forget, when the incumbent government came in to office we sent proposals to the SGF's office and recently we sent others to the Ministry of Communications and they are opening up to discussions.
Need for National Stakeholders Dialogue On Curriculum Redesign
"There is need for declaration of state of emergency in our education system. It does not incline to only ICT; every sphere of our educational curriculum needs overhaul. We have demeaned education in this country; not that what the schools are teaching are not good enough, but how impactful to decision making and relevance to today's society. Simply put, I support a call for stakeholders meeting where we can define the curriculum we need. The Ministry of Education, the National Universities Commission (NUC) and the Universities, CPN, NITDA are also trying, but we need to do more.
"This is one what we ought to have done in the past twenty years. We have neglected our functions and responsibilities and only now it has decayed we have started thinking. During my days as a lecturer at the university; because I came from the industry I was able to tell the students what are the required in the industry.
"Some of them ran away, while few came closer. The truth is that the act of programming is the nucleus of computer science studies; whether networking or hardware, you must be able to program to synthesize with your solution. Most of the students have not realized this truth; they usually run away because it is mathematical. They want an easy pass to the industry to quickly make money. Things are not done that way.
Expectations of NCS as Construction of Headquarters Commences
"When the incumbent president was inaugurated he listed three key agenda. He has actually vigorously pursued the agenda: advocacy, which has been massive; improved membership registration and the NCS physical (presence) which is refereed to having a structure on ground that can be identified with Society. It is called the centre for innovation and incubation. NCS family is happy that the project which its groundbreaking was conducted last year, work has commenced in earnest.
"Plans for the project commenced in 2005. For now, we cannot say how much it will gulp because of the economy has not been stable. Prices of building material keep changing. Only determination will see us through, even as we rely on our corporate members and government agencies like the NCC and NITDA. The project is massive on the six floor building.
NCS' Innovation & Incubation Centre
"We called it innovation and incubation centre in the sense that we realized that university 'products' are not abreast with the industry requirements. Therefore, we want to be incubating them from here with the help of industry (corporate) members. It is a centre where industry needs shall be met; once you tell the fresh graduates/undergraduates what you need they put hands on it".
CBN Pulls Rate Cut Trigger, King Dollar Returns
By Lukman Otunuga, Senior Research Analyst at FXTM,
In a move that caught investors off-guard this week, the Central Bank of Nigeria (CBN) slashed interest rates by 100 basis points bringing the MPR to 11.5%. Given how inflation has been above target since 2015, rates were expected to remain unchanged for the rest of 2020 and possibly early 2021.
The question on the mind of many is whether the rate cut will achieve the desired effect by stimulating consumption and economic growth? Ongoing border closures and disruptions created by COVID-19 have pushed inflation to levels not seen since March 2018 above 13.20% while a drop in the production and price of Oil continues to rub salt into the wound. While looser monetary policy could support growth, it may come at the cost of rising inflation and weaker Naira.
Over the past few months, central banks across the globe have deployed unprecedented measures to defend their respective economies against the coronavirus menace. However, fiscal policy has been identified as the sharper tool with governments across the world providing a critical lifeline to keep the wheels of their respective economies rolling.
Outside of Nigeria, King Dollar made a return by appreciating against every single G10 currency. In times of uncertainty, everyone wants a juicy piece of the world's most liquid currency. As coronavirus cases rise in Europe and other parts of the world, the flight to safety is likely to boost appetite for the Dollar. This is bad news for many emerging markets currencies, especially those with high Dollar-denominated debt.
On the commodity side, Oil prices remain heavily influenced by demand-side factors and the state of the global economy. Prices are likely to remain stuck around the $40 regions in the near term, especially If another round of possible lockdowns hit Oil demand. Looking at the technicals, WTI Crude is under pressure on the daily charts. If prices are unable to break away from the sticky $40 regions, the next key point of interest remains around $38. A weekly close above $41.50 could pave a path towards $43.
NCC Arrests Man for Hacking into DSTV System
Nigeria Copyright Commission (NCC), has arrested one Mr Aliu Olalekan, for allegedly hacking into DSTV system and watching the channels free without subscription.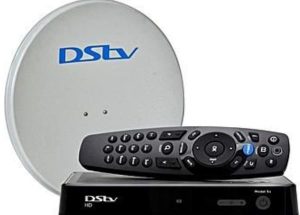 Mr Matthew Ojo, NCC Director in the Lagos Directorate Office said this while speaking with newsmen in Lagos, on Tuesday.
He said that the suspect used to watch DSTV channels free without subscription on his Android phone via an app which he downloaded on google play store.
"This suspect distributed the know-how to his telegram followers and on his blog with the aim of gaining more followers and viewership on his blog and makes more money through google ad-sense.
"The operation was based on surveillance which had earlier been carried out by the Multi-choice team and verified by a copyright inspector, " he said.
He added that the arrest was made in collaboration with a team of copyright inspectors led by the Head of Enforcement Department, Mr Charles Amudipe.
Others included; a team from Multichoice Nigeria led by Mr Umar Ibrahim and policemen from Lagos Command Headquarters, Ikeja.
Ojo said that the joint team conducted an anti-piracy operation at the premises of the culprit in Amukoko, Lagos.
According to him, the suspect was contacted on phone by a member of the operation team on the disguise of patronising him. "The suspect came out to meet the caller and in the process of discussion, he was apprehended.
"The suspect took the team to his resident. The squad paraded his one-room apartment and recovered his laptop and phones used in perpetrating the ungodly act. "He was arrested and brought to the copyright commission office for further investigation, " he said.
Ojo said that, on getting to the commission's office, the statement of the suspect was taken and the inventory of items seized from him taken. He said that investigation on the matter was still ongoing and if found guilty the suspect will be charged to court.
NCC, Digital Encode Support NITRA Innovative Tech Forum On Post-COVID-19 Strategies
The Nigerian Communications Commission (NCC), Nigeria's telecommunications regulator and Digital Encode, Cybersecurity and Compliance advisory company, have indicated interest to partner with the Nigeria Information Technology Reporters Association (NITRA), the national umbrella body of ICT reporters, as it organizes a forum that will x-ray the industry's future plans for ICT growth post pandemic era.
The event, slated to hold on October 15, 2020, will seek to discuss the needs for a fortified ICT sector after the COVID-19 era, and the level of preparedness of ICT stakeholders to embrace the challenge of being pivotal to the stability and growth of all other sectors.
A statement from NITRA National Secretariat in Lagos indicates that due to the pandemic and need to observe the COVID-19 protocol on social distancing, the event will be held via a Webinar.
This year's theme, "Multi-stakeholder Approach To National Recovery Post-Pandemic", is in line with the annual event's generic theme, 'NITRA Innovative Tech Forum', a contribution by NITRA to the development of Information and Communication Technologies (ICTs) innovations and policies in Nigeria.
Prof. Umar Danbatta, executive vice chairman, NCC is expected to deliver the keynote speech at the event and will throw more light on Federal Government's plans, programmes and policies on post-pandemic strategies using ICT.
Dr. Adewale Obadare and Dr. Seyi Akindeinde, founders of Digital Encode, while accepting to support the event expressed their readiness to offer their expertise in Cybersecurity for organisations to prepare against cyber- attacks with the new normal.
They will also highlight areas that are high risks that need fortification in terms of cybersecurity.
Speaking on the event, Mr. Chike Onwuegbuchi, national chairman, NITRA, noted that as the COVID-19 pandemic continues to leave its negative trails across the globe, economic reboot for countries will not only depend on how well they readapt to the new normal, but also more on their recovery plans.
According to him: "While the federal government has consistently expressed its willingness to set all policies in place to engender growth, and accelerated implementation of these policies, private sector firms have also shown great hunger for the task ahead in post-COVID-19 era.
However, the question that needs to be answered is whether all stakeholders are ready for the required task ahead."
The event will also offer participating companies opportunities to publicize some of their individual efforts at contributing to reacting a soft landing or lifeline for SMEs and other ancillary companies as the pandemic threatens their survival.
Digital Encode is a multi-award winning and leading consulting and integration firm that specializes in the design, management, and security of business-critical networks, telecommunications environments and other Information Technology (IT) infrastructures.