Sheyi Shay Unveiled as Face of Gionee in Nigeria
Gionee in a strategy move to reach out to teeming consumers in Nigeria, has unveiled Deborah Oluwaseyi Joshua (a.k.a Sheyi Shay), the iconic Nigerian singer, writer, performer and R&B Artist with a superb blend of lyrics, as the new brand ambassador.
The choice of the iconic artist according to the Gionee, is to make products of Gionee appealing to Nigerians and create a stunning brand reputation locally.
The new brand ambassador is expected to lead the brand's promotional activities, become a spokesperson for the brand, and help reach the targets many Nigerians, who are music lovers and fans of Sheyi Shey.
Speaking on the choice of the brand ambassador for Gionee in Nigeria, Somoye Habeeb, marketing director, Gionee Nigeria, expressed confidence that Sheyi Shey has all it takes to Gionee brand to the apex, where it belongs.
He said the choice of Sheyi is justified in all ramifications considering the criteria and yardstick provided by the company, adding that the iconic singer stood out amidst other contenders.
"We needed an ambassador to localize the brand. To tell it around the world that Gionee is in Nigeria to stay. Gionee is one of the top five mobile phone brands in the world. We had a list to pick from but we wanted somebody that will sell the value we stand for, he said.
"We needed a popular artist, beautiful, energetic, of good age and a socially responsible person. We looked at the demography of this artist and that of our target customers. We also considered the psychographic factors. And Sheyi Shay combines all these and that was why she won the chance to be the face of Gionee brand," Chukwuka Austin, managing director, Gionee Nigeria added.
Speaking at the event, Deborah Oluwaseyi Joshua, the new face of Gionee said, the brand matches the uniqueness of her style of music and her personality; adding that she will do everything within her power to make the brand a household name in Nigeria.
"I got to where I am today by hard work and I'm very grateful for the position I'm in today. For me, Gionee represents freshness, strength, agility and the future. So when I was approached to take up this role, I had to oblige because this is everything I built my brand up to be.
"My brand of music is organic and I appeal to a wide segment of the market ranging from age 12-50. I intend on pushing with all my might to make Gionee the number one phone here in Nigeria. I look forward to a great and productive relationship with Gionee," she said
Sheyi Shay
She has several musical hits in her kitty, her single 'Irawo' released in 2013 is still enjoying waves and it is no surprise the singer chose the name 'Irawo', meaning 'Star' in Nigerian native language Yoruba because she's a star. Known for her stage energy and power, she has performed in some of the finest A-list events in Nigeria and across Africa, including The Big Brother Africa show and the MTV Mama 2015 Awards in Durban, where she performed with Grammy-award winning international artist, Neyo. She was also nominated for Best Female and Best Music Video at the MTV Mama 2015 Awards.
She has been selected because of her success over the years in the music industry and far being an inspiration to millions of Nigerians, she will work towards the attainment of the interest and attention of the customers.
Her duty is to make the products, services, and other offering of Gionee more appealing, so as to draw the customer's preferences towards the brand, representing the organization at the time of celebration events, trade displays, exhibitions, and other promotional events. Her primary function is to be spokespersons for Gionee.
She will appear in regional and local media like magazines, periodicals, public shows, television shows, etc., and advertise the products of the Gionee.
Gionee
Gionee Communication Equipment Co. Ltd. was founded in September 2002 by Liu Rong. It is a high-tech enterprise that focuses on R&D, production and sale of cellular mobile devices. In 2005, Gionee obtained the GSM and CDMA mobile phone production license.
R&D Centres are set up in Shenzhen, Shanghai and Hangzhou among several other places. In 2006, the first phase of the project had a total investment of more than 1 billion RMB, covering an area of 500 acres at the Gionee Industrial Park. The production capacity currently stands at 40 million units per year.
Once the entire industrial park is completed and put into production, production capacity will reach 80 million units per year, making Gionee Industrial Park the largest mobile phone production site in China.
In addition, Gionee has 41 provincial general sales agents and 40 provincial service centres with over 500 franchised outlets. In 2007, we received the honorary title of "Guangdong Province Famous Trademark". In 2011, Gionee achieved an overall market share of 7.2% and GSM market share of 11.2%. These accolades put Gionee in the third place in the overall cellular market, and in the first place in terms of the domestic market.
Since 2011, Gionee has grown rapidly, expanding its presence in countries including India, Nigeria, Vietnam, Taiwan, Myanmar, Thailand and Philippines. Gionee products are currently on sale in India, Bangladesh, Pakistan, Indonesia, Vietnam, Thailand, Philippines, Malaysia, Russia, Middle East and Africa, with exports reaching 1 million phones per month for the overseas markets.
Gionee believes that products should be as unique as the people who use them. We define ourselves as a global provider of mobile and internet technology that is user-friendly, stylish, and wallet-friendly. In other words, we strive to help consumers make their lives better.
MTN Launches 'Visitor SIM', Designed for Guests Coming into the Country
MTN Nigeria has announced the introduction of its new Visitor SIM specially designed for guests travelling into the country.
The Visitor SIM comes pre-loaded with an appealing package that includes local and international call and data bundles.
This package will enable people visiting from other countries to stay connected with their friends, family and business associates on MTN's super-fast network.
MTN VisitorSIMs are easy for inbound international visitors to acquire, activate and use, in addition to which they offer far better value than any roaming tariff.
Not available from any other operator, the service is poised to deliver convenience and the best-in-class customer experience in line with MTN's brand promise.
According to Adekunle Adebiyi, chief sales and distribution Officer, MTN Nigeria, "The new Visitor SIMs will ensure that before setting foot outside the airport, people visiting Nigeria can plug in, reconnect – to loved ones, associates, tools and information, and begin sharing their remarkable experiences, with no concern about roaming charges."
MTN Visitor SIMs are available in the arrival halls of international airports and other ports of entry.
They are valid for 14 days, which can be extended up to 30 days via MTN's self-service menus or USSD.
Nigeria COVID-19 Response: UNICEF, IHS Nigeria Collaborate to Contribute Medical Supplies
United Nations Children's Fund (UNICEF) received the delivery of 115,800 COVID-19 test kits to support the fight against the COVID-19 pandemic in Nigeria. These supplies were funded by IHS Nigeria, the Nigerian subsidiary of IHS Towers.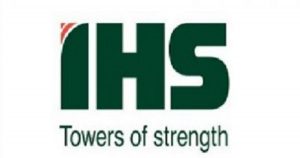 Testing remains the mainstay of the response led by the Presidential Task Force and Nigeria Centre for Disease Control (NCDC) and the first step towards diagnosing the infection. Tests enable health officials to understand the COVID-19 status of an individual and link that person to care, support and treatment while contributing to the protection of families and communities.
"Testing remains a core strategy of Nigeria's response to COVID-19. This is critical for understanding the burden of the disease on our population and targeting our response activities accordingly. The primary goal of the Nigerian Government is to control the spread of this disease.
"This donation from IHS Nigeria through UNICEF will contribute to the national stockpile of test kits managed by NCDC, and support efforts of the growing network of accredited laboratories across the country for the testing of COVID-19. We are grateful for the continued support from UNICEF, IHS Towers and other partners." said Dr. Chikwe Ihekweazu, Director General, NCDC.
IHS Towers has been a strong and continuing partner of UNICEF. At the onset of the coronavirus in Nigeria in late February, IHS Nigeria provided funding to UNICEF to urgently procure essential supplies and equipment with which UNICEF supported the Government of Nigeria in its COVID-19 response.
"UNICEF is deeply appreciative of IHS Towers' commitment to being a partner in UNICEF's work in Nigeria. Once more, IHS has shown great generosity in supporting UNICEF's ongoing efforts to work closely with the Government of Nigeria in the fight against COVID-19.
"I am very delighted to receive this huge contribution from IHS Towers, the benefit of which will reach many more children and their families", said Peter Hawkins, UNICEF Country Representative.
"We are proud to have played an important role in supporting the Government and our communities where we operate to provide crucial tools needed to fight this pandemic. We understand this virus is here to stay for the foreseeable future, but are confident that with our support, and that of our other private sector colleagues, we are helping to manage and mitigate the impact of the virus in our country" said Mohamad Darwish, Chief Executive Officer of IHS Nigeria.
This recent support of essential tests makes IHS Towers the biggest private sector donor for UNICEF Nigeria's emergency response to the COVID-19 pandemic.
Coca-Cola, Red Cross Society Expand Fight Against COVID-19 In Nigeria
In a bid to support the fight against the Coronavirus disease, the International Federation of Red Cross and Red Crescent Societies (IFRC) along with its national society Nigerian Red Cross (NRC) has started the distribution of PPEs and risk communications efforts to the tune of N228 Million to support its COVID-19 interventions in Nigeria.
This is part of The Coca-Cola Foundation's $2.5million grant to the International Federation of Red Cross and Red Crescent Societies (IFRC) to support the COVID-19 pandemic within the West and Central Africa sub-regions.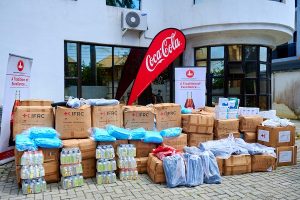 The grant, which leverages the long-standing partnership between The Coca-Cola Company and the International Federation of Red Cross and Red Crescent Societies (IFRC), seeks to support national efforts in the fight against the Coronavirus disease through the provision of essential medical supplies, personal protective equipment (PPE) and risk communications to impacted communities, healthcare personnel on the frontlines and treatment centres across the country.
Speaking on the donation, Yebeltal Getachew, managing director, Coca-Cola Nigeria Limited, explained, "The Coca-Cola System (Coca-Cola Nigeria, Nigeria Bottling Company and Chi Limited) remains committed to providing support to the communities we serve during these challenging times.
"By providing healthcare workers with much-needed PPEs, we are confident that this will go a long way in ensuring their safety as they remain on the frontlines of the fight against COVID-19.
"Coca-Cola is proud to support the Red Cross as we deliver on our purpose of making a difference across the world". 
Medical supplies being donated comprise N95 respirators, surgical masks, examination gloves, face shields, medical gowns, no-touch thermometers, disposable aprons, heavy-duty rubber gloves, rubber boots, basic masks, disposable gloves, and hand sanitizers.
Expressing his gratitude for the donation, Abubakar Kende, secretary-general for the Nigerian Red Cross Society explained, "We have identified the facilities in urgent need of these PPEs in consultation with NCDC and the Federal Ministry of Health and will subsequently be distributed to these centres.
"This will ensure that treatment centres across the country are properly equipped with necessary PPEs as we continue to fight the disease".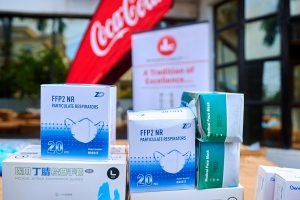 IFRC seeks to directly impact the lives of over 1.4 million people in Nigeria and across other countries in West and Central Africa under this partnership. For over a century, The Coca-Cola Company and the International Federation of Red Cross and Red Crescent Societies (IFRC) have sustained a rewarding partnership that has seen the rehabilitation and preservation of human lives across the world through the delivery of humanitarian aid and emergency response to communities affected by disasters.