Smart Farming: NITDA Implements NAVSA Project with 50 Corp Members as Pilot Beneficiaries
With the mandate of ensuring all sectors of the Nation's economy are supported and driven by technology, the National Information Technology Development Agency (NITDA), in collaboration with Abuja Technology Village (ATV) and the National Centre for Artificial intelligence and Robotics (NCAIR) has kicked off the National Adopted Village for Smart Agriculture NAVSA Pilot Training Programme for 50 Nigerian Youth Corps Members.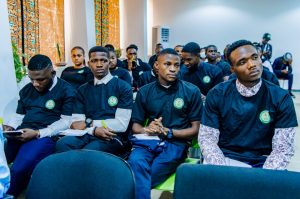 At the opening Ceremony of the training programme, the Director General of the National Information Technology Development Agency (NITDA), Kashifu Inuwa, represented by the Agency's Acting Director, Digital Economy Development Department, Engr Salisu Kaka while congratulating the participants who were selected from a pool of many applicants, challenged them to seize the laudable opportunity and be intentionally interested in Agricpreneurship so as to effectively utilise the knowledge and skills gained from the training to create jobs and contribute their quota in ensuring increased productivity, profitability, food security and Agriculture efficiency.
The DG who remarked that being selected to participate is one thing, but showing commitment to the programme is of utmost importance, emphasised the fact that the training which is for a period of six months is transformational and is packaged to make them become self sufficient and job providers.
He advised that creativity and innovative thinking must be applied to developing better ways of solving economic issues in the country, especially in the Agricultural sector.
Inuwa also noted that the initiative is part of the Agency's Strategic Roadmap and Action Plan (SRAP-2021-2024) and expressed the belief that NITDA alongside it's partners will scale up the initiative to accommodate more beneficiaries.
On his part, the National Coordinator of National Centre for Artificial intelligence and Robotics (NCAIR), Engr Garba Ya'u was of the opinion that to propel the Country towards the prosperity of Agriculture, their intrinsic intention to become Smart Farmers should translate to tangible innovative ideas in order to move the sector forward.
He revealed that as part of the pilot, Precision Agriculture will be introduced to the trainees.
"In the long run, we want to make sure you would not just be Agriculturalists but Tech Agriculturalists" he said.
Ya'u further said, irrespective of their fields of study, the programme is open to all and sundry and encouraged them to be open-minded to the possibilities that await them.
The representative of the Abuja Technology Village, Sarah Obayojie reiterated the company's resolve to tackle the lingering challenges bedeviling the Agricultural sector through indigenous innovations and the application of technology.
"I therefore charge you to use this opportunity to make a difference by participating in all the segments of the programme and be assured that this project will positively transform your lives".
The beneficiaries who took turns to ask questions and got some clarity on the prospects of the training, expressed gratitude to NITDA for the project and affirmed their respective commitments to the cause which they described as timely.
They were hopeful that after their service year, apart from looking for white collar jobs, they would already have something lucrative to hold on to as SMART FARMERS.

Big Brother Titans: Call to Entry Now Open for Nigerians & South Africans
Africa's biggest reality TV franchise, Big Brother, has announced calls for entries for a new special season to hold next year.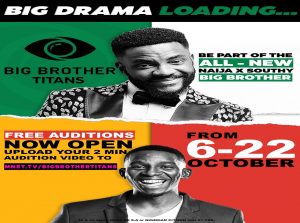 This season aptly called 'Big Brother Titans' will be a mix of Big Brother Naija and Big Brother Mzansi. It means auditions are open to Nigerians and South Africans, ages 21 and above.
Auditions for Big Brother Titans, commence from October 6 to October 22, 2022; all interested and eligible people must record a two-minute video of themselves stating why Big Brother should pick them to be a Big Brother Titan housemate.
This video must then be uploaded to http://mnet.tv/bigbrothertitans and then contestants must fill out the online registration form.
Big Brother Titans will feature brand new contestants who must be Nigerian or South African citizens with valid means of identification.
Speaking about the fascinating twist of having a mash-up of BBNaija and BBMzansi, Chief Executive Officer, MultiChoice Nigeria, John Ugbe, said, "the long history of rich culture and talent shared by both countries will be brought to life through the Titan housemates in one house. I can only imagine the explosion of drama and intrigue that will ensue.
"So, imagine 'Afrobeats' meeting 'Amapiano'; imagine the food and everything else that will be showcased; we think this will be quite exciting.
"We are excited about the special big brother season, and we will reveal more details at the right time sometime next year."
If you think you've got what it takes to be Biggie's next reality TV star, this message is for you! Head to http://mnet.tv/bigbrothertitans to find out more or follow the Big Brother Naija social media pages on Twitter, Instagram and Facebook.
Meta Hosts XR Exhibition to Showcase Winners of the Future Africa Grant for Extended Reality Creators
Meta has unveiled an exclusive XR exhibition featuring the six finalists from the 'Future Africa: Telling Stories, Building Worlds'programme, focused on supporting the next generation of Extended Reality (XR) creators in Africa. Developed in partnership with Africa No Filter, Electric South and Imisi 3D this forms part of Meta's XR Programs and Research investment into XR talents across Africa. 
With a focus on owning and shifting the African narrative, whilst telling compelling African stories that are contemporary and immersive, the finalists have developed a range of immersive digital experiences rooted in African culture across various media formats including 360 video, AR/VR and Mixed Reality.
 The experiences showcased include: 
●        Malik Afegbua, Nigeria: Malik's 'Moving Between' is a 360 documentary that presents a virtual heritage experience of the Kofar-Mata dye pit, a cultural and historical site in Kano, Nigeria, by showcasing it in a three-dimensional virtual reality model. In a 5-minutes immersive experience, a deaf dancer takes the audience on a tour through the historic Kofar-Mata dye pits, using sign language instructions and dance. 
●        Xabiso Vili, South Africa: A writer, performer and new media artist, Xabiso's 'Black Boi meets Boogeyman' is a multi-ending, 'choose your adventure' style 360° visual album. A speculative fiction piece where Black Boi, our protagonist, goes on a hero's journey through a South Africa that needs reminding of its light to confront the Boogeyman. This 360 visual album hopes to become an access point in which artists and communities can imagine using XR artistically and intentionally for communal healing. 
●        Dylan Valley, South Africa: Dylan's Cissie Gool House is a 360 documentary about a precarious housing occupation in a new Cape Town hospital. This 360 documentary will immerse the viewer in the occupation as if they were partaking in reclaiming the building. The film will showcase the voices of the activists and occupiers who call Cissie Gool House home and speak to those who would rather have them gone. The medium of VR will allow for greater empathy for these characters (often demonised in the press). It will impart a deeper understanding of what it means to occupy, especially when it is the only viable option you have. 
●        Nirma Madhoo, Mauritius: A fashion filmmaker, XR creator and Ph.D. candidate. Nirma's 'XWE,' 360 fashion film using volumetric capture and photogrammetry is a tribute to the original stargazers of Southern Africa. It will celebrate the constellations of dispersed diasporic African identities through a Noirwave fashion performance set in a VR landscape of astrophysics. 
●        Pierre-Christophe Gam, Cameroon: Pierre is a multimedia artist who worked on 'TOGUNA', a hybrid (both live and online) Art installation, fusing AR/VR, film, photography, mixed-media sculpture, future-thinking and storytelling, designed to facilitate a forum for an innovative conversation on the future of the African continent. This provides a WebVR experience using AR. 
●        Michelle Angawa, Kenya: A film editor and XR creator, Michelle's '1000 Shillings in Nairobi,' a 360 fiction film is a short tragicomedy depicting a day in a Nairobian Boda rider's life. He drifts through a series of absurd encounters in an attempt to pay a motorbike loan of KSH 1000 ($10).
Sherry Dzinoreva, Meta's Public Policy Programs Director, Africa, Middle East, and Turkey, said: "As the next phase of this programme, we're delighted to be unveiling this specially curated exhibition featuring the work of six talented creators from across the continent, all of whom have created beautiful, thought-provoking African stories and experiences using immersive technology.
"We know that Africa holds immense talent, which we see reflected in the experiences curated, and as we set our sights on the metaverse, we believe creators, especially those on the continent, will play a key role in unlocking its potential."
Commenting on the 'Future Africa: Telling Stories, Building Worlds' programme, Moky Makura, Executive Director, Africa No Filter added "We know the power stories have when it comes to influencing and shaping perceptions about Africa.
"That power is amplified when those stories are immersive and that is what today's technologies offer storytellers. It's exciting to be part of an initiative that has allowed us to tap into the future of storytelling in Africa.
Big Cabal Media Delivers Future Of Commerce II, Showcases Strength of Africa's Informal Economy
Over 5,000 people attended Big Cabal Media's Future of Commerce 2022 event at the Balmoral Convention Centre in Lagos, Nigeria, last week. Tagged "Money on the Streets," notable thought leaders around the continent and the world explored innovative ways in which startups and large corporations cater to the needs of Africa's informal sector.
The hybrid event featured over 30 business leaders, technology experts, and commerce operators who discussed how social media, payments, and logistics are powering the growth of Africa's commerce.
In his opening address, Tomiwa Aladekomo, CEO of Big Cabal Media, reiterated the company's belief that the next wave of commerce on the continent is in unlocking value in the informal sector.
"The rapid evolution of fintech services is accelerating financial inclusion by driving efficiency, lowering transaction costs, and expanding outreach to new markets. We see this in a country like Kenya, a pioneer in mobile money services, where eight in ten adults have access to formal financial services," Tomiwa stated.
Building on this, Tosin Eniolorunda, CEO and Founder of TeamApt, shared in his keynote address, the role technology must play in building trust in the informal market: "Businesses in the informal market have had several disasters while engaging with traditional corporate organisations, which has increased scepticism over time. To succeed, technological solutions must enable rapid settlements as well as decentralised and personalised customer service," he said.
User adoption continues to be a challenge for most technology solutions including those developed to enhance financial inclusion. Dr Olabisi, Lead Research at KasuWaGo, recommended that these solutions must be simplified further to scale adoption. "We need to reimagine the use of technology for small businesses in the informal sector. Tech products could be built such that users won't have to read much to interact with the app. That is a great way to scale adoption of such products," he said.
With Africa accounting for 70% of the World's $1 trillion mobile money market, mobile money is at the heart of Africa's economic growth. This subject was discussed by speakers who unanimously agreed that mobile money will play a fundamental role in financial inclusion and market expansion opportunities for both medium-scale and well-established businesses.
Esigie Aguele, Co-founder and CEO of VerifyMe, commented on the business prospects and user integration of mobile money, saying, "Mobile money enhances the technological opportunities for all forms of payments and payment solutions. It enables us to go beyond open banking and create products that promote widespread financial inclusion."
In addition to the deeply insightful sessions, attendees were able to network during breaks and were also entertained by the musical performance of Nigerian alte artiste, Bolaji Odojukan popularly known as BOJ.
Inspired by the recommendations from the Future of Commerce debut event last year, Big Cabal Media unveiled a "Commerce in Africa" industry projection report as one of the highlights of FOC 2022.
The Future of Commerce is an annual convergence of the world's most prominent business executives, creative entrepreneurs, and interested enthusiasts to explore the key changes affecting how Africans buy and sell. It is hosted by TechCabal, Big Cabal Media's flagship technology publication.