Symantec Endpoint Virtualization Transforms Workspace Management
Symantec Corporation, a global leader in providing security, storage and systems management solutions to help consumers and organizations secure and manage their information-driven world has announced Symantec Endpoint Virtualization Suite, designed to improve end-user productivity and lower the cost of managing endpoint devices. By offering portable, on-demand user workspace management, Symantec Endpoint Virtualization Suite provides a comprehensive solution for creating and managing workspace elements and environments in traditional, virtual and mixed client computing models. Symantec Endpoint Virtualization Suite is scheduled to be available in Spring 2009.
Symantec Endpoint Virtualization Suite allows customers to provision anything from traditional endpoints to full virtual endpoint workspaces based on standards that are hypervisor-, operating system- and hardware platform-agnostic. The solution provides heterogeneous support across traditional endpoint and emerging end-user computing environments (such as server-based computing, virtual hosted desktops and client-side hypervisors). Symantec Endpoint Virtualization Suite integrates leading endpoint virtualization technologies from the recent acquisitions of AppStream and nSuite and includes feature enhancements to other products in the portfolio. Symantec Endpoint Virtualization Suite enables the separation of information from underlying IT infrastructure so that information can be managed easily, protected completely and controlled automatically.
"Endpoint virtualization allows us to put end-user productivity at the center of the IT process," said Ken Berryman, senior vice president, Strategy and Emerging Business, Symantec. "By decoupling the user experience from the computing environment, we help make users immediately productive over the full range of endpoint technologies, thus allowing businesses to make the best use of their existing resources and reduce IT costs."
Symantec is changing the way software is managed, delivered and consumed at the endpoint, enabling user-based workspace management by offering an endpoint virtualization solution that includes application virtualization, streaming, resource brokerage technologies and new workspace profile management. Symantec Endpoint Virtualization Suite offers customers multiple products including Symantec Workspace Streaming, Symantec Workspace Virtualization, Symantec Workspace Corporate and Symantec Workspace Remote. In addition, Symantec Workspace Profiles is scheduled to add dynamic profile management to the solution.
"Symantec has entered the market strong with their vision to combine endpoint virtualization with the other elements of their portfolio," said Michael Rose, Research Analyst, IDC. "By coming in at a higher layer on the stack, we see them focusing on cross platform management and offering a lot of value, especially for customers of their other endpoint control products, like DLP, endpoint management and their storage and security solutions.
Symantec Workspace Streaming provides on-demand application streaming, optimizing software delivery and license management and thus reducing infrastructure costs. It is the only product of its kind that allows customers to use their industry standard MSI (Windows Installer) packages without repackaging, maintaining the MSI logic through deployment. Advanced streaming functionality allows an MSI file to be streamed directly to a virtual layer or to the base without virtualizing. This new addition extends the unique functionality of MSI streaming. In addition, flexible offline provisioning now allows hardware type and context to be detected, allowing customers to define unique mobile/standards and apply profiles appropriately.
Intel Corporate Marketing Research, in combination with Lieberman Research, surveyed medium and large size business IT decision makers in the United States about their usage and planned usage of the emerging compute models. They found "the percentage of total clients deploying application streaming is expected to grow by 25 percent in 2009."
"By integrating such features as Intel vPro and mobile-aware technologies in Symantec Endpoint Virtualization, Intel and Symantec are driving down IT costs and increasing user productivity," said Prasad Rampalli, Intel vice president, Digital Enterprise Group, and director, End-User Platform Integration. "This combination offers the benefit of centralized administration of client applications while providing users the performance and mobility of rich clients, allowing them to be as productive as possible. Symantec Workspace Virtualization (formerly Altiris Software Virtualization Solution) increases application stability and interoperability, regardless of how or where applications are delivered. Symantec Workspace Virtualization eliminates application conflict, reducing the high cost of time and resource use for interoperability testing and accelerating application rollouts. Customers using server-based computing models or virtual hosted desktops (VHD) from vendors like VMWare are offered additional flexibility. Symantec Workspace Virtualization now supports multiple concurrent users with virtualized applications on Terminal Server and Citrix and extends its application virtualization architecture to include application isolation. Virtualized applications can be customized easily for each user on the system.

Shell to Sack 9,000 over Oil Output Drops
Shell said on Wednesday that volumes of both Liquefied Natural Gas and crude production were down in the third quarter.
The oil major disclosed this in an update to the market, which also detailed plans to cut up to 9,000 jobs by the end of 2022 as it adjusts to the COVID-19 price collapse, according to S&P Global Platts.
Upstream production of oil and associated streams was significantly down in the quarter, in a range of 2.2 million to 2.3 million barrels of oil equivalent per day, from 2.6 million boe/d in Q3 2019.
LNG output was down in a range of 7.9 million to 8.3 million metric tonnes for the quarter, compared with nine million mt a year earlier.
In the update ahead of a full results statement on Oct. 29, Shell said its oil sales in July and August had reflected a 15-20 per cent discount to Brent pricing, similar to the second quarter, and its LNG business in the quarter had suffered a 'significant impact' from a lag effect in the oil-linked pricing of LNG.
It also highlighted refining weakness, with a utilisation level of just 64-68 per cent and margins "significantly lower" than in the second quarter 2020, and said it intended to reduce its refining footprint globally to less than 10 sites.
On its restructuring plans, Shell said, "Reduced organisational complexity, along with other measures, are expected to deliver sustainable annual cost savings of between $2.0bn to $2.5bn by 2022.
"This will partially contribute to the announced underlying operating cost reduction of $3bn to $4bn by the first quarter 2021."
Worldwide job reductions of 7,000 to 9,000 are expected by the end of 2022, including 1,500 people who have agreed to take voluntary redundancy this year, Shell said.
It also said production levels in both the upstream business and the LNG business had been lower than in the second quarter, partly reflecting seasonal maintenance, but also the impact of hurricanes in the US Gulf of Mexico.
Western Digital Unveils Speed, Portable SanDisk SSDs
Western Digital Corp. yesterday released two new SanDisk® portable SSDs that offer nearly 2x the speed over previous generations. The SanDisk Extreme® and SanDisk Extreme PRO® portable SSDs are purpose-built to keep up with today's high-quality content demands.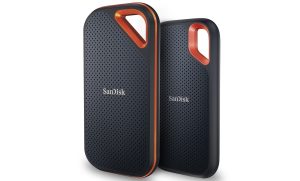 Professional photographers, videographers and enthusiasts capture and keep life's best moments every day and they need reliable solutions that perform on the move at astonishing speeds.
With capacities up to 2TB*, the new NVMe™ drives are perfect for creating amazing content or capturing and moving incredible 4K and 8K footage with ease.
The flagship SanDisk Extreme PRO portable SSD features a forged aluminum chassis made to stay cool under the pressure of a heavy workload and a durable silicone design to withstand the rigors of production. The drives also help keep content safe with password protection and an upgrade to 256-bit AES hardware encryption1.
"When every second counts, I need fast and powerful solutions that work as quickly as I do. I rely on SanDisk SSDs to keep up with my creativity," said Tyler Stableford, SanDisk Extreme Team member.
"As an artist, speed is one of my greatest strengths, and I know with the SanDisk Extreme line of SSDs, I can get the job done with greater efficiency and capacity, and I never have to worry about running out of memory wherever the job takes me."
Rugged and Powerful SSD Performance
Designed with professionals in mind, the new SanDisk portable SSDs were built to reliably handle the most challenging assignments – whether at home, in the office or out on location.
The SanDisk Extreme portable SSD is a great go-to drive for those who need more memory and a durable and fast drive, while the SanDisk Extreme PRO was built for an avid pro who needs even, sustained performance and a drive that can go anywhere.
"For our customers, life is an adventure and they rely on us to raise the bar across our portfolio when it comes to delivering powerful solutions to consumers and professionals alike," said Brian Pridgeon, director of marketing, Consumer Solutions, Western Digital.
"The SanDisk brand is trusted by professional photographers worldwide, which is why we built our Extreme family of drives to perform at the highest level. We amped up the speeds with the latest NVMe technology and used robust materials in our designs to handle the best shots and the most demanding jobs."
Key Features
SanDisk Extreme PRO Portable SSD
– Save time storing and transferring data with powerful NVMe solid state performance featuring up to 2000MB/s** read and up to 2000MB/s** write speeds.
– A forged aluminum chassis acts as a heatsink to deliver higher sustained speeds in a portable form factor.
– Up to two-meter drop protection and an IP55 rating2 make the drive tough enough to take on any adventure. The drive's forged aluminum chassis and silicone shell design offer a premium feel and added protection.
– Helps keep private content private with password protection and an upgrade to 256-bit AES hardware encryption1.
SanDisk Extreme Portable SSD
– Get NVMe solid state performance featuring up to 1050MB/s** read and up to 1000MB/s** write speeds in a portable, high-capacity drive that's perfect for creating amazing content or capturing incredible footage.
– For added durability, the drive features up to two-meter drop protection and IP55 water and dust resistance2.
– Durable silicone shell that offers a premium feel and added protection to the drive's exterior.
– Helps keep private content private with password protection and an upgrade to 256-bit AES hardware encryption1.
Ready to move, consumers can use the handy carabiner loop to secure the drives to a belt loop or backpack for extra peace of mind. The new drives are compatible with PC and Mac computers.
In addition to moving content to a PC or laptop, the new products also now allow users to back up mobile content quickly and easily thanks to compatibility with a range of USB Type-C™ smartphones.
Availability
The SanDisk Extreme and SanDisk Extreme PRO portable SSDs are backed by a five-year limited warranty3 and are now available at the Western Digital Store, and at select e-tailers and retailers worldwide.
The SanDisk Extreme portable SSD is available now in 500GB* and 1TB*, and is expected to ship in 2TB* later this holiday season. The SanDisk Extreme PRO portable SSD is available now in 2TB*, and is expected to ship in 1TB* later this holiday season.
ID Africa Announces 'Neusroom Untold' In Celebration Of People, Places And Events That Have Shaped Nigeria's History
In celebration of Nigeria's 60th Independence anniversary, ID Africa, Marketing, Media and Technology company and media platform, Neusroom have announced the Untold project, a collection of 78 stories about important people, places and events that have shaped Nigeria's history and some little known facts that are yet to penetrate mainstream consciousness, especially amongst young citizens.
Nigeria was under colonial rule from 1900 to 1960. Sixty years after independence, the country has survived a civil war, endured eight military coups and rule, and grown to become one of the most populous black nations on earth. With a GDP of $376.3bn, and $1.2 trillion PPP, Nigeria is ranked by the IMF as the largest economy in Africa. But many of the stories, ideas, and events that can unite, motivate, and inspire the mostly youth population appear to have been forgotten.
The Untold project is in line with the Neusroom's long-term mission to research, document and publish important stories about Nigeria and its people.
The collection includes the work of six Neusroom and Netng writers published over the past two years, and are being presented to the world in honour of the country's 60th year of breaking free from colonial rule.
At a critical time when access to historical facts  and verifiable information on some of Nigeria's most important people, places and events has become a challenge for the younger generation, Neusroom is taking a position as a reliable information outlet by providing the public with credible, verifiable, and objective information about Nigeria and other African nations.
The Untold project includes profiles of some of Nigeria's most revered and celebrated personalities such as potter Ladi Kwali, and Alimotu Pelewura, a fish seller who led Lagos market women's protest against colonial masters. It also includes the detailed account of how Kudirat Abiola fought valiantly to ensure her husband's mandate as elected President was returned to him, and how Samuel Okwaraji slumped and died on the football field while representing Nigeria.
Events and places such as the Nigerian Civil War, the Oyo town where every household has a set of twins, and the Kiriji war which is popular as the world's longest ethnic war that pitched powerful Yoruba towns against Ibadan, also make up a part of the collection.
The collection which will be updated quarterly, is aimed at serving as a source of entertainment, knowledge and insight, in easily digestible formats, for today's youth and future generation of Nigerians.
Speaking on the idea behind the project, ID Africa CEO, Femi Falodun says, "We are using Nigeria's 60th Independence celebration as an opportunity to share some of the most remarkable stories we've curated over the past few years with a wider audience of young Nigerians who may not have previously known about these people, places and events.
Our ultimate goal for the Neusroom Untold Project is to document obscure parts of Nigeria's past and recent history in short multimedia formats that are interesting, easy to read and readily accessible to anyone on the internet. And as history is constantly being made, we believe that this project will always be work-in-progress."
Ayeni Adekunle, founder and publisher of Neusroom and Netng, said, "With The Neusroom Untold Project, we are celebrating Nigeria's journey as a progressive nation with a spotlight on all of its important contributors whose stories may have been lost in the archives or not being told at all.
"We have and will continue to put together, through a thorough editorial process, this project which reflects the country's rich history, achievers and events that particularly young Nigerians will find interesting and useful."
Since it was founded in 2015, Neusroom has been a trailblazer in telling the most relevant and impactful Nigerian stories. In June 2020, the ID Africa-owned platform unveiled The Neusroom 100 Project, in recognition of 100 people, organizations, countries, and things helping the world fight the pandemic and flatten the COVID-19 curve.