Verve, Zap, OthersTop 10 African Fin. Service Tech Products in 2009
The task of selecting top 10 technology driven products/services in financial service industry in Africa in 2009 is not an enviable one. In spite of the global financial recession, financial services industries in Africa have turned out several technology-driven innovative products/services. These products cut across all the financial sectors such as banking, insurance, capital markets and even pension schemes.
Top on the list of the criteria employed by the financialtechnology editorial team include innovations and transformational power. The products/services selected have proven to be innovative both in design and implementation. They also have transformational power to revolutionise the financial service sector in the continent. Having applied these criteria as vigorous as possible, the following products/services were selected: M-Pesa, Zap, Mobile Money, Verve, Kenyan Bourse Complaints SMS Service, Instant Life, Capitec Bank Paperless System, Mbao Pension Scheme, Trustco Life and Uganda Financial Sector Identification (FSI) system.
1. M-Pesa
Safaricom's powered M-Pesa, the most successful M-Payment system in the world, has continued to go from strength to strength. Having survived Kenya's government inquisition in January 2009, M-Pesa went international and opened a new platform for its 7.5 million subscribers to connect to the United Kingdom.
Safaricom also integrated the platform to ATM systems. As such, its customers can retrieve money through PesaPoint ATMs. More than 75 organisations, including manufacturers of retail goods are already hooked up to M-Pesa, allowing their customers to pay using what was initially launched as a money transfer platform targeting the unbanked. The roll call of M-pesa corporate users include educational, financial, health, hospitality, utility, insurance, airlines, NGOs, and media institutions.
Renaissance Capital, a Nairobi based investment bank, estimates that M-pesa service earned Safaricom Sh2.9 billion in the last financial year. In terms of access for both merchants and consumers, the mobile platform offers significant low costs and unrivalled convenience.
2. Zap
With the launch of Zain's Zap into the M-Payment sector in Kenya and East Africa, competition took a new twist characterised by revolutionary products. Zain introduced a new concept, allowing its users to send and receive money via their bank accounts.
Zain launched Zap Distro, a web portal tool that enables dealers and large chains, which have other agents under their flagships, to manage their accounts. It also unveiled Zap Master to its transactional menu. The Zap Master eases cash administration process especially for SMEs. With these new offerings, Zain has deepened the M-Payment scheme in Africa.
3. Kenyan Bourse Complaints SMS Service
In 2009, investors at the Nairobi Stock Exchange (NSE) were able to lodge their complaints and queries on shares and transactions at their convenience. This follows the launch of the NSE Complaints Handling Unit (CHU) SMS service. This is an enhancement of the CHU website.
Peter Mwangi, NSE Chief Executive, says the new service will make the stock market more approachable for investors where they will get information on how the bourse operates or even raise issues they may have. Prior to CHU launch, investors shuttled between the NSE and market regulator, Capital Market Authority & Central Depository Settlement Corporation (CDSC) to raise concerns.
The new service is seen as an alternative to the web-based portal, bringing convenience to especially those in the rural areas without access to internet.
4. Instant Life
Instant Life is South Africa's first direct insurer to function without the expense of an interactive call centre, using an automated administrative system.
The company claims to represent a sea of change in the way insurers do business. 100 years ago saw the emergence of the broker-driven insurance business; about 50 years later call centre technology changed the industry, while the online, low-cost system of Instant Life represents the kind of do-it-yourself change similar to that of buying airline tickets.
"The new generation of insurers will shift the focus from the old model of push-selling by a commissioned intermediary to life products that internet savvy and informed clients will want to buy," says Jan Kotze, CEO of Instant Life. He says life cover could become more affordable including the 50% of South Africans who were underinsured by the life industry engaging directly with clients online and by shedding "its top-heavy layers".
Instant Life started in August 2009, but was officially launched only in December 2009 because it needed time to refine its business models and technology. Nonetheless, according to Kotze, it had already received about 8000 applications from 40,000 hits.
5. Trustco Life
Trustco Mobile, a subsidiary of Namibia-based Trustco Group Holdings provides life cover for mobile phone users when they purchase airtime. It has set a target of signing up five million people on the continent in the next 10 months. Presently, the deal is exclusive to Cell One customers, in Namibia.
Trustco Life covers users lives for a maximum of R100 000, for as long as they buy airtime monthly from the mobile company. Quinton van Rooyen, group MD of the Trustco Group, says the system works through the cellular company's network and, as long as consumers keep buying airtime, they are insured. Reminders are sent out via SMS when customers need to recharge.
He says the concept was tested for a year before being launched, and uptake was good. Namibia has 1.4 million cellphone users, of which 95% are on prepaid packages. The company will expand the offering beyond Namibia and is targeting five million users by financial year-end. Cell One has 250 000 prepaid customers, Van Rooyen says.
6. Mbao, Informal Pension Scheme
An informal pension scheme powered by M-Payment services, M-Pesa and Zap was launched in Kenya in the last quarter of 2009. It will require savings of at least Sh20 a day for informal sector players to earn a pension after their retirement.
With the individual contribution pension scheme called Mbao Pension Scheme, the informal sector player will be able to save and enjoy comfort at old age, like those in formal employment. The pension scheme, established by Kenya National Jua Kali Co-operative Society Limited, is targeting 8.5 million people involved in small and medium enterprises in the country.
This pension scheme will leverage on technology to attend to the expected volumes of small denominations in contribution. In this, members will contribute through money transfer services like Safaricom's M-pesa and Zain's Zap, and receive account updates through their handsets.
The national identification card number will be the member's account number. Retirement Benefits Authority MD, Edward Odundo, says the company expects the scheme to be the largest in the country in a few years.
7. Capitec Paperless Banking System
Opening a bank account at any of the over 370 branches of Capitec Bank in South Africa is a piece of cake. They take customer's fingerprints with a scanner and the contract states that Capitec uses this ID to authorise transactions. Within 45 minutes the customer is done. The account is opened and ready for transactions
Capitec Bank, the fastest growing retail bank in South Africa in 2009 pioneered a new biometric ID system to provide increased security for client transactions and lower banking fees. Riaan Stassen, Capitec Bank CEO says, "The sophisticated yet simple biometric device that we are implementing in our branches is an example of how we strive to use innovative technology to drive down costs while enhancing security and offering clients greater peace of mind. The biometric devices allow immediate verification and instant account access, in real-time, assuring clients that only they can transact on their account."
The introduction of biometric ID by Capitec Bank is a local industry first. Using fingerprint and photographic recognition, the system is used in-branch when a client opens an account and any time they need to liaise with a consultant thereafter.
8. Financial Sector Identification (FSI)
To address the challenges of the absence of unique identifier in the implementation of its financial credit system, the Central Bank of Uganda (CBU) set up a Financial Sector Identification (FSI) system powered by Compuscan Limited.
CBU makes Compuscan the country sole credit bureau provider and makes it a regulatory requirement that all banks must supply loan applications and performance data; perform credit search at the point of facility review or new loan agreement. It also mandated all banks to issue financial cards to their borrowers to enable proper ID on credit bureau.
In 2009, all bank branches in Uganda have the software and hardware set up and enrollment also commenced. The financial cards are created for individuals, companies and authorised agents representing companies. To forestall possible impersonation, 10-finger digits are registered and four images of each digit are taken. The solution was developed to work both online and offline with direct hook up to the finger print database.
9. Verve
In 2009, Interswitch, Nigeria's premier transactions switching and electronic payment company delivered the first locally branded EMV payment card in Africa. Christened Verve, the payment card generated a lot interest across the world because of its strategic impact on local e-payment transactions in Nigeria and its potential to become a leading regional payment card.
The security and EMV features in Verve chip & PIN card guarantees a higher level of security for payment transactions than magnetic stripe cards. Interswitch has also initiated eight other security initiatives. These are: MoneyGuard, which allows cardholders to send SMS from their phones to block their cards in case of an unusual, fraudulent activities; Fraud Watch, a portal and email for fraud reporting and information management; Fraud Guard, a fraud management and transaction security system; Fraud Insure, card fraud insurance; Fraud Team risk management team; Identity Guard, a token based strong authentication and Fraud Aware, cardholder awareness campaign.
10. Mobile Money
The MTN Group successful launched its Mobile Money Transfer (MMT) in Uganda and Ghana in 2009. It marked the beginning of a series of planned launches across its operations in Africa and Middle East.
MTN Mobile Money is a convenient, secure and affordable way for MTN subscribers to send money, buy airtime and pay bills using their cellphone. Whether users have an existing bank account or not, they can register for MTN MobileMoney as long as they are MTN subscribers. Those without MTN SIM cards or even a phone can still receive money from MTN MobileMoney users and send money through a network of agents in their country.
MTN has been piloting at the Group's West and Central Africa (WECA) region operations (Cameroon, Ghana, Cote d'Ivoire and Nigeria) since October 2008. Five additional pilots were launched in Benin, Congo Brazzaville, Guinea Bissau, Guinea Conakry and Liberia in 2009. The pilots are aimed at waterproofing the systems and operational processes in preparation for the commercial launch. In each market, MTN has partnered with local banks to ensure that its MMT services are fully compliant with financial services regulations.
Discussions are currently on-going with relevant authorities in various countries to ensure that all regulatory requirements are met. MTN Mobile Money has the potential to become the largest banking services in Africa by the time the operations take off in all countries of its operations. MTN Mobile Money charges a smaller percentage compared to what other conventional service providers charge.
Samsung Launches the Incredible Crystal UHD TV
TV has become a massive part of our lives from those must-watch series to the sports matches that have us glued to the screen. World-renowned for pioneering innovation in this popular category of technology, Samsung has now launched Crystal UHD TV.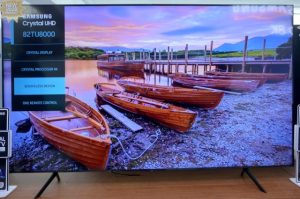 Featuring Samsung's cutting-edge Crystal Display, the new Crystal UHD TV will bring high-resolution content to life in a whole new way, delivering a viewing experience like never before in a mainstream UHD TV.
Controling all function with Voice Assistant and enjoying multiple contents on one screen with Multi View are just some of the welcome advancements on this incredible TV.
"Samsung TV has been constantly paving the path for technological innovations by offering consumers a new TV experience and a future for global TV industry. This is the core driving force that makes Samsung No. 1 TV for 14 consecutive years. Crystal UHD builds on this success in ways that people will truly love." said Dudu Mokholo, Chief Marketing Officer at Samsung Central Africa.
Crystal UHD is the purest form of picture quality with 1 billion rich and vibrant colours with guaranteed crisp and vivid images time over time. Its features include:
Real 4K UHD Resolution – 4K UHD TV goes beyond regular FHD with 4x more pixels, offering your eyes the sharp and crisp images they deserve. See it like you're really in the scene.
Lifelike colour expression – Immerse yourself in the picture with a wider range of colour. Dynamic Crystal Display delivers lifelike variations so you can see every subtlety.
Crystal Processor 4K – Experience picture quality that moves you, made possible by a single chip that orchestrates colour, optimises high contrast ratio, and masters HDR.
See the picture, not the TV – A sleek and elegant design that draws you to the purest picture. Crafted with an effortless minimalistic style from every angle and a boundless that sets new standards. You will see only the most immersive cinematic experience ever.
Get what you want just by speaking up – Everything is so much easier with voice control. Now you can quickly access favourite content, get answers, and even control your TV and other connected devices around your home. Just tell it what you want.
See multiple contents at the same time – Multi View splits your TV screen in two, putting the content you're watching on one side, and mirroring your mobile screen on the other. This means you don't have to look away from the TV screen to glance at your phone anymore.
Get gaming faster – Get into the game faster with Game Enhancer, which optimises your screen so you have more control with barely noticeable input lag. Experience smooth gaming in its most impressive form without motion blur and judder.
Decorate your space with your favourite photos  – When you project your favourite photos onto the TV screen, the TV itself blends into your décor elegantly. You can lay out multiple photos in a beautiful collage or place them in a slide show for to keep the visual fresh and on point.
Clean up the clutter – Samsung UHD offers a neat solution for keeping all your TV cables tidy, hiding them away right in the stand. This helps you reduce your clutter so you can fully enjoy your TV's beautiful design.
Samsung Crystal UHD clearly does what many TVs cannot, in the most amazing ways.
The Crystal UHD TV is now available at various retailer stores and retailer online pages. For extra peace of mind, Crystal UHD TV comes with a 24 month warranty.
FG to Boost Artificial Intelligence
Federal government on Tuesday announced that it has developed initiatives for the adoption of Artificial Intelligence technology in Nigeria.
The establishment of a Centre for Artificial Intelligence and Robotics in Nigeria (CFAIR) is also expected soon.
The National Information Technology Development Agency (NITDA) said that AI applications enable innovative solutions, improve risk assessment, better planning, and faster knowledge-sharing.
Abdullahi Usman Gambo, director of IT Infrastructure Solution, NITDA, spoke at a workshop in commemoration of International Day for Universal Access to Information (IDUAI) organised by the United Nations Educational, Scientific, and Cultural Organisation (UNESCO).
He noted that AI would open up opportunities for access to information and also help to achieve the Sustainable Development Goals (SDGs) set by the United Nations (UN) in the 2030 Agenda.
Gambo said: "Artificial Intelligence is poised to revolutionize the way we go about our daily lives – from governance to business, legislation to medicine to defence, etc. We can all agree that AI is humanity's new frontier.
"We have developed initiatives for adoption of emerging technologies such as AI, strengthen cybersecurity, digital skills for digitally excluded citizens while enhancing the regulatory and market environment to increase access to ICTs, and promote seamless access to information.
"We believe AI and associated emerging technologies will completely enhance the speed, efficiency and effectiveness of information gathering during the exchange of data or the ways of communication," he said.
Delivering his paper, Yushau Shuaib, publisher of PRNigeria, described access to information as the right of the citizens to accurate, transparent, and timely facts and figures.
The former National Emergency Management Agency (NEMA) spokesman stated that governments at all levels have obligations to communicate with people, while the public has the right to know and criticize authorities through constructive engagement.
The media executive, however, appealed to Nigerians not to use social media platforms for fake news dissemination.
"The merits of new media on affordability, accessibility and instant delivery are occasionally marred by the fact that social media is sometimes used to spread fake news", he said.
Shuaib called for collaboration of stakeholders in ensuring appropriate legislation through public awareness campaigns in order to improve access to universal information.
Samsung Unveils Technologically Advanced 2020 Consumer Products
Samsung Electronics Nigeria has unveiled its 2020 consumer products range. The launch which held in Victoria Island, Lagos showcased the latest in its revolutionary and innovative QLED and Crystal UHD Television Series  along with Wind Free Air Conditioners, Side by Side Refrigerators and Drum Washing Machines.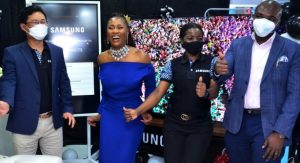 Keeping with its resolve to utilize its transformative ideas and technologies to shape the future and inspire the whole world, Samsung has once again demonstrated its determination to continuously redefine the living space and entertainment of its customers.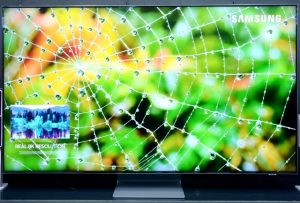 According to Mr. Caden Chiyeon Yu, Managing Director, Samsung Electronics Nigeria, "QLED uses exceptional and revolutionary technology which offers an unparalleled visual and auditory adventure from the comfort of your living room. QLED series is available in 4K or 8K and from 58″ to 98", and was designed with options to fit any space and budget". For Crystal UHD Television, Mr. Yu said, with cutting-edge Crystal Display, the new Crystal UHD TV will bring high-resolution content to life in a whole new way, delivering a viewing experience like never before in a mainstream UHD TV.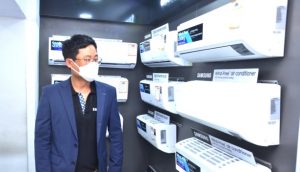 Also showcased at the launch were the new Windfree Air Conditioner, Drum Washing Machines and Side by Side refrigerators. The Windfree Air Conditioner is designed specially with the latest technology to provide coolness in quick time while ensuring that users don't experience any chills through out its use. It also has an in-built digital inverter which reduces energy consumption by 73 percent. .
The newly introduced drum washing machine of 2020 from Samsung is very efficient and is built with eco bubble technolgy which allows it to provide cleaning of very dirty garments or clothes without the use of water.  Futhermore, the new Side by Side Refrigetor was built with Spacemax technology which has enabled  Samsung to offer more spacious interior without increasing the external dimentions or compromising energy efficiency.
Also speaking at the event, Mrs. Oluwaremilekun Adesola-Ogunsan, Head, Consumer Electronics, Samsung Nigeria stated that "Samsung understands the economic diffulties currently being experienced in the country and has consistently produced pocket friendly premium consumer products. We are very consistent in our approach as we understand that our customers like the good things of life and we have provided that without compromising our standards". "So I can say boldy that there is a Samsung for everybody regardless of your income stream" She added.
In 2019, the Samsung consumer range of products received universal praise for its innovative quality and design and numerous pioneering features. This year Samsung has added even more beneficial features which its customers will appreciate in great deal.