Xiaomi Launches Redmi 9, Entry-level Smartphones
Xiaomi has officially launched the Redmi 9, Redmi 9A and Redmi 9C as part of the Redmi 9 series of entry-level smartphones.
The Redmi 9 series succeeds the Redmi 8 series by Xiaomi and aims to offer value for money smartphones in the budget segment. The new smartphones in the Redmi 9 lineup feature up to four cameras on the back, Full HD+ screens and high capacity batteries to boot.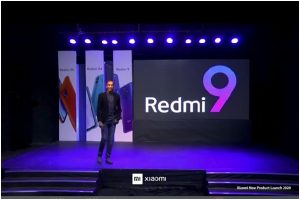 According to Mr. Somoye Habeeb, marketing director, Xiaomi,  Redmi 9 comes in as a smartphone intended to pacify enthusiasts who cannot afford the Redmi Note 9 series.It offers a cheaper price tag, which can be seen as a strategy to reach customers with a lower budget.
Today, Xiaomi launched three entry-level phones in Nigeria market: Redmi 9, Redmi 9A, and Redmi 9C. They are sold at different prices, but all of them are between N41, 900 – N66, 900and they have a very high value for money.
Given that they carry different prices and they are all devices released by Xiaomi, you probably understood that they are not at the same level. But a lot of people are wondering which one to buy: is it worth spending more for the Redmi 9 or it is better to save money for a Redmi 9A / 9C?
The Redmi 9 features a 6.53-inch Full HD+ (2340 x 1080 pixels) resolution display with a waterdrop notch cutout for the selfie camera. The screen is topped with a layer of Gorilla Glass 3 for added protection. The phone is 9.1mm thick and weighs at 198 grams.It is powered by MediaTekHelio G80 chipset with an octa-core CPU and Mali-G52 GPU and runs on MIUI 12 which is based on Android 10.
This is paired with upto 4GB RAM and upto 64GB storage options to choose from. There's also an option to increase the phone's storage further by using microSD cards of upto 512GB.The Redmi 9 features a quad-camera setup that consists of a primary 13MP camera with an f/2.2 aperture, an 8MP ultra-wide-angle camera with 118-degree field-of-view, a 5MP macro camera and a 2MP depth sensor. On the front, there is an 8MP selfie camera housed within the waterdrop notch cutout.The phone has a fingerprint sensor on the back and comes with a 5,020mAh battery with support for 18W fast charging out-of-the-box.Xiaomi has priced the Redmi 9 starting at N66, 900 for the 4GB RAM +64GB RAM variant. The phone comes in three colours– Grey, Green and Purple.
XIAOMI REDMI 9C SPECIFICATIONS AND PRICING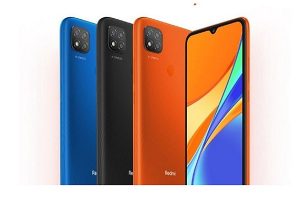 Xiaomi Redmi 9C also comes with a 6.53-inch screen but with HD+ (1600 x 720 pixels) resolution and a waterdrop notch cutout on the front which gives it a 20:9 aspect ratio. The phone is powered by MediaTekHelio G35 chipset with an octa-core CPU and PowerVR GE8320 graphics. This is paired with upto 3GB RAM and 64GB storage with an option to increase the storage by upto 512GB with microSD card.It runs on the latest MIUI 12 which is based on Android 10.
The phone comes with a triple camera array that consists of a primary 13MP camera with f/1.8 aperture, a 5MP macro camera and a 2MP depth sensor. There's a 5MP selfie camera on the front housed within the waterdrop notch cutout.
The Redmi 9C comes with a rear fingerprint sensor and is fitted with a 5,000mAh battery but doesn't support fast charging.
The Redmi 9C is priced starting at N46, 900the base variant with 2GB RAM and 32GB storage and N53,900 for the 3GB RAM variant with 64GB storage.
XIAOMI REDMI 9A SPECIFICATIONS AND PRICING
The Redmi 9A features the same set of display, battery and selfie camera as the Redmi 9C. It is powered by the MediaTekHelio G25 chipset with octa-core CPU and PowerVR graphics. This is paired with 2GB of RAM and 32GB internal storage with an option to expand the storage further by upto 512GB via microSD cards.
The phone runs on MIUI 12 and features a single 13MP primary camera. It can record in 1080p at upto 60FPS. The Redmi 9A doesn't come with a fingerprint sensor.
Xiaomi Redmi 9A is priced N41, 900.  The Redmi 9 is now available on sales nationwide.
NCC Says 78.9m Nigerians now Connected to Broadband
Nigerian Communications Commission (NCC) has revealed that the number of Nigerians connected to high-speed internet rose to 78.9 million in June.
The data from the commission showed that telecommunications operators in the country added 2.2 million customers to their broadband database in the month to raise the figure from 76.6 million recorded in May.
This raised the country's broadband penetration from 40.14 per cent in May to 41.27 per cent at the end of June.
The steady growth in penetration has been attributed to the telecoms operators' aggressive push for deployment of 4G service across the country. To extend the service to more Nigerians, the largest mobile network operator in the country, MTN, recently announced more investments targeted at building more 4G infrastructure
MTN said it planned to spend an estimated N600 billion on technical infrastructure over the next three years as it looks to expand its 4G coverage across the entire country by 2024
The Federal Government also recently launched a new National Broadband Plan (NBP 2020-2025) with a target of achieving 70 per cent penetration in the next five years.
This followed the expiration of the NBP 2013-2018, which delivered 31 per cent penetration as of December 2018.
Aside from the 70 per cent penetration target, the government in the new plan also raised the benchmark speed for broadband service in Nigeria to 25 megapixels per second, which is an improvement from the 1.5mbps benchmark in the 2013-2018 plan.
Gilat Telecom, Spacecom, Unite to Bolster Satellite Services in Africa
Spacecom, operator of the AMOS satellites fleet, and Gilat Telecom, a connectivity service provider, have announced a collaboration "to develop a faster, more reliable and more cost-effective satellite service for organisations of all sizes across Africa."
The service uses Spacecom's AMOS-17 fully digital and advanced High Throughput Satellite (HTS) on both C and Ku band, and Gilat Telecom's unique SD-WAN MAX technology.
The companies add that the service, available immediately, can be used for home and office connectivity including video conferences, e-health applications, e-learning, e-education, etc.
They add that the collaboration will benefit African MNOs and ISPs in several ways including CAPEX savings and higher throughput at reduced operational costs.
"Spacecom's AMOS-17's HTS fully digital payload enables cross-connection between all beam and all bands enabling the use of existing equipment which can also be set-up remotely by the end customers (on existing or new terminals). Using Gilat Telecom's intelligent routing, capacity can be expanded by up to 20% (the equivalent of 6 Mbit/s can be achieved from a 5 Mbit/s downlink)," the companies state.
Another benefit is smart traffic management. The companies explain: "Gilat Telecom's SD-WAN enables service providers and MNOs to centrally control the route that both satellite and fiber traffic takes to and from the customer.
It enables different applications – voice, streaming, caching (Facebook, Netflix, Microsoft cloud services etc.) – to be identified with automatic prioritisation, according to the customer's needs and demands."
Dan Zajicek, Spacecom's CEO said: "This partnership enables us to boost the services offered to customers along with fast returns on investments to these growing markets. We are sure this fruitful cooperation will lead us to many great business opportunities in Africa."
Asaf Rosenheck, Gilat Telecom's CEO also said, "We are an innovative company always focused on how we can improve the service we provide to our customers. Our partnership with Spacecom demonstrates how we work across the ecosystem to drive down costs and improve capacity".
Encomiums as Sonny Aragba-Akpore Bows Out of NCC
It was encomiums galore recently as Management and Staff of the Nigerian Communications Commission (NCC) bid the Commission's Head of Media Management and Public Relations, Sonny Aragba-Akpore, farewell following his retirement.
Aragba-Akpore, former Information and Communications Technology/News editor at the Guardian Newspaper, joined the service of the Commission in 2014.
Speaking at the valedictory party held in his honour on Thursday, which was attended physically and virtually by staff of the Commission, Prof. Umar Danbatta, executive vice chairman, appreciated the level of professionalism Aragba-Akpore brought to bear on his work at the Commission.
Represented at the event by Abigail Sholanke, director, Projects, Danbatta commended Aragba-Akpore for using his many years of industry experience and knowledge as a media professional and corporate communication manager to create a robust relationship with both mainstream and online media stakeholders, which, he said, has contributed significantly to the overall positive image and favourable public perception of NCC.
"On behalf of the Board, Management and Staff of Commission, we wish you a successful retirement and fruitful engagements in your future endeavours," Danbatta said.
In his remarks, Dr. Ikechukwu Adinde, director, Public Affairs Department,  said "within the short time I worked with Mr. Aragba-Akpore, I found him to be a man of uncommon passion for his work," describing him as a very committed and hardworking colleague.
"We, therefore, wish you increased divine favour, as you retire from the services of the Commission."
Other staff of the Commission, including directors, deputy directors, middle management staff, among others, took turns to talk about the favourable working relationship they had with Aragba-Akpore while at the NCC and wished him well in his retirement life.
Responding, Aragba-Akpore expressed gratitude to the Management and Staff of the Commission for their support and cooperation during his service and for organising a befitting valedictory ceremony in his honour, saying he enjoyed working with the NCC.
"This is one event I will not forget in a hurry. Indeed, I feel I am very lucky and singularly blessed and very appreciative of the privilege to work with a leading telecoms regulator like the NCC. For me, it is once-in-a-lifetime opportunity," he said.