Firms Embracing BlackBerry Enterprise Service 10 for Security
BlackBerry Limited, a world leader in mobile communications, on Wednesday announced strong growth in the legal sector, following a number of recent BlackBerry® Enterprise Service 10 (BES10) deployments among leading law and accountancy firms.
Seventy-four per cent of the UK's top 31 law firms, including several of the legal "Magic Circle" have chosen or evaluating BlackBerry solutions to provide an end-to-end mobile security infrastructure.
These firms use BES10 for either commercial or test purposes to ensure their devices are rigorously managed and follow regulated industry requirements.
International law firm, Taylor Vinters, needs to meet their clients' expectations for high productivity and responsiveness, including while employees are working remotely.
Client expectations, coupled with the need to meet the security demands of a regulated industry, are the key drivers behind Taylor Vinters' need for a solid mobile strategy.
The firm worked with Appurity to install BES10 to manage a combination of BlackBerry® 10 and non-BlackBerry devices.
"BlackBerry has provided us with highly scalable and robust mobility management solution," said Steve Sumner, director of IT at Taylor Vinters. Our clients share privileged information with us and we need to be able to access and store that information in a safe and secure way. Our clients also expect a certain speed of response and having BlackBerry technology in place enables us to meet that need."
Clyde & Co., a global law firm with more than 1,400 employees, has deployed BES10 to migrate its existing 1,200 BlackBerry users to BlackBerry 10 smartphones.
"One of our key mobility requirements is having on-the-go access to document management software," said Aaron Donaldson, 3rd Line Support Team leader, Clyde & Co.
"BES10 provides a single platform that facilitates the management and control of this software, and other business-critical apps, in a consistent environment that meets our stringent security requirements."
BlackBerry has been at the core of Clifford Chance's enterprise mobility strategy for more than ten years.
The firm's investment in BES10 last year included issuingBlackBerry® Z10 and BlackBerry® Q10 smartphones to 1,600 employees.
"BES10 offers us a strong combination of flexibility, functionality and security," said Paul Greenwood, CIO at Clifford Chance.
"Equippedwith BlackBerry Z10 and BlackBerry Q10 smartphones, our people have become more productive and are delivering excellence in client service."
"Before customers engage with a professional services firm, they look for someone they can trust, and they look at the firm's reputation," said Markus C. Mueller, regional managing director, Europe, at BlackBerry.
"Given the nature of this industry, sensitive customer data is often passed between employees and multiple devices – it is therefore vital that this data remains secure. BlackBerry is the gold standard in security, which means we can provide the legal industry with the freedom to access information on the go, on any device, in a way that observes compliance standards and ensures highly sensitive client information is never compromised."
Phase3 Moves on Multilayer Network Technology Upgrade
Phase3 Telecom, leading independent fiber optic network infrastructure and telecommunications services provider  has said that it is amplifying the scope of network technology upgrades to enhance its communications, cloud and connectivity solutions across business and enterprise segments in Nigeria and the West African sub-region.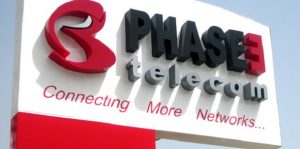 This followed its ongoing Security Operation Centre (SOC) network capability upgrade.
This development, is targeted at expanding the scope of its enterprise solutions drive for its increasing user portfolio of small/large scale enterprises, institutions, corporates, services sector and multinational companies, contributing to the nation's thriving broadband penetration drive.
According to Stanley Jegede, chairman, "the principal goal of Phase3 ongoing multilayer technology upgrade is to optimize "network infrastructure capabilities, scalability, interconnect operational capacity, resilience, service optimization and coverage that will enhance communications, cloud and connectivity projects across multiple locations to support more start-ups, growing businesses and institutions to boost economic growth and increase their successes.
He also added that this Phase3 technology upgrade is quite expansive in model, to accommodate the new digital realities and possibilities created by COVID-19.
Especially in the areas of amplified work-from-anywhere and dedicated remote connectivity solutions as well as service delivery that is targeted at increasing networks data handling capacity vis a vis making them faster and smarter as the current global clime demands.
In conclusion, he stated that beyond enhanced network backbone and bandwidth capabilities for point-to-multi point access, chief components such as network security and speed are the driving force of Phase3 new technology upgrade for secured and latency-free connections as well as growing network expansion plan.
Unitellas Partners Zadara On Data Infrastructure Project
Unitellas International Limited and its partner Zadara, have taken the bold initiative to save Nigeria from exposure to rising Cybercrime by making significant investment in data infrastructure in the country.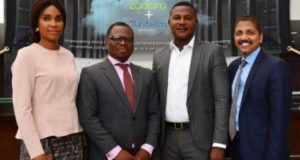 Unveiling the initiative in Lagos, Smith Osemeke, Managing Director and Chief Executive Officer of Unitellas International Limited, revealed that Nigeria is hugely susceptible to cyber attacks due to failure to develop in-country data saving infrastructure.
Osemeke, observed that the COVID-19 pandemic has forced governments around the world to deliver vital Public Services in unprecedented ways and to experiment with Digital Technologies on an unforeseen scale.
According to him, In Nigeria, a lot of organizations had to turn to Local Service Providers and other Public Sector Organizations for help during the crisis, most of which are overburdened and challenged by outdated IT Systems.
As a result, a lot of organizations were forced to move their data to the Public Cloud through the services of AWS, Azure and Google Cloud.
This he continued had led many organizations in Nigeria to default on the guidelines on Local Content law i.e. all organizations operating within Nigeria should have their data stored within Nigeria.
Osemeke, alerted that Storing Data in the Public Cloud outside Nigeria creates the problem of Data Protection since data stored in the public cloud is exposed to Cyber and Ransomware attacks because the existing public cloud service providers do not provide Absolute Data Protection.
He noted that Sensitive Citizens data such as BVN, National Identity Numbers and other private and confidential details needs to be protected from such attacks and exposures.
"It becomes a challenge to uphold "Data sovereignty"- the concept of storing data within the Nation's Borders. Since Local Service Providers are unable to effectively Store Data not to mention Protect Stored Data due to the fact that present Legacy Storage Infrastructures do not have the capabilities to offer the latest Data Protection Mechanism (DATA STORAGE IMMUTABILITY)."
He said that Local Service Providers in Nigeria cannot compete with international cloud service providers such as AWS, Azure and Google Cloud in terms of Infrastructure, Pricing, Service Delivery and Management and as a result this has caused a lot of companies in Nigeria to patronize International Public Cloud Service Providers by Storing Data from Nigeria in other Countries thereby making it practically impossible to comply with the Local Content Law..
"As a result, Financial Service Institutions (FSI) and other Key Organizations invest Millions of Dollars annually in acquiring and managing IT Infrastructures instead of focusing on their Core Businesses because they must have an IT department to build and manage their Data Storage Infrastructure – a service that is supposed to be handled by Local Service Providers in Nigeria.
"If this sad narrative is not corrected, sensitive Data from Nigeria will continue to be hosted outside Nigeria and inevitably leading to Data Insecurity. Unfortunately, Nigeria is one of the countries lacking Data Security due to the inability of Service Providers to effectively Store and Protect Data Locally." he said.
To reverse this ugly situation, Unitellas International Limited in Partnership with ZADARA is empowering all Service Providers in Nigeria to meet up with International Standards with regards to Data Storage Infrastructure, Service, Pricing and Security.
Unitellas is the official distributor of Zadara Solution in Nigeria, while Zadara is a renowned World Leader in Infrastructure -as-a-service and Enterprise Data Storage-as-a-service.
Osemeke said that Unitellas in partnership with Zadara is willing to empower local service providers in Nigeria to meet up with International Managed Service Providers (MSP) standards by providing Local service providers with Infrastructure-as-a-service and Enterprise-Storage-as-a-service model which eliminates huge Capital Expenditure (CapEX) with minimum Operational Expenditure (OpEX).
By subscribing to Zadara Data Storage services with Compute Capability, Local Service Providers and MSPs can now offer Data Storage and Compute services with the latest Data Protection Mechanism competing effectively with renowned Public Cloud Providers in Infrastructure, Security, Pricing, Management and Service.
ICTEL EXPO 2020: Stakeholders Urge Nigerians to Seize Opportunities Provided by Digital Economy
Nigerians have been urged to seize the opportunities provided by the digital economy especially now, that the nation is seeking ways to overcome the restrictions imposed by the COVID-19 pandemic and are deploying technology needed for economic recovery and sustainability.
The Information and Communications Technology ICT, Stakeholders disclosed this at the virtual Information Communication Technology and Telecommunications Conference and Exhibition, ICTEL EXPO 2020 with theme: 'Exploring Opportunity in the Digital Economy', organized by Lagos Chambers of Commerce and Industry.
Mrs. Toki Mabogunje, president, Lagos Chamber of Commerce & Industry LCCI, speaking at the conference, said: "there is no better time to explore the opportunities provided by the digital economy than now when every nation is seeking ways to overcome the restrictions imposed by the COVID-19 pandemic. And as nations face dwindling growth, deployment of technology is key to economic recovery and sustainability."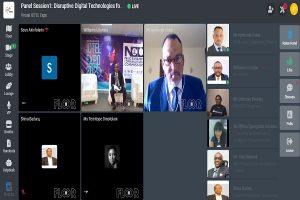 She explained that the new normal brought about by the Covid-19 pandemic has ensured that virtually all sectors have now leveraged ICT for optimal performance.
According to her, "This is evident in the financial services sector, where almost all banking transactions are conducted through digital channels, the agriculture sector, where sophisticated technologies, such as robots, temperature and moisture sensors, aerial images and global positioning systems, the GPS technologies, are largely employed.
"Nigeria has witnessed a phenomenal growth in its ICT sector over the past decade.
"The ICT sector remains one of the most resilient sectors of the Nigerian economy, even in the face of the COVID-19 pandemic.
"As a foremost private sector body in Nigeria today, established since 1888, the Lagos Chamber is providing, through this expo, an incredible platform, to advance the opportunities and linkages in the world of ICT", she concluded.
Dr. Isa Ali Ibrahim Pantami, minister of Communications and Digital Economy, while declaring the conference and exhibition open, said that globally, digital revolution is changing lives and societies, with unprecedented speed and scale, delivering immense opportunities, as well as associated challenges.
"As predicted by the World Economic Forum, over 60% of global Gross Domestic Product, (GDP), will be digitized, by 2022 and that, over the next decade, digital platforms, will be used to create, close to 70% of new value", Pantami noted.
The Minister, who was represented by the Executive Secretary, Universal Service Provision Fund (USPF), Mr. Ayuba Shuaibu, stressed that: "globally, businesses are shifting from brick and mortar form, to innovative enterprises driven by digital technologies and now is the time for business, enterprises and organisations, to reinvent and automate, to fit into the global digital economy.
"I want to congratulate the Director General and members of the Lagos Chambers of Commerce and Industry for organising this Information Communication Technology and Telecommunications Conference and Exhibition, ICTEL EXPO 2020, to spotlight this national discourse, on how we can take advantage of digital technology for accelerating our economy", he concluded.
Delivering her keynote address, Ms Funke Opeke, CEO/Managing Director, MainOne and Chairmperson, Presidential Committee on National Broadband Plan, identified three activities that will enable digital economy to work well in our clime. These include connectivity, a device and a platform that enables one to connect with parties at the other end.
"When we look at private sector participation in Nigeria and the challenges we face as an economy, especially with the recession, with the dip growth rate and high inflation economy that we have and I think the recognition, globally, that growth across the world can only be fuelled by digital adoption in the years to come. I think it is important that our government provide more support to the ICT industry", she concluded.
Some panel discussions also took place on the first day of the event, while some companies exhibited their products and solutions to the general populace, via the online virtual platform.