Google Reveals 15 Best Street Views on Google Maps
Google Maps turned 15 in February, and the Street View team published a list of their 15 favourite Street Views to celebrate.
We've detailed them below as they offer a wonderfully colourful list of places to explore and learn about – for children and adults.
1. Scale Yosemite's El Capitan with a famous climber
Go mountaineering in Yosemite without having to take a 3,000-foot climb up El Capitan. Some people did incur risk to bring you up the wall, but trust us, they're professionals.
2. Float through the International Space Station in Space View
All but one of our Street View image collections have something in common: gravity. But with the right stuff and a collaboration with NASA, we were able to overcome truly unique obstacles to bring everyone a taste of what it's like to be an astronaut.
3. Horse around with us at Mongolia's Lake Khövsgöl Ice Festival
How do you spend a bone-chilling winter in Mongolia? By going outside and having a festival on an ancient frozen lake, of course! We took Street View to the party and hopped on a horse-drawn sleigh for the sweetest of rides across a glacial playground.
4. Climb the monarch of mountains: Mont Blanc in the Alps
If you're ready for dramatic views of snow-tipped mountain tops, take a journey 16,000 feet up Mont Blanc. We partnered with world-renowned alpine photographers, skiers, mountaineers, climbers and runners to collect the Street View of Western Europe's highest peak so that you can run on a summit, ice climb up a serac and ski knee-deep in some of the best powder on Earth.
5. Take in Tokyo's cherry blossom season 
Japan's sakura, or cherry blossom season, is world famous. Take a casual stroll with Street View during Tokyo's spring time and be sure to look left to catch a glimpse of the famous Zōjō-ji Temple, located in the Shibakoen neighborhood near Tokyo Tower.
6. Bathe in La Sagrada Familia's lights without the crowds
Let your jaw drop as you enter the main chamber of La Sagrada Familia. This might be your only chance to witness the church's famous tree-like columns, shimmering lights and vertigo-inspiring views without having to join a herd of gawking visitors.
7. Scuttle with crabby company on Christmas Island 
Head over to Christmas Island, a remote tropical territory of Australia, to shellebrate the island's annual red crab migration. Along with a sweeping sunset view, you can see millions of crabs march from the forest and right into the sea.
8. Stroll through the majestic Sheikh Zayed Grand Mosque in Abu Dhabi
See architectural styles from Muslim civilisations in one of the world's largest mosques, the Sheikj Zayed Grand Mosque. Able to accommodate 40,000 worshippers, the mosque has an open-door policy, inviting visitors from around the world to see its intricate domes, reflective pools and mesmerising prayer hall.
9. Drift with the Ilulissat Icefjord in Greenland
Feel the chill as you peer at Greenland's Ilulissat Icefjord, where a glacial ice cap meets the ocean. Named a UNESCO World Heritage site in 2004, it's imagery like this that reminds us both of our planet's beauty and of how climate change is impacting the natural world.
10. Meet the world's only flightless parrot: the endangered kākāpō
Virtually step into the home of the kākāpō and explore prehistoric New Zealand just as it was millions of years before the first boat ever landed on its shores. Join Street View on an exclusive tour of windswept sanctuaries and pristine reserves that are off-limits to visitors.
11. Cruise through the Amazon on the Rio Negro River
With Street View, you can ferry down the Rio Negro River and see images taken across more than 30 miles of remote and diverse shore, forest and village.
12. Visit the floating homes of the Uros in Lake Titicaca
Cultures, countries and climates may differ, but we all have a place to call home. See how the Uros people of Lake Titicaca in Peru make their homes on floating reed islands that entire villages rest on top of.
13. Take in the Eiffel Tower
Whether you suffer from crippling vertigo or just haven't had the chance to see the iconic Eiffel Tower, Street View has you covered. You can take a tour of the top of Paris right from home, catching a glimpse of attractions like the Arc de Triomphe, Montmartre and the River Seine.
14. Gaze up at the Northern Lights
You don't have to travel to the most northern corners of the world to see the natural phenomenon that is the Northern Lights. It took our team six nights in the snow before finally being able to capture the elusive Aurora Borealis on the frozen Pitkäjärvi Lake in Finland.
15. Meander through Machu Picchu
After waiting years to secure permission to collect imagery from this world wonder, we methodically zig-zagged through the ancient site's terraces and temples with Google Arts & Culture over seven days to make this world heritage site accessible to all.
Phase3 Moves on Multilayer Network Technology Upgrade
Phase3 Telecom, leading independent fiber optic network infrastructure and telecommunications services provider  has said that it is amplifying the scope of network technology upgrades to enhance its communications, cloud and connectivity solutions across business and enterprise segments in Nigeria and the West African sub-region.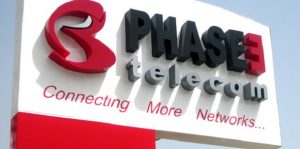 This followed its ongoing Security Operation Centre (SOC) network capability upgrade.
This development, is targeted at expanding the scope of its enterprise solutions drive for its increasing user portfolio of small/large scale enterprises, institutions, corporates, services sector and multinational companies, contributing to the nation's thriving broadband penetration drive.
According to Stanley Jegede, chairman, "the principal goal of Phase3 ongoing multilayer technology upgrade is to optimize "network infrastructure capabilities, scalability, interconnect operational capacity, resilience, service optimization and coverage that will enhance communications, cloud and connectivity projects across multiple locations to support more start-ups, growing businesses and institutions to boost economic growth and increase their successes.
He also added that this Phase3 technology upgrade is quite expansive in model, to accommodate the new digital realities and possibilities created by COVID-19.
Especially in the areas of amplified work-from-anywhere and dedicated remote connectivity solutions as well as service delivery that is targeted at increasing networks data handling capacity vis a vis making them faster and smarter as the current global clime demands.
In conclusion, he stated that beyond enhanced network backbone and bandwidth capabilities for point-to-multi point access, chief components such as network security and speed are the driving force of Phase3 new technology upgrade for secured and latency-free connections as well as growing network expansion plan.
Unitellas Partners Zadara On Data Infrastructure Project
Unitellas International Limited and its partner Zadara, have taken the bold initiative to save Nigeria from exposure to rising Cybercrime by making significant investment in data infrastructure in the country.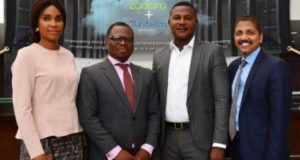 Unveiling the initiative in Lagos, Smith Osemeke, Managing Director and Chief Executive Officer of Unitellas International Limited, revealed that Nigeria is hugely susceptible to cyber attacks due to failure to develop in-country data saving infrastructure.
Osemeke, observed that the COVID-19 pandemic has forced governments around the world to deliver vital Public Services in unprecedented ways and to experiment with Digital Technologies on an unforeseen scale.
According to him, In Nigeria, a lot of organizations had to turn to Local Service Providers and other Public Sector Organizations for help during the crisis, most of which are overburdened and challenged by outdated IT Systems.
As a result, a lot of organizations were forced to move their data to the Public Cloud through the services of AWS, Azure and Google Cloud.
This he continued had led many organizations in Nigeria to default on the guidelines on Local Content law i.e. all organizations operating within Nigeria should have their data stored within Nigeria.
Osemeke, alerted that Storing Data in the Public Cloud outside Nigeria creates the problem of Data Protection since data stored in the public cloud is exposed to Cyber and Ransomware attacks because the existing public cloud service providers do not provide Absolute Data Protection.
He noted that Sensitive Citizens data such as BVN, National Identity Numbers and other private and confidential details needs to be protected from such attacks and exposures.
"It becomes a challenge to uphold "Data sovereignty"- the concept of storing data within the Nation's Borders. Since Local Service Providers are unable to effectively Store Data not to mention Protect Stored Data due to the fact that present Legacy Storage Infrastructures do not have the capabilities to offer the latest Data Protection Mechanism (DATA STORAGE IMMUTABILITY)."
He said that Local Service Providers in Nigeria cannot compete with international cloud service providers such as AWS, Azure and Google Cloud in terms of Infrastructure, Pricing, Service Delivery and Management and as a result this has caused a lot of companies in Nigeria to patronize International Public Cloud Service Providers by Storing Data from Nigeria in other Countries thereby making it practically impossible to comply with the Local Content Law..
"As a result, Financial Service Institutions (FSI) and other Key Organizations invest Millions of Dollars annually in acquiring and managing IT Infrastructures instead of focusing on their Core Businesses because they must have an IT department to build and manage their Data Storage Infrastructure – a service that is supposed to be handled by Local Service Providers in Nigeria.
"If this sad narrative is not corrected, sensitive Data from Nigeria will continue to be hosted outside Nigeria and inevitably leading to Data Insecurity. Unfortunately, Nigeria is one of the countries lacking Data Security due to the inability of Service Providers to effectively Store and Protect Data Locally." he said.
To reverse this ugly situation, Unitellas International Limited in Partnership with ZADARA is empowering all Service Providers in Nigeria to meet up with International Standards with regards to Data Storage Infrastructure, Service, Pricing and Security.
Unitellas is the official distributor of Zadara Solution in Nigeria, while Zadara is a renowned World Leader in Infrastructure -as-a-service and Enterprise Data Storage-as-a-service.
Osemeke said that Unitellas in partnership with Zadara is willing to empower local service providers in Nigeria to meet up with International Managed Service Providers (MSP) standards by providing Local service providers with Infrastructure-as-a-service and Enterprise-Storage-as-a-service model which eliminates huge Capital Expenditure (CapEX) with minimum Operational Expenditure (OpEX).
By subscribing to Zadara Data Storage services with Compute Capability, Local Service Providers and MSPs can now offer Data Storage and Compute services with the latest Data Protection Mechanism competing effectively with renowned Public Cloud Providers in Infrastructure, Security, Pricing, Management and Service.
ICTEL EXPO 2020: Stakeholders Urge Nigerians to Seize Opportunities Provided by Digital Economy
Nigerians have been urged to seize the opportunities provided by the digital economy especially now, that the nation is seeking ways to overcome the restrictions imposed by the COVID-19 pandemic and are deploying technology needed for economic recovery and sustainability.
The Information and Communications Technology ICT, Stakeholders disclosed this at the virtual Information Communication Technology and Telecommunications Conference and Exhibition, ICTEL EXPO 2020 with theme: 'Exploring Opportunity in the Digital Economy', organized by Lagos Chambers of Commerce and Industry.
Mrs. Toki Mabogunje, president, Lagos Chamber of Commerce & Industry LCCI, speaking at the conference, said: "there is no better time to explore the opportunities provided by the digital economy than now when every nation is seeking ways to overcome the restrictions imposed by the COVID-19 pandemic. And as nations face dwindling growth, deployment of technology is key to economic recovery and sustainability."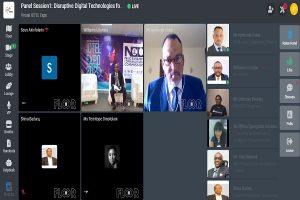 She explained that the new normal brought about by the Covid-19 pandemic has ensured that virtually all sectors have now leveraged ICT for optimal performance.
According to her, "This is evident in the financial services sector, where almost all banking transactions are conducted through digital channels, the agriculture sector, where sophisticated technologies, such as robots, temperature and moisture sensors, aerial images and global positioning systems, the GPS technologies, are largely employed.
"Nigeria has witnessed a phenomenal growth in its ICT sector over the past decade.
"The ICT sector remains one of the most resilient sectors of the Nigerian economy, even in the face of the COVID-19 pandemic.
"As a foremost private sector body in Nigeria today, established since 1888, the Lagos Chamber is providing, through this expo, an incredible platform, to advance the opportunities and linkages in the world of ICT", she concluded.
Dr. Isa Ali Ibrahim Pantami, minister of Communications and Digital Economy, while declaring the conference and exhibition open, said that globally, digital revolution is changing lives and societies, with unprecedented speed and scale, delivering immense opportunities, as well as associated challenges.
"As predicted by the World Economic Forum, over 60% of global Gross Domestic Product, (GDP), will be digitized, by 2022 and that, over the next decade, digital platforms, will be used to create, close to 70% of new value", Pantami noted.
The Minister, who was represented by the Executive Secretary, Universal Service Provision Fund (USPF), Mr. Ayuba Shuaibu, stressed that: "globally, businesses are shifting from brick and mortar form, to innovative enterprises driven by digital technologies and now is the time for business, enterprises and organisations, to reinvent and automate, to fit into the global digital economy.
"I want to congratulate the Director General and members of the Lagos Chambers of Commerce and Industry for organising this Information Communication Technology and Telecommunications Conference and Exhibition, ICTEL EXPO 2020, to spotlight this national discourse, on how we can take advantage of digital technology for accelerating our economy", he concluded.
Delivering her keynote address, Ms Funke Opeke, CEO/Managing Director, MainOne and Chairmperson, Presidential Committee on National Broadband Plan, identified three activities that will enable digital economy to work well in our clime. These include connectivity, a device and a platform that enables one to connect with parties at the other end.
"When we look at private sector participation in Nigeria and the challenges we face as an economy, especially with the recession, with the dip growth rate and high inflation economy that we have and I think the recognition, globally, that growth across the world can only be fuelled by digital adoption in the years to come. I think it is important that our government provide more support to the ICT industry", she concluded.
Some panel discussions also took place on the first day of the event, while some companies exhibited their products and solutions to the general populace, via the online virtual platform.