Increasing Internet Access through Sabi, Win Initiatives
Internet service delivery in the country has been a nightmare ranging from low speed and high cost of the service.
Apart from Internet access service offered by many of the ISPs in Nigeria to the general populace, telecommunications operators also provide data services.
There are issues associated with performance which cuts across the spectrum of various Internet connectivity solution providers in the country.
GSM networks:
All the four GSM networks offer Internet access solutions using GPRS, EDGE and/or 3G (3.5G), although, their Internet services are not at its best in terms of speed.
CDMA networks:
Code Division Multiple Access (CDMA) operators are doing much in this regard, with most of them rolling out wireless broadband service, however, there are some challenges with the speed.
Against this backdrop that NCC is planning a forum to address the various bottle-necks in operators bid to offer high speed internet service to their subscribers.
Determined to improve on the current low Internet penetration in the country, the Nigeria Communications Commission (NCC) on July 11, 2006 said it was poised to scale the hurdles to speed up the development of Internet through some new initiatives, deploying emerging information and knowledge technologies.
NCC to the rescue
These initiatives include the State Accelerated Broadband Initiative (SABI), Internet Exchange Points (IXPs) as well as Wire Nigeria project.
Engr. Ernest Ndukwe, executive vice chairman, Nigerian Communications Commission (NCC) explained that the major reasons for the slow development of Internet services in the country were the high cost of bandwidth, computers and Internet infrastructure as well as unreliable power supply. He however assured that the NCC would remain focused on its programme of enthroning an information society where every citizen enjoys the full benefits of the global information superhighway.
SABI, Ndukwe said, has been designed to encourage the private sector to build and run a broadband infrastructure with government support and incentive in all state capitals and selected major commercial cities in the country. The project which is nearer to completion will drive Broadband to home (B2H) at an affordable cost.
The SABI project entails the provision of wireless broadband services in Nigerian cities; stimulation of demand for Internet services and increase in usage; and stimulation and acceleration of opportunities in e-education, e-commerce, e-governance, and all electronic related services.
It is believed that National e-government strategy (Negst) is going to leverage on the Sabi in the deployment solution that will facilitate the take off of e-government in the country, especially its recently launched electronic Local Government Administration (eLGA).
The WiN project is intended to provide massive fibre transmission facilities to most areas of Nigeria. The project when fully implemented will ensure that all Nigerians will be only a maximum of 50 km from a fibre network access point wherever they live.
The first phase will connect all State capitals to the fibre network; thereafter all Local Government headquarters will be connected. In the final phase, it is intended that all Nigerians will be within 50 km of a fibre network.
The Nigerian Communications Commission (NCC) announced at the end of the GSMA Mobile World Congress in Barcelona that Sabi will deliver broadband services in all of the country's states by the end of 2009. The NCC hopes that the rollout will help to drive economic recovery. The GSM Association (GSMA), the worldwide group of GSM operators, in report said that ICT investments, especially in broadband services, could help take countries out of the economic crisis.
'The idea and purpose is to serve the areas that are unserved and improve on the areas that have been served partially. We want to stabilize the environment and create incentives that will improve manpower skills that will lead to economic growth,' said chief regulator of the NCC, Ernest Ndukwe. The first phase of the project will cover the 36 state capitals, followed by expansion to council headquarters and other towns and cities in the local regions.
Three unnamed companies have been approached for the deployment, out of a total of 50 that applied to run and manage the subsidized programme.
He said the subject of broadband being discussed at the conference was timely and crucial to the commission; even as the nation celebrated seven years of massive growth in voice telephony, as broadband was the next frontier that needed to be conquered.
Ndukwe said it was because of the importance placed on extending broadband services to all parts of the country that the commission initiated the State Accelerated Broadband Initiative, which would cover all the 36 state capitals and many of the urban and semi urban centres.
"The rationale behind the Sabi project is to provide wireless broadband services in Nigerian cities so as to stimulate demand for Internet services and increase usage, and most importantly, this project is to drive broadband to homes at affordable levels," he said.
The NCC boss said that the Wire Nigeria Project being facilitated by the commission to ensure provision of optic fibre cable backbone infrastructure across the country, would also compliment the Sabi.
"The idea behind the WIN project is to provide a national backbone infrastructure," he said.
"We have also given frequencies to those companies to enable them go round and do it copiously. So, by the end of the year, you will see a lot of broadband infrastructure rolled out across the country with good enough speed to make us happy. In the next few weeks, we shall be holding a forum to discuss how the speed of broadband is improved in our country. Many people are not happy with the current speed and there are bottlenecks and others and the forum is to seek a solution." I must say I have read it in the newspapers like anybody because there is no single company that has approached NCC for tariff increase, he said.
Ndukwe also disclosed that the commission had freely offered information and communication technology appreciation training to over 4,000 professors and lecturers from tertiary institutions across the country through the Digital Bridge Institute, which was established by the commission.
He said the training was offered to the lecturers under the Digital Appreciation Programme for Tertiary-designed to equip the lecturers with the basic computer skills and Internet application to ensure they were equipped to use the facilities to teach and encourage their students.
NCC Moves to Review International Termination Rate for Voice Services
The Nigerian Communications Commission (NCC) has embarked on a cost-based study to set the new pricing regime for mobile international termination rate (ITR) for inbound international voice calls in the country.
The ITR is the rate paid to local operators by international operators to terminate calls in Nigeria.
As part of the process for the rate determination, the Commission has organised a virtual stakeholder engagement forum with relevant industry stakeholders to intimate them with the ongoing cost-based study and the need to cooperate with Messrs Payday Advance and Support Services Limited, the consultants engaged to carry out the study
Addressing the stakeholders in Abuja recently, Prof. Umar Danbatta, executive vice chairman of NCC, said the study has become imperative following the various implementation constraints arising from contending industry and market dynamics that met previous efforts at finding an optimum price for the termination of international voice services in Nigeria.
Danbatta, who was represented at the forum by Adeleke Adewolu, executive commissioner, Stakeholder Management, NCC, said through the new ITR pricing, the Commission will be able to balance the competing objectives of economic efficiency and allowing operators the latitude to generate reasonable revenue.
The EVC, however, explained that in 2013, the Commission issued a determination stating that mobile termination rate (MTR) rates were the same irrespective of where the call originated, a clause he said was largely misconstrued by operators at that time to mean that ITR should be the same rate as the MTR.
He said this led to operators ignoring the international cost portion, where ITRs were agreed at MTR level without a positive residual to cover the costs of the international leg for local operators.
"As a result of this, the ITRs continued to decline, in line with the MTR glide path and as the ITR was set in Naira, it suffered a further downward slide in dollar terms following the currency devaluation.
"Ironically, the Nigerian operators paid the international operators in dollars to deliver international calls which created an imbalance of payments as the ITR in Nigeria declined," he said.
As a result, Danbatta said Nigerian operators' profitability and commercial results were negatively affected putting Nigeria's ITR below that of most countries with which it makes and receives the most calls, thereby making Nigerian operators perpetual net payers.
"This has, therefore, led to undue pressure on the nation's foreign reserves, which continue to get depleted by associated net transfers to foreign operators on account of this lop-sidedness, hence the need for Nigeria, with volatile currencies, to regulate the ITR to prevent or mitigate the imbalance of payments with international operators," the EVC said.
According to Danbatta, where ITR is not properly regulated, it tends to have a negative effect on a market like Nigeria with major supply-side challenges and associated socio-economic implications.
"So, setting a rate substantially above the MTR has resulted in a number of repercussions. One of such is the consumer shift to online channels as calls are increasingly made through Internet Protocol (IP)-based technologies such as Skype and WhatsApp because of high international call prices.
"To this end, an economically-efficient ITR that is cost-based will maximise economic benefits to all stakeholders," Danbatta told the stakeholders.
Earlier in her remarks, Director, Policy, Competition & Economic Analysis, Yetunde Akinloye, said the forum is aimed at formally engaging with and sharing the perspectives and insights of industry stakeholders and ultimately enlisting their collective support in relation to the inputs and requirements towards the determination of a mutually- realistic ITR in Nigeria.
She noted that the project commenced on March 10, 2020 with a kick-off meeting but was stalled by the challenges associated with the COVID-19 pandemic, necessitating the need to explore emerging channels of engagement to move forward and ensure the completion of the project.
Akinloye reiterated the Commission's commitment to continuously provide a conducive environment and level-playing field for the effective interplay of factors that would sustain market development and growth, while ensuring the provision of qualitative and efficient telecommunications regulatory services for the benefit of consumers and licensees.
Ericsson Accelerates 5G for Enterprise with Acquisition of Cradlepoint
Ericsson has agreed to acquire Cradlepoint, the US-based market leader in Wireless Edge WAN 4G and 5G Enterprise solutions. The investment is key to Ericsson's ongoing strategy of capturing market share in the rapidly expanding 5G Enterprise space.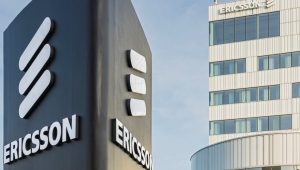 Cradlepoint complements Ericsson's existing 5G Enterprise portfolio which includes Dedicated Networks and a global IoT platform.
The combined offering will create valuable new revenue streams for customers by supporting full 5G-enabled services for enterprise, and boost returns on investments in the network.
Cradlepoint will become a fully owned subsidiary of Ericsson while continuing to operate under its existing brand. Cradlepoint employees will remain within the company, headquartered in Boise, Idaho. It will be part of Ericsson's Business Area Technologies & New Businesses.
The acquisition price amounts to an enterprise value of USD 1.1 b. with the transaction expected to close before the end of Q4 2020, subject to closing conditions. The purchase price, which is funded from Ericsson's cash-in-hand, is paid in full on closing.
Cradlepoint's sales for 2019 were SEK 1.2 b. with a gross margin of 61%. Ericsson's operating margins are expected to be negatively impacted by approximately 1% in 2021 and 2022 – where half is related to amortization of intangible assets which arise from the acquisition. Cradlepoint is expected to contribute to operating cash-flow starting in 2022. Ericsson's 2022 group financial targets remain unchanged.
Wireless wide area network (wireless WAN) Edge solutions connect through 4G and 5G to deliver fast, secure, and flexible connectivity wherever and whenever it is needed for businesses, mobility and critical frontline emergency services. Cradlepoint is strongly positioned in a market with underlying growth of 25-30%.
Börje Ekholm, President and CEO Ericsson, says: "Portfolio-near acquisitions are an integral part of our earlier communicated strategy. The acquisition of Cradlepoint complements our existing offerings and is key to our strategy of helping customers grow the value of their 5G network investments. Ericsson is uniquely positioned to build on Cradlepoint's leadership position in Wireless Edge and the wireless WAN market.
Combining the scale of our market access and established relationships with the world's biggest mobile operators we are making a strong investment to support our customers to grow in this exciting market. I would like to extend a very warm welcome to all Cradlepoint employees."
George Mulhern, CEO and Chairman, Cradlepoint says: "We have led the way in bringing the power of cellular networks and technologies to enterprise and public sector customers – helping them connect beyond the limits of traditional wired WANs. Ericsson with its global 5G leadership is a great match for us and I am very excited to continue to scale and expand our business together."
Founded in 2006, Cradlepoint has more than 650 employees, providing wireless WAN solutions that deliver enterprise-grade connectivity. In addition to the company headquarters in Boise, Idaho, USA, the company operates a research and development center in Silicon Valley, California, and new market offices in the United Kingdom and Australia.
Cradlepoint's subscription model combines cloud-delivered software with hardware endpoints, support and training.
Ericsson's long-standing collaboration with Cradlepoint dates back to the launch of 4G in the U.S. market more than a decade ago.
Startups & Investors Set to Meet Virtually at the ISN Hubs Annual Gathering & Demo Day
Innovation Support Network, Nigeria's largest Hub network, is giving ten startups from across the country the opportunity to pitch before local and foreign investors at its inaugural Demo Day on September 24.
The ISN Demo Day is part of the two-day ISN Annual Gathering 2020 which would be holding virtually from 23 – 24 September, 2020.
The ISN Annual Gathering is the biggest convention of Hub founders, administrators, key partners and stakeholders and is targeted at growing visibility, building sustainable models and driving collaborations for the growth of Hubs as Entrepreneur Support Organisations in the country.
This year's Annual Gathering "Stronger together – developing frameworks for collaboration" is very relevant at this time when Hubs and other members of the tech and innovation ecosystem need to become more collaborative.
In addition to the Annual Gathering, ISN Hubs would be hosting the ISN Hubs Demo Day on 24 September 2020.
Selected startups from within the ISN Hubs network would pitch virtually to an audience of investors, Corporates as well as members of the Development & Impact Community.
According to the Chairman of ISN Hubs, Tomi Davies, the ISN Demo Day is an opportunity for Angel investors to get a front-row view of some of the startups including a few outside of Lagos and Abuja, which they previously may not have had access to.
"This is a great opportunity for Hubs to showcase the startups that they are supporting, for startups to show what they are working on and the solutions that they are creating and for investors to get a better understanding of what is happening in the Nigerian tech and innovation ecosystem. It's a win-win-win for everyone". He concluded.
The first ISN Annual Gathering was held on 23 and 24 October 2019 at the Civic Center, Lagos. This year, due to the prevalence of post-COVID limitations on public events, the Annual Gathering would be held virtually on 23 and 24 September 2020.
Fayo Williams, partnership director, ISN, stated that "moving the event online has actually created an opportunity for us to reach a larger audience – not just across Nigeria but indeed, across the World."
The event would hold for two days via Zoom and would feature two-panel sessions on Understanding the Innovation Support Ecosystem as well as Stimulating demand for homegrown solutions on September 23.
As a follow on to the second session on Day 1, the ISN Demo Day would hold on September 24. Register here to attend.
Innovation Support Network (ISN Hubs) is a not-for-profit Business Member Organisation made up of over 100 entrepreneurship, impact, innovation and technology Hubs across Nigeria.
ISN Hubs champion policy, drive collaborations and promote structures that help grow Nigeria's innovation ecosystem. A Hub is an environment which provides Entrepreneur Support Services to startups by providing access to four critical resources: skills, infrastructure, funding and network. Hubs include business incubators, startup (or seed) accelerators, co-working spaces, makerspaces, hackerspaces and other structured innovation environments.