Looking For Agility "As A Service"
The drive for improved agility and more rapid deployment of services is a main concern for business leaders across virtually all industry sectors.
For their part, IT decision-makers are under increased pressure to make sure business solutions can deliver on these ambitions.
In its latest "Business Value Scorecard", Forrester found that business leaders increasingly measure success by comparing what percentage of their IT-spend actually fuels innovation to how much just helps "keep the lights on".
This view of success is undoubtedly a large driver behind the rapid rise of cloud computing in the past few years, and why the technology has today joined the enterprise's formal IT portfolio.
In its many forms, the technology offers businesses a gateway to improved agility.
To add to this, vendors' cloud offerings today have at once become more varied and more granular, which means discerning companies can pick and choose exactly from a large menu of business solutions to suit their needs.
The public cloud, in particular, has become popular with businesses seeking a cost-effective means to reduce their time-to-market for new services or quickly deliver crucial add-ons to customers using their existing offerings.
With customer satisfaction scores now serving as a measure of success for IT initiatives, it's hardly surprising that the market for Software-as-Service (SaaS) cloud solutions is set to expand by 17 per cent each year up to 2018.
The public cloud has already earned a reputation as an enabler of service agility in a number of fields, with the healthcare industry serving as a prime example of this.
According to a recent survey, 67 per cent of healthcare institutions use SaaS cloud-based applications.
What's just as notable, however, is what these organizations expect from the cloud. 45 per cent of respondents cited "speed to deploy new services" as a top measure of the cloud's value to their business.
This fell only slightly behind the top measure – "improving technological capabilities" – which is of course the central purpose of any technology investment.
SaaS cloud solutions area also leading the pack in this regard by helping mid-sized businesses and expansion-oriented larger companies gain agility in the pursuit of their growth ambitions.
As they become more successful, businesses will need to build on the breadth and functionality of their IT systems.
SaaS applications allow organizations to very quickly make scale-appropriate upgrades and implement expansion packages developed specifically for their needs.
As a result, they can make the jump to the "next level" without the high costs and growing pains that have traditionally accompanied these expansions.
Of course, companies will continue to consume the cloud in different ways depending on their needs.
For example, while many financial institutions and government bodies do make wide use of SaaS, others may have specific requirements that make an in-house cloud platform more appropriate for some applications.
That being said, business agility takes many forms. By taking advantage of the variety of cloud platforms available to them today companies can actually gain a great deal of flexibility when launching new services.
Because SaaS applications from established vendors are built on the same heritage and technologies as those traditionally developed for in-house IT systems, companies can seamlessly transition between a public and private structure as they see fit.
Business leaders eager to launch new services quickly to stay ahead of the market can roll these out in the cloud in a matter of weeks, and then move them in-house if they want to keep valuable data or processes out of the public domain down the line.
The truth is that the debate over which cloud platform – SaaS, Infrastructure-as-a-Service, or one of the many other options available – is creating a lot of noise but has in fact become a moot point.
Ultimately, business leaders will make intelligent investment decisions as they always have – first determining what pain points they want to address and then choosing whichever cloud platform and add-on services they need to address these challenges.
For example, many businesses have already begun to create their own mobile applications to empower employees to work more collaboratively and productively using their connected devices.
Applications developers need the proper tools and resource libraries to build this software, and will fuel rising demand for Platform-as-a-Service cloud solutions in the coming years.
No matter what they want to achieve with the cloud, what IT leaders will notice is that the breadth and customization options offered by vendors today present them with a seemingly unlimited range of options to choose from.
With the level of flexibility and extensibility available to them, it will be up to business leaders to choose the most suitable cloud platform for their needs, and build on their investment by developing services and add-ons that will set them apart and help them remain agile no matter what the market throws their way.
By adebayo sanni, country managing director, Oracle Nigeria
FG to Boost Artificial Intelligence
Federal government on Tuesday announced that it has developed initiatives for the adoption of Artificial Intelligence technology in Nigeria.
The establishment of a Centre for Artificial Intelligence and Robotics in Nigeria (CFAIR) is also expected soon.
The National Information Technology Development Agency (NITDA) said that AI applications enable innovative solutions, improve risk assessment, better planning, and faster knowledge-sharing.
Abdullahi Usman Gambo, director of IT Infrastructure Solution, NITDA, spoke at a workshop in commemoration of International Day for Universal Access to Information (IDUAI) organised by the United Nations Educational, Scientific, and Cultural Organisation (UNESCO).
He noted that AI would open up opportunities for access to information and also help to achieve the Sustainable Development Goals (SDGs) set by the United Nations (UN) in the 2030 Agenda.
Gambo said: "Artificial Intelligence is poised to revolutionize the way we go about our daily lives – from governance to business, legislation to medicine to defence, etc. We can all agree that AI is humanity's new frontier.
"We have developed initiatives for adoption of emerging technologies such as AI, strengthen cybersecurity, digital skills for digitally excluded citizens while enhancing the regulatory and market environment to increase access to ICTs, and promote seamless access to information.
"We believe AI and associated emerging technologies will completely enhance the speed, efficiency and effectiveness of information gathering during the exchange of data or the ways of communication," he said.
Delivering his paper, Yushau Shuaib, publisher of PRNigeria, described access to information as the right of the citizens to accurate, transparent, and timely facts and figures.
The former National Emergency Management Agency (NEMA) spokesman stated that governments at all levels have obligations to communicate with people, while the public has the right to know and criticize authorities through constructive engagement.
The media executive, however, appealed to Nigerians not to use social media platforms for fake news dissemination.
"The merits of new media on affordability, accessibility and instant delivery are occasionally marred by the fact that social media is sometimes used to spread fake news", he said.
Shuaib called for collaboration of stakeholders in ensuring appropriate legislation through public awareness campaigns in order to improve access to universal information.
Samsung Unveils Technologically Advanced 2020 Consumer Products
Samsung Electronics Nigeria has unveiled its 2020 consumer products range. The launch which held in Victoria Island, Lagos showcased the latest in its revolutionary and innovative QLED and Crystal UHD Television Series  along with Wind Free Air Conditioners, Side by Side Refrigerators and Drum Washing Machines.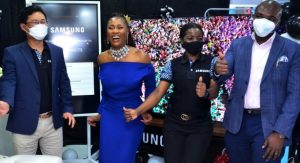 Keeping with its resolve to utilize its transformative ideas and technologies to shape the future and inspire the whole world, Samsung has once again demonstrated its determination to continuously redefine the living space and entertainment of its customers.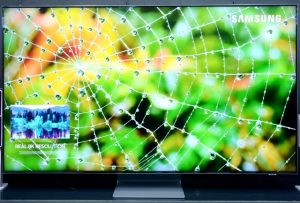 According to Mr. Caden Chiyeon Yu, Managing Director, Samsung Electronics Nigeria, "QLED uses exceptional and revolutionary technology which offers an unparalleled visual and auditory adventure from the comfort of your living room. QLED series is available in 4K or 8K and from 58″ to 98", and was designed with options to fit any space and budget". For Crystal UHD Television, Mr. Yu said, with cutting-edge Crystal Display, the new Crystal UHD TV will bring high-resolution content to life in a whole new way, delivering a viewing experience like never before in a mainstream UHD TV.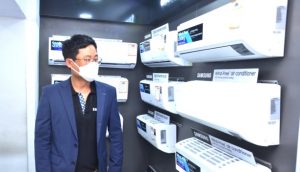 Also showcased at the launch were the new Windfree Air Conditioner, Drum Washing Machines and Side by Side refrigerators. The Windfree Air Conditioner is designed specially with the latest technology to provide coolness in quick time while ensuring that users don't experience any chills through out its use. It also has an in-built digital inverter which reduces energy consumption by 73 percent. .
The newly introduced drum washing machine of 2020 from Samsung is very efficient and is built with eco bubble technolgy which allows it to provide cleaning of very dirty garments or clothes without the use of water.  Futhermore, the new Side by Side Refrigetor was built with Spacemax technology which has enabled  Samsung to offer more spacious interior without increasing the external dimentions or compromising energy efficiency.
Also speaking at the event, Mrs. Oluwaremilekun Adesola-Ogunsan, Head, Consumer Electronics, Samsung Nigeria stated that "Samsung understands the economic diffulties currently being experienced in the country and has consistently produced pocket friendly premium consumer products. We are very consistent in our approach as we understand that our customers like the good things of life and we have provided that without compromising our standards". "So I can say boldy that there is a Samsung for everybody regardless of your income stream" She added.
In 2019, the Samsung consumer range of products received universal praise for its innovative quality and design and numerous pioneering features. This year Samsung has added even more beneficial features which its customers will appreciate in great deal.
CWG Plc Empowers Small Businesses in Nigeria with SME Solution
Pan-African Information and Communications Technology Company, CWG Plc has said the essence of its Enterprise Resource Planning Solution (SMERP) that runs on the cloud is to empower small and medium enterprises in Nigeria and offer them the required tools to manage their entire business.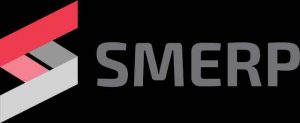 Mr. Dolapo Orogbemi, Product Manager for SMERP, who disclosed this recently to the media, noted that with SMEs contributing massively to Nigeria's economy and creating both direct and indirect jobs, SMERP was designed intentionally to help SMEs thrive.
"Since inception, it has been the number one goal for us here at CWG because we have always identified the potential for SMEs once they are provided with the right support.
Thus, SMERP was designed to make available enabling tools for all SMEs across Africa at a relatively affordable price and to also make their business operations lean where they can save more resources to increase profitability," he said.
Dolapo explained that in support of SMEs, SMERP has provided an effective ERP tailored to the SME market, providing services such as Inventory Management, E-commerce platform, Accounting, Point of Sale and Customer Relationship Management tool.
He argued that one of the major reasons SMEs don't survive beyond the early stage of their business is due to inadequate funding to scale the business and this has become a default gap in the SME sector.
But with the CWG's SMERP solution, SMEs can take proper records of their day-to-day business transactions to present to financial institutions as proof of profitability and project business growth for them.
According to him, SMERP's competitive edge is based on value to the SMEs where they can have access to a complete ERP solution at an affordable price, stressing that the solution enables each SME with special requirements to execute their business needs.
For more information on SMERP kindly visit www.smerp.ng to start a 14-days free trial.