MTN, Ericsson Mull Commercial 5G in Nigeria
MTN said the agreement it signed with Ericsson to launch 5G (Fifth generation) network would see it deploy the commercial service across Nigeria and other 20 operations.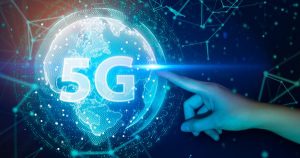 The operator disclosed this after switching on its 5G network in the cities of Bloemfontein and Port Elizabeth in South Africa recently.
The MTN 5G launch is central to the mobile operator's commitment towards accelerating Africa's growth plans.
The launch confirmed Ericsson's ability as a Core and Radio Access Network (RAN) infrastructure enabling the deployment of next-generation technology to deliver rich consumer experiences while building a robust, future-proof 5G network.
MTN previously upgraded to Evolved Packet Core (EPC) by Ericsson which enabled MTN to launch 5G services based on new radio (NR) non-standalone (NSA) while paving the way for a smooth evolution into NR Standalone and 5G Core (5GC) in future.
Under the 2019 Memorandum of Understanding (MoU), Ericsson committed to provide MTN with radio access network equipment from its Ericsson Radio System portfolio, which enable 5G services on both low- and mid-band. Ericsson's solutions to MTN also includes the award-winning Ericsson Spectrum Sharing.
Fadi Pharaon, president of Ericsson Middle East and Africa, said: "We have a rich history of working in close partnership with MTN and now we are going live with 5G in South Africa. With many live commercial 5G networks across the globe, we look forward to continuing our long-standing partnership with MTN, jointly leading and driving innovation to ensure the digitalisation of Africa."
Giovanni Chiarelli, chief technology and information office, MTN SA, added that, "5G has the potential to accelerate the digital transformation of industries, as well as empower consumers with innovative applications. Our strategic partnership with innovative partners is integral to our efforts."
NCC Says 78.9m Nigerians now Connected to Broadband
Nigerian Communications Commission (NCC) has revealed that the number of Nigerians connected to high-speed internet rose to 78.9 million in June.
The data from the commission showed that telecommunications operators in the country added 2.2 million customers to their broadband database in the month to raise the figure from 76.6 million recorded in May.
This raised the country's broadband penetration from 40.14 per cent in May to 41.27 per cent at the end of June.
The steady growth in penetration has been attributed to the telecoms operators' aggressive push for deployment of 4G service across the country. To extend the service to more Nigerians, the largest mobile network operator in the country, MTN, recently announced more investments targeted at building more 4G infrastructure
MTN said it planned to spend an estimated N600 billion on technical infrastructure over the next three years as it looks to expand its 4G coverage across the entire country by 2024
The Federal Government also recently launched a new National Broadband Plan (NBP 2020-2025) with a target of achieving 70 per cent penetration in the next five years.
This followed the expiration of the NBP 2013-2018, which delivered 31 per cent penetration as of December 2018.
Aside from the 70 per cent penetration target, the government in the new plan also raised the benchmark speed for broadband service in Nigeria to 25 megapixels per second, which is an improvement from the 1.5mbps benchmark in the 2013-2018 plan.
Gilat Telecom, Spacecom, Unite to Bolster Satellite Services in Africa
Spacecom, operator of the AMOS satellites fleet, and Gilat Telecom, a connectivity service provider, have announced a collaboration "to develop a faster, more reliable and more cost-effective satellite service for organisations of all sizes across Africa."
The service uses Spacecom's AMOS-17 fully digital and advanced High Throughput Satellite (HTS) on both C and Ku band, and Gilat Telecom's unique SD-WAN MAX technology.
The companies add that the service, available immediately, can be used for home and office connectivity including video conferences, e-health applications, e-learning, e-education, etc.
They add that the collaboration will benefit African MNOs and ISPs in several ways including CAPEX savings and higher throughput at reduced operational costs.
"Spacecom's AMOS-17's HTS fully digital payload enables cross-connection between all beam and all bands enabling the use of existing equipment which can also be set-up remotely by the end customers (on existing or new terminals). Using Gilat Telecom's intelligent routing, capacity can be expanded by up to 20% (the equivalent of 6 Mbit/s can be achieved from a 5 Mbit/s downlink)," the companies state.
Another benefit is smart traffic management. The companies explain: "Gilat Telecom's SD-WAN enables service providers and MNOs to centrally control the route that both satellite and fiber traffic takes to and from the customer.
It enables different applications – voice, streaming, caching (Facebook, Netflix, Microsoft cloud services etc.) – to be identified with automatic prioritisation, according to the customer's needs and demands."
Dan Zajicek, Spacecom's CEO said: "This partnership enables us to boost the services offered to customers along with fast returns on investments to these growing markets. We are sure this fruitful cooperation will lead us to many great business opportunities in Africa."
Asaf Rosenheck, Gilat Telecom's CEO also said, "We are an innovative company always focused on how we can improve the service we provide to our customers. Our partnership with Spacecom demonstrates how we work across the ecosystem to drive down costs and improve capacity".
Encomiums as Sonny Aragba-Akpore Bows Out of NCC
It was encomiums galore recently as Management and Staff of the Nigerian Communications Commission (NCC) bid the Commission's Head of Media Management and Public Relations, Sonny Aragba-Akpore, farewell following his retirement.
Aragba-Akpore, former Information and Communications Technology/News editor at the Guardian Newspaper, joined the service of the Commission in 2014.
Speaking at the valedictory party held in his honour on Thursday, which was attended physically and virtually by staff of the Commission, Prof. Umar Danbatta, executive vice chairman, appreciated the level of professionalism Aragba-Akpore brought to bear on his work at the Commission.
Represented at the event by Abigail Sholanke, director, Projects, Danbatta commended Aragba-Akpore for using his many years of industry experience and knowledge as a media professional and corporate communication manager to create a robust relationship with both mainstream and online media stakeholders, which, he said, has contributed significantly to the overall positive image and favourable public perception of NCC.
"On behalf of the Board, Management and Staff of Commission, we wish you a successful retirement and fruitful engagements in your future endeavours," Danbatta said.
In his remarks, Dr. Ikechukwu Adinde, director, Public Affairs Department,  said "within the short time I worked with Mr. Aragba-Akpore, I found him to be a man of uncommon passion for his work," describing him as a very committed and hardworking colleague.
"We, therefore, wish you increased divine favour, as you retire from the services of the Commission."
Other staff of the Commission, including directors, deputy directors, middle management staff, among others, took turns to talk about the favourable working relationship they had with Aragba-Akpore while at the NCC and wished him well in his retirement life.
Responding, Aragba-Akpore expressed gratitude to the Management and Staff of the Commission for their support and cooperation during his service and for organising a befitting valedictory ceremony in his honour, saying he enjoyed working with the NCC.
"This is one event I will not forget in a hurry. Indeed, I feel I am very lucky and singularly blessed and very appreciative of the privilege to work with a leading telecoms regulator like the NCC. For me, it is once-in-a-lifetime opportunity," he said.