NBC Grants First DTT Licence to Royal Media Group
National Broadcasting Commission (NBC) has granted the first Digital Terrestrial Television (DTT) station licence to Royal Media Group in Ilorin, the Kwara capital.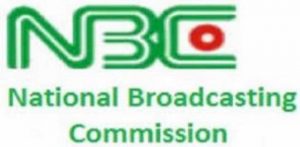 Mr. Gbenga Adebayo, chairman, Royal Media Group disclosed this at the weekend at a press conference to commemorate its 10th anniversary.
According to him, the media group comprised Royal FM 95.1MHz, Royal Television Service and Royal Times of Nigeria Newspaper.
He said the media group becomes the first DTT content provider in Ilorin and we are very proud of this feat.
Adebayo, who is also the chairman of the Association of Licensed Telecommunications Operators of Nigeria (ALTON), stated that the media group has also received two additional radio broadcasts licences for Royal FM stations in Delta and Kaduna states.
"We are very grateful to the National Broadcasting Commission for counting us worthy of these new licenses as we pledge to continue to be a leading example of indigenous broadcasting, by upholding all the principles of good journalism that we subscribe to.
"We will always deliver excellent and diverse entertainment products, with high content of cultural and moral values as key components of our products.
"We recognise the need to respect diversity in age groups, and promote gender parity," he said.
Amaarae, Sad Girlz Luv Money Hitmaker Joins Spotify EQUAL Music Programme
Spotify has announced that Ghanaian breakout star, Amaarae, has joined its EQUAL Music Programme as January's Artist of the Month. The red-gold-green nation's global sensation is the cover of Spotify's EQUAL Africa playlist, which compiles music from "the fiercest African women making waves".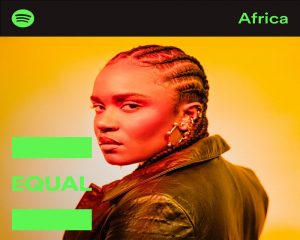 Spotify EQUAL is a pledge to amplify the voices of women in the music industry, as only 25% of artistes on the charts are female, according to a study by Spotify-funded USC Annenberg.
The EQUAL programme spans seven categories, which include the EQUAL Artists of the Month and the EQUAL local playlists, where Amaarae represents the January 2022 selection.
"I'm incredibly proud to be EQUAL's Artist of the Month in recognition of all the barriers my creative work looks to break. It's a win for Ghanaian and African female creators," says Amaarae.
New York-born Ama Serwah Genfi is creating R&B, Soul, and Afropop fusions that have global appeal. Amaarae, who is a strong advocate of gender equality, is fast achieving fame. The rise of "The Angel You Don't Know" album maker on Spotify is phenomenal, with more than 10 million monthly listeners, and over 116 million streams for her "Sad Girlz Luv Money" remix alone.
With this viral hit, which features Kali Uchis and Moliy and which debuted at #80 on the US Billboard Hot 100 in November 2021, Amaarae became the second Ghanaian to break into the Billboard charts – 50 years after Ghanaian-English Afro rock band Osibisa first paved the way.
Today, the entertainer known to her social media fans as "Fountain Baby" follows in the footsteps of fellow Ghanaian female star Gyakie who, with her selection in April last year, became the first African woman to partner with Spotify for EQUAL.
Other African artistes to have been featured on EQUAL include Kenya's SSARU and Muthoni Drummer Queen, Nigeria's Ayra Starr, and South Africa's DBN Gogo.
Important Factors to Consider While Building a Business Intelligence Programme for Your Organisation
By Hyther Nizam, President – MEA, Zoho Corp
With digital transformation picking up faster than ever before in the business landscape, most organisations today employ a mix of business tools to run their operations across sales, marketing, finance, HR, etc. More often than not, all of these tools include a reporting module that displays department-specific data records and statements. However, stand-alone data like sales figures, lead numbers, email open rates, and the like, can only tell you so much about customer behaviour.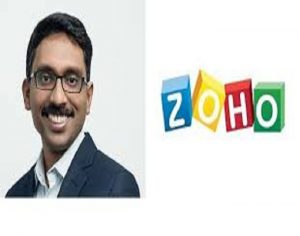 As businesses continue to go digital and become increasingly data-driven, it's imperative for them to include a holistic business intelligence (BI) programme in their technology strategy. A comprehensive BI programme helps combine various data points from multiple sources, perform cross-functional analysis, and bring out intuitive insights like inspirations behind seasonal customer trends, reasons for supply-chain gaps, sales funnel pain points gathered from customer feedback, productivity drops due to employee attrition, future trend predictions, and whatnot. Powerful information like this can enable organisations to adopt a culture of smart, evidence-based decision-making and gain a true competitive edge.
Getting started with a business analytics and intelligence program
Provided that your organisation has the necessary funding and resources to implement a central BI programme, the first natural step is to identify the key business metrics you want to compute and track.
As pointed out here, once you have identified the goals, the next step is defining a data strategy. You need to go about defining your data strategy for key focus areas and then identify and align its data sources with that strategy. From there, it should be relatively simple for the organisation to build a data pipeline and prepare the data for analysis.
Building a robust, unified data pipeline from disparate sources
Prepping the data pipeline is one of the biggest challenges organisations face while implementing their BI programme. Using a mixed toolset offered by different vendors translates to disparate data sets that need to first be integrated, blended, and unified to enable a(n) smoother as well as accurate analysis procedure. In fact, it's been noted that 80% of analysis time is spent on data preparation as poor quality data often results in untrustworthy business insights.
This is where BI tools that include data preparation provisions come in handy. Be it a custom-built BI program or a bespoke tool, it's important that your option incorporates data-prepping and blending capabilities, i.e., ability to connect to different sources (legacy or cloud app) and port data in different formats, clean and remove duplicates, blend the data into a single data warehouse, and improve the overall data quality. This helps ensure robust, error-free data pipelines, in turn assuring reliable business intel.
Updating your privacy practices and official policy
With a BI programme, your obligation as a company to protect customer data becomes greater. Some privacy practices to keep in mind include, (1) masking critical user data, i.e., removing personally identifiable information from all data sets using anonymization methods, before feeding them into the BI data pipeline, (2) collecting explicit consent from the data subjects (customers and employees) to use their anonymized data for BI analysis, (3) ensuring that your data sources are also subject to stringent privacy standards, and finally, (4) updating your organisation's customer privacy policy straight away to include required details about your BI programme.
Integrating your BI program with internal collaboration platforms
Despite setting up a cost-intensive, comprehensive BI programme, many organisations struggle to drive adoption among their teams and prompt necessary action or decision-making. One way to solve this is to integrate the BI system widely and deeply across internal communication and collaboration platforms used by employees such as email, chat, intranet forums, project management avenues, etc. The BI dashboards must allow executives to blend and visually analyse data for cross-functional insights, fashion the insights into easily understandable and interactive reports, decide the next course of action, and subsequently share the information with the teams or individuals concerned in real time.
Staying future-ready – leave room for innovation
As you implement modern technologies and boost your operational efficiencies, running a future-ready business also includes being constantly on the lookout for innovation, and ensuring that the business systems and processes are elastic enough to absorb the change. Similarly, your BI programme should have enough legroom to experiment and capitalise on emerging opportunities like AI-powered voice analytics and RPA/business analytics integration. For instance, current AI trends have made it possible for users to hold conversations with AI assistants to generate automated BI insights with a single click, predict future trends, conduct as well as visualise cognitive and what-if analyses, and much more.
If the events of the past two years have taught us anything, it's that things can change incredibly quickly and it's vital to be flexible. Cloud-based BI tools enable business owners to look at real-time data from across departments. to make quick decisions. This helps businesses stay nimble during unprecedented times.
Lagos Acquires 10-car Speed Trains for Red Line Project
The Lagos state government has purchased two 10-car, 330 km/h Talgo speed trains for its Red Line railway project.
State Governor Babajide Sanwo-Olu completed the procurement agreement for the trains on Tuesday at an event inside the Milwaukee facility of Spanish train maker Talgo Incorporated in the US.
Trains will head to Lagos for the state's Red Line, a 37km rail project.
Once completed, the Red Line will have 11 stations and will transfer passengers from Agbado to Oyingbo.
Sanwo-Olu said the state government was excited to complete the purchase of the two new trains.
He said the acquisition was in line with his administration's commitment to efficient traffic management and transportation system.
The governor was accompanied on the trip by the State Transportation Commissioner, Dr. Frederic Oladeinde; the Governor's Works Advisor, Ms. Aramide Adeyoye; and the Managing Director, Lagos Metropolitan Area Transport Authority, Ms. Abimbola Akinajo.
He said that government officials inspected the trains, looked at the configuration and were satisfied that the trains would fit on the Red Line tracks.
"A train is not something that you can just go to the platform and pick up. We are very lucky to have new trains.
"We have seen our beautiful white and red trains. Coincidentally, the train line is called Red Line and you can see that they have given us the color.
"We're just going to mark it and put our stamp on it," he said.
Governor Sanwo-Olu talks about the fast trains purchased for the Red Line project
He hoped that the purchase of the trains would be the start of a mutually beneficial business relationship between Lagos State and the train manufacturer.
"Providing a source of livelihood for our citizens is about providing jobs for our people and that is what we are doing.
"This is about ensuring that we can build our economy; people can move from one place to another and businesses can grow," said Sanwo-Olu.
He said that part of what the government had achieved in the past two and a half years was an integrated urban mass transit system, in which road, river and rail infrastructure would be used to move more than 20 million residents in and around of the state.
Milwaukee Mayor Pro Tem Cavalier Johnson, who hosted Gov. Sanwo-Olu in town, said it was bittersweet to have missed the opportunity to have trains operating in Milwaukee and Wisconsin.
Johnson congratulated Governor Sanwo-Olu on the acquisition of the trains and hoped it would make moving in Lagos State easier.
Mr. Antonio Pérez, CEO of Talgo, USA, said that it was important that the trains be used.
"It's no use for the trains we build to be stored and maintained without passengers riding on them," Pérez said.
The Lagos state delegation inspected the interior design of the newly acquired 330 km/h Talgo intra-urban metropolitan trains.
Since the beginning of his administration on May 29, 2019, Sanwo-Olu has upheld his administration's commitment to making the Red Line dream a reality.
The governor promised Lagos state residents that the Red Line would start in the quarter of 2022 or the first quarter of 2023, with a capacity of 500,000 passengers per day.