Nigeria Now A Fertile Ground For Startups To Thrive, Says NITDA Boss
Mallam Kashifu Inuwa Abdullahi, director general, National Information Technology Development Agency, (NITDA), has described Nigeria as a fertile ground on which Startups could explore to thrive and provide solutions that could solve mirage of problems bedeviling the nation.
Mallam Abdullahi expressed this view over the weekend through the Agency's Director of Information Technology Infrastructure Solutions, Dr Abdullahi Gambo while addressing the startups who are undergoing  a one week  Start Up Clinic in Kebbi, the second online edition of the programme.
Start up Clinic, Kebbi (Online) with 18 participants was the second in the series of virtual Start Up Clinic programme which has become the norm since the lockdown caused by COVID 19 in order to keep engaging the tech ecosystem.
The DG stated that the government is aware of the economic benefits and contributions of technology entrepreneurship to the nation's economy, hence the pursuant of reforms that would bring about improved skills and more competitive digital job market.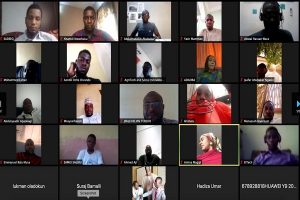 He said, "we are committed to ensuring that you succeed because when start up thrives, jobs are created, local content is promoted and used, peers are inspired to try and a chain reaction is activated.
The NITDA boss added that this would gradually move many youths away from job chasers to job creators and dependence on government would be reduced with resultant effect of increased Gross Domestic Products, (GDP.)
He reiterated that the development of a thriving and sustainable technology and innovation ecosystem are key economic driver for the nation noting that the leadership of the nation is seeking to minimize dependence on oil by diversifying the economy and develop entirely new industries and also support the existing ones.
While assuring that NITDA would support policies and public-private partnership that would stimulate and sustain the demand for the use of digital platforms, the DG observed that such policies and partnership would foster growth of innovative technology which would create more jobs and contribute to the GDP of the country.
In his commendation to the participants for their doggedness and determination they have expressed thus far, Abdullahi expressed that their being at the event meant that they are determined to create solutions that tackle the most pressing societal issues.
"It also means you have taken on the tedious journey of being innovators and entrepreneurs, he added.
"As a start up, the most popular words you hear include capital, investment, equity and being consistent. All these are important but more importantly, you would require passion.
"This is because passion keeps you going during the turbulent time. As the lead innovator, if you are not passionate about what your start up has set out to achieve, you are more likely to quit when the chips are down", he advised.
Mallam Abdullahi expressed his optimism that the startups would succeed if they take cognisance of what the Clinics offered them by evaluating their enterprise and make review to their model where necessary, accessing the mentors and facilitators to help with Pro Bono professional services, advice and mentorship among others practical approach measures.
In their testimonies, the startups unanimously agreed that the various courses underwent in the last four days have really impacted on their business ideas and redefined their focus on how to achieve success.
Sodiq Abdulfati, an agriculturist innovator said he has discovered the solutions to his major challenge of how to identify target customer with add on the model on how to get the target customer.
"So far, the past four days have been a turning point of my business. I have learnt how to identify people and model that will work in my community.
In her remarks, Dr Amina Magaji Sambo, national coordinator, Office for ICT Innovation and Entrepreneurship, whose office is saddled with organising the Clinics advised the startups to keep engaging with the office through its various social media platforms.
She said that there are many opportunities the start up could benefit from her office adding that the office would soon commence special support scheme and also find way to access the federal government technological grant which the start ups can also access.
NCC @ ICTEL EXPO, Pledges Robust ICT Infrastructure for Economic Growth
Prof. Umar Garba Danbatta, executive vice chairman, Nigerian Communications Commission (NCC), has said that the Commission will continue to promote and facilitate expansion of robust broadband/Information and Communication Technology (ICT) infrastructure across the country for the rapid development of the nation's digital economy.
Danbatta gave the assurance in a presentation titled "Communication Technology for Service Delivery in Health, Education, Tourism, the Creative Industry and Agriculture" delivered during the first virtual and sixth edition of Information Communications Technology and Telecommunications Conference and Exhibition (ICTEL) EXPO 2020.
He said the Commission, not only successfully achieved but surpassed the 30 per cent broadband penetration target in 2018.
Danabatta observed that through various policy initiatives, broadband penetration has further increased to 42.02 per cent as of July, 2020, noting that this has laid a solid foundation to drive the national efforts at achieving the new 70 per cent broadband penetration target set in the Nigeria National Broadband Plan (NNBP) 2020-2025.
Represented by Efosa Idehen, director, Consumer Affairs Bureau, NCC, Danbatta said in line with this commitment, the Commission has commenced the review of the framework for engaging infrastructure companies to cascade fibre optic deployment to the hinterlands of Nigeria to ensure pervasive access to broadband services in the country.
He stated that with the support of the Federal Government, through the Federal Ministry of Communications and Digital Economy, NCC is resolving the perennial problem of high cost of Right of Way (RoW) with the support of the Nigerian Governors Forum (NGF) to hasten ICT infrastructure that will enable socio-economic activities across various sectors.
According to him, as the world is becoming increasingly digitised; there will be no sector or facet of human life where ICT will not be required for optimal service delivery and improved conditions of living for the citizens.
With regard to the health sector, Danbatta said ICT is playing a very important role in the manner health services are now delivered, adding that the new Internet speed and low latency of 5G technology are expected to further enhance the possibilities of telemedicine and remote surgery.
Similarly, the EVC said the educational sector has also greatly soared on the wings of ICT, as there has been a surge in online learning in many institutions around the globe due to the raging COVID-19 pandemic, while illustrating the symbiotic relationship between ICT and educational sectors.
Danbatta said "the relationship between ICT and the educational sector has been mutually beneficial. He assured the stakeholders that the advent of Artificial Intelligence (AI) is expected to enhance the capabilities of the educational sector even further."
According to him, the agricultural sector has also benefitted from ICT, as several agro-based apps have been designed to ensure that stakeholders in the sector are able to provide and improve on essential agro-services.
These developments have helped to boost food production and security, just as a lot of digitisation is also holding sway in the creative industry, enhancing its growth thereby enabling job creation and greater contribution to the Gross Domestic product (GDP).
NDPR to Safeguard Personal Data of Nigerians -DG NITDA
Mallam Kashifu Inuwa Abdullahi, director general, National Information Technology Development Agency (NITDA), has disclosed that the motive behind the issuance of Nigerian Data Protection Regulations, (NDPR) by the Agency was to safeguard the right of natural persons to data privacy, fostering safe conduct for transactions involving the exchange of personal data, enablement of Nigerian businesses to be globally compliant and competitive and to create jobs for Nigerians.
Mallam Abdullahi revealed this Friday while delivering the keynote address  at the 6th annual conference of Institute Internal Auditors of Nigeria, (IIAN) with the theme:, "Agility and Resilience" which was held on zoom conference platform.
The Conference aimed at preparing participants across Internal Audits, Internal Controls, risk management, revenue and Government assurance and other business professionals to learn how to leverage on new technologies and procedures towards actualisation of the organisation's goals and objectives.
The NITDA DG who was represented Director e-Government Development and Regulations, Dr Vincent Olatunji stated that since inception of the Agency in 2001, it has been playing a catalytic roles to spur the infusion of technology into nation's work processes reiterating that the Agency plays "critical roles in capacity development, provision of working tools for Ministries, Departments and Agencies (MDAs).
"NITDA also has an existing arrangement with the office of the Auditor General of the Federation to aid the office in the discharge of its activities."
Mallam Abdullahi said, "The Nigeria Data Protection Regulation (NDPR) was issued on 25th January, 2020 by my predecessor, DrIsa Ali Ibrahim Pantami, the Honourable Minister of Communications and Digital Economy.
"As part of his think-tank then, our thinking was that Nigeria needed to quickly provide a regulatory framework for the processing of personal data.
"This was even more pertinent in consideration of the global implications of non-performance.
"Businesses where losing bids because investors felt there was no data privacy regime in Nigeria.
"The Agency's implementation of the NDPR has been innovative and impact oriented. For the first time in data protection implementation, auditors became recognised as Data Protection Compliance Organisations (DPCO)".
He maintained that NITDA has 72 licensed DPCOs among which are members of this "august body," adding that "this posture is not as a result of lack of professionals in the IT industry, rather, we have made conscious efforts to carry every relevant stakeholder along in our developmental regulatory strategy.
" I hope this noble institute would repay NITDA's generosity by imbibing ethical and professional principles on your members for better implementation of the Regulation."
Earlier in his remarks, the Managing Director and Chief Executive Officer, New Capital Cooperatives Society Mr. Benedict Anyalenka while commending the organisers of the conference affirmed that data privacy and protection should be a requisite skill needed for development of the Information Technology Sector as it would create platform for protection of information against unauthorized usage.
Anyalenka, however, called for proper awareness on the importance of data privacy among organisations and stakeholders across the country to safeguard citizens' data.
FG Reveals Plans to Deploy Technology in the Health Sector
As part of its response to the COVID-19 pandemic, the federal government of Nigeria has announced plans to deploy information and communications technology (ICT) in the country's health sector.
This is part of the plans to achieve transparency and accountability in health care delivery across the country.
Dr. Ngozi R. C. Azodoh, director, Special Projects, Federal Ministry of Health, who represented Osagie Emmanuel Ehanire, Honourable Minister of Health, revealed this while speaking at MTN Nigeria's Revv Programme masterclass on Thursday, September 17, 2020 .
The virtual session themed 'Bridging the healthcare divide through technology and partnerships' had in attendance health sector experts including Chief Executive Officer, Hygeia HMO Limited, Obinnia Abajue; Chief Operations Officer and Co-Founder, Afya Care, Kola Oni; Managing Director, Ingress Health Partners, Dr. Orode Doherty and Chief Executive Officer, Tremendoc Limited, Ugochukwu Chikezie. The session was moderated by the General Manager, Business Development, MTN Nigeria, Omotayo Ojulatayo.
According to Azodoh, the federal government has put structures in place to utilise ICT as part of efforts to standardise the healthcare system.
"The government is working hand in hand with state governments across the country to maintain transparency and accountability, adding that ICT and other forms of electronic platforms are currently being improved and expanded following the federal government's COVID intervention".
She also shared that the ministry is willing to support small businesses in the sector imploring the participating SMEs to seize the opportunities provided by The Revv Programme.
"I want to ask everyone who is listening to write to the MTN Revv team and say this is one thing I want the Federal Ministry of Health to do to help my business then we can engage on how to proceed," she enthused.
In her parting remarks, she also commended MTN Nigeria for providing a platform for SMEs to expand their capacity. "I must commend MTN for this excellent initiative. It has been very productive for me and an opportunity to transfer knowledge."
The Revv Programme is an initiative from MTN Nigeria to help small businesses rethink and retool their operations in order to withstand the effect of the COVID-19 pandemic using a four-pronged approach that includes masterclasses, access to market, productivity tools support and advisory initiatives.