Susan Rice, CIA and MKO Abiola's Last Cup of Tea
Since Obama nominated Susan Rice for the position of National Security Advisor, questions have been asked in the Nigerian media about allegations of her role in the death of the winner of Nigeria's annulled 1993 presidential election, Chief MKO Abiola.
Following an interview with the Nigerian Punch in which Dr. Ore Falomo, Chief MKO Abiola's personal physician, accused the CIA of involvement in the death of Chief MKO Abiola, a former Nigerian Minister of Aviation, Chief Femi Fani-Kayode, in an opinion piece published also in the Nigerian Punch, revisited the question that has been the subject of speculations alleging CIA involvement in the death of the Nigerian multimillionaire politician; and allegations that Rice might have, knowingly or unknowingly, played the role of messenger of death in the case.
According to Digital Journal, the veritable global digital media network with 43,000+ content creators in 200 countries around the world, Rice was one of the last persons who saw Abiola alive and reportedly served him his last cup of tea. Abiola died of cardiac arrest within an hour of drinking the tea.
Background to the Alleged Plot
Chief MKO Abiola won the June 12, 1993 presidential election as the candidate of the Social Democratic Party (SDP) with Ambassador Baba Gana Kingibe as his running mate.
He defeated Bashir Tofa of the National Republican Convention by a wide margin (58.71%/41.29%) even defeating the opponent in his home state, Kano.
Local and International observers proclaimed the election the freest and fairest in Nigeria's political history. But the military junta of General Ibrahim Badamosi Babangida annulled the election over sinister issues of power struggle and bitter rivalry between individuals and political power cliques.
The annulment led to a political crisis which forced General Babangida to "step aside" as head of state on August 26, 1993.
He handed over power to an ad hoc Interim National Government headed by Chief Ernest Shonekan, with General Sanni Abacha, an ambitious "militician" and protege of General Babangida, serving as Minister of Defense.
Shonekan, a businessman with little political experience was unable to take control and manage the crisis the annulment generated.
General Sanni Abacha, as widely anticipated, eased Shonekan out of office and seized power on 17 November, 1993.
Abiola issued the so-called "Epetedo Declaration" in which he proclaimed himself president of the Federal Republic of Nigeria on the basis of his June 12, 1993 electoral victory.
The declaration came after he returned from an overseas trip as part of efforts to win international support.
General Abacha move quickly. He declared Abiola wanted on charges of treason and had him arrested.
Abiola spent the last four years of his life in solitary confinement during which Pope John Paul, Desmond Tutu and other international figures lobbied General Abacha for his release.
Abiola rejected the only condition for his release that Abacha demanded: that he renounce his June 12 mandate with compensation for his electoral expenses.
The crisis resulting from the annulment brought Nigeria to a political and economic standstill for five years.
Abacha's Last Cup of Fruit Juice
Digital Journal reported that General Abacha died suddenly in June 1998 while carousing with Indian prostitutes flown in from Dubai.
According to the version of the story widely reported in the Nigerian media and credited to government sources, he was cavorting with the prostitutes in the resident of a senior official in Abuja during the weekend of June 6 and 7, 1998, when one of the women laced his drink with poison.
According to The New York Times: "… based on reporting from American Government agencies with sources inside the Nigerian military, it is unclear what the poison was or how it was administered.
But it is thought that the source of the poison might be an officer or a clique of officers in the Nigerian military regime who believed that the general's hold on power was destroying what little good name the army had left."
The New York Times reports that a US official told the media: "There are some doctors in the employ of the C.I.A. who, when the description of the body was given to them, said it could be consistent with poisoning."
The fact that Abacha was buried hurriedly within 24 hours of his death without an autopsy strengthened early speculations that he was poisoned by political rivals as part of an international conspiracy involving the CIA to resolve the protracted stand-off between him and Abiola languishing in detention.
Major General Abdulsalami Abubakar, Nigeria's defense chief of staff, was sworn in as new Head of State after Abacha's death. Abubakar's government committed itself to releasing Abiola from detention while stepping up pressure on him through international diplomats to renounce his mandate.
While Abiola continued to hold on stubbornly to his electoral victory, a consensus developed among international diplomats that the crisis in Nigeria could be resolved only if Abiola agreed to renounced his mandate.
Abiola thus came under intense pressure from foreign governments, including the US government, to renounce the mandate as a sacrifice to allow Nigeria "move forward."
Kofin Annan, the UN Secretary General and the Nigerian international diplomat Emeka Anyaoku, then Commonwealth Secretary General, visited Abiola in solitary confinement on July 1, 1998 as part of the efforts to persuade him to renounce his electoral victory on the grounds that the five-year-old mandate had expired and that Nigeria needed to "move forward" after five years of stagnation due to the crisis.
Annan and Anyaoku told reporters at a news conference in Abuja after they met with Abiola that he had agreed. Annan, reporting that the government would announce Abiola's release at "the appropriate time," said: "Abiola said he would want to be released to get on with his life.
He told me 'I am not naive enough to think I can come out and be president.'"
However, Abiola later denied reports that he told Annan he had renounced his mandate. The circumstances led to the public perception that Abiola was under pressure.
The Plot Thickens: Abiola's Last Cup of Tea
On July 7, 1998, the same day the government had announced Abiola would be released, Susan Rice and Ambassador Thomas Pickering, led a US delegation to visit the Nigerian president-elect. Abiola suffered a fatal heart attack during the meeting.
The information was later leaked that Rice had served him tea during the meeting and that he developed cardiac symptoms and died within minutes of taking the tea.
According to the Punch, the American delegation met him at 3 p.m.; he died between 3:20 and 3:40 p.m. after taking the tea that Rice served him.
Abiola's personal physician Ore Falomo, told the Punch that although Abiola was under medical management for high blood pressure and ventricular hypertrophy , the circumstances of his death, especially its coincidence with General Abacha's death a month earlier, raise enough suspicion to warrant further investigation into the possibility of poisoning. He told the Punch:
"Why did that (heart attack) happen? How could that happen to somebody who just woke up, had not done anything and was not doing any exercise…. Could something have triggered the heart attack? The answer is yes. We also know that there are drugs that can affect the rhythm of the heart. Such drugs can disturb the rhythm of the heart to an extent that the heart can stop pumping blood. If you give it to anyone to drink in tablet or liquid form, it can make the heart to stop within minutes."
Falomo continued :
"Nobody told Abiola that he was going to have visitors that day. So, they woke him up and he just brushed his teeth and came out to meet with them. He had not had his lunch. These were facts borne out of the autopsy. His intestine was clear. They exchanged banters, he told Susan Rice, who was part of the delegation, what she wore the first day he met her… their mission was to convince Abiola to denounce his mandate and go for another election. By then Abacha had gone, one of their problems had been solved. Abiola was left.
They had brought that suggestion before and Abiola rejected it. So, their mission was unnecessary because they were not going to get him to say yes. It must have been for another purpose. When they came in, the chief guard that usually stayed with Abiola was not there because they didn't tell him some people would be visiting. Abiola came unaccompanied to that meeting. Of course, they had been told he was a tea drinker. They brought a special flask, which Hamza Al-Mustapha described as multi-dimensional. T
hey poured themselves tea and poured tea for Abiola. There was no precedence of a visitor bringing tea for the host. It is unconventional. It is not done anywhere in the world. Not only did they bring it, they offered someone in detention tea, with no guard around. And Ambassador Pickering said in his press conference that shortly after he had taken the tea, he complained of pain in the chest and grabbed his chest. And later, he felt uncomfortable and then, he went to the convenience to ease himself, but he did not come back as expected.
They called on him and he told them he was coming. By then, he had started feeling weak. They asked him if they should call the doctor but he said they should ask the guard to get his pain tablet. But he died before the pain tablet arrived. By the time the doctor came, Abiola had already died."
Testimonies
Abiola's personal security detail, Assistant Police Superintendent Theodore Bethnel Zadok, in his testimony before the Oputa Panel that sat in Abuja, described the events leading to Abiola's death:
"Before we all left the base, Chief MKO Abiola was in sound and healthy condition. He did not complain to me of any illness. About 100 meters from the door stand of the Aguda House, the controller from the control room called me on the radio… and he gave the message from the office of the Chief of General Staff and that I should see the Chief of general Staff Admiral Mike Akhigbhe immediately….
…. I led Chief MKO Abiola inside the house and I took permission from the Chief Security Officer to General Abdulsalami Abubakar, Major A. S. Aliyu in whose custody I left Chief MKO Abiola.
…. I came back from seeing Admiral Mike Akhigbe at about 1350hrs…. I met with the Chief Security Officer, Major A. S. Aliyu who told me that Chief MKO Abiola was not feeling fine and after taking a cup of tea he coughed and feel down.
I quickly went inside and I saw Chief MKO Abiola lying on the floor facing down. I called him… for the first time he answered, and I lifted him up and turned him… and called him again for the second time he did not answer. "
Police officer Zadok continued:
"The questions to ask are: Who gave Chief M.K.O. Abiola tea in my absence? Who tasted the tea before giving it to him? And in whose presence was the tea tasted?
The questions are for the Chief Security Officer to General Abdulsalam Abubakar, Major Aliyu, to answer."
Zadok was questioned before the panel:
Falana: Was it to your knowledge that a foreigner was allowed to give food or drink to a detainee in Nigeria?
Zadok: To the best of my knowledge no foreigner had ever done this. It was my duty to taste any food or drink before giving it to Abiola.
Falana: When Abiola was given tea to drink was that the first time you never tasted anything given to Abiola to take?
Zadok: Yes it was the first time.
Falana: You normally tasted food or drink before you gave it to Abiola to prevent any harm done to your subject?
Zadok: Yes.
Falana: So, you were tricked to go and see Admiral Akhigbe?
Zadok: Maybe.
Falana: When you left Abiola with Major A.S. Aliu, you were confident that you were leaving him in the care of a competent person.
Zadok: Yes."
An intelligence chief's damning testimony
On 19 July 2001, General Ibrahim Sabo, the Director of Military Intelligence in the regime of General Sanni Abacha, testifying before the Oputa Panel that sat in Abuja, gave evidence of a plot to kill Abacha as well as Abiola as a way of resolving the five-year political gridlock following the annulment of 1993 presidential election. He told the panel:
"General Ishaya Bamaiyi (then Chief of Army Staff) called me… and asked me where was Chief Abiola, I said I didn't know, that Major Al-Mustapha ( a security chief) was the one keeping him. General Bamaiyi then told me don't you think that now that General Abacha is dead, Chief Abiola should be similarly killed to balance the equation? I looked for Major Mustapha and told him what Bamaiyi has said. I later learnt that Bamaiyi had told Mustapha the same thing because Mustapha told me he had been looking for me for the same purpose."
Who Killed Abiola?
In his opinion piece published in the Punch, Fani-Kayode asks rhetorically: "Who killed Abiola? Who killed Sani Abacha? What role, if any, did officials of the Abubakar administration play in the murder of both men?
What role did the CIA play and exactly what transpired in the room when Rice, Ambassador Thomas Pickering and two other faceless and nameless officials from the American Embassy met with Abiola on the very day that he was meant to have been 'released.'?"
The Punch asked Falomo whether he thought the CIA was involved in the death of Abiola. He said: "Yes…Why did he (Thomas Pickering) come? We know him as Central Intelligence Agency man and he was not the serving ambassador in the country then.
Abubakar was the one who gave them the appointment…. remember in Abacha's case, there was no post-mortem. How can a Head of State die so suddenly and he was hurriedly buried without a post-mortem?"
The physician confirmed that Abiola had not eaten when he drank the tea. He said autopsy showed that his intestine was clear.
Drawing example from the case of PLO leader Yasser Arafat, Falomo suggested it might still be possible to exhume Abiola's corpse and conduct fresh toxicology tests for traces of poison that earlier tests failed to detect.
He said: "…Medical science has perfected all that now (i.e. new methods for detecting poisons). They just conducted the post-mortem of Yasser Arafat, the Palestinian man that died about five years ago.
When he died, nobody suspected, but now they believe he was poisoned and they are trying to find out what type of poison it was."
Fani Kayode puts the question bluntly: "She (Rice) was one of the last people who saw Abiola alive. She was said to have served him some tea, after which he reportedly coughed violently and one hour later, dropped dead. What was in the tea?"
JohnThomas Didymus is a Digital Journalist based in Lagos
TETFund Seeks Increased Annual Research Funding of $1bn
The Tertiary Education Trust Fund, TETFund, Thursday, urged the federal to increase its yearly funding for Research and Development (R&D) to $1 billion. This was as it hailed President Muhammadu Buhari for his recent increase of the research grant from N5 billion to N7.5 billion.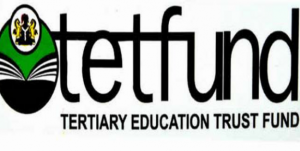 Prof. Suleiman Bogoro, executive secretary of TETFund, speaking at the inauguration of TETFund's R&D Standing Committee in Abuja, said massive investment in research would bring about the much-needed development in the country.
Bogoro also said it was time for the promulgation of a law that will bring into full place what he referred to as the "National R&D Foundation (NRDF)" to deepen research in the country.
Hear him:"To galvanize our vision towards making R&D the ace and game changer in our national development agenda, the need for an appropriate law to support the establishment of a National R&D Foundation (NRDF) cannot be overstated.
"We need a robust institutional framework and arrangement for the NRDF. I am recommending a minimum annual budgetary threshold of 1billion dollars as the funding portfolio for this Foundation.
"When we consider the inevitable benefits of R&D and the inevitable benefits of R&D and the socio-economic challenges in Nigeria, this amount begins to look like a drop of water in the ocean-population of 200 million people in 2020 and projected to become double in 10 years for now."
Prof. Bogoro, who said the TETFund's R&D Standing Committee is expected to come up with its own recommendation on the required amount that is suitable for efficient research activities in the country, called for a robust collaboration between researchers and the private sector to bring about all-round development in the country.
"It is envisaged that the private sector of the economy should pick the gauntlet to steamroll the lofty initiative by taking ownership of it," he said.
Prof. Bogoro lauded the recent performance of Nigerian universities in the world's ranking, saying TETFund intervention projects have continued to encourage such feats.
On his side, Minister of Education, Malam Adamu Adamu, while inaugurating the committee, called on members to put their best to the work he described as 'national assignment.'
Represented by the Minister of State for Education, Hon. Chukuemeka Nwajuiba, Adamu said that continued investment in research would herald a rebirth of Nigeria.
"Nigeria voted us into power predicated on our being able to transform our national aspirations and make them a national achievement.
"It is in recognition of this direction that the Executive Secretary, TETFund, presented his vision of a research-driven nation and how to finance that ambition through the Board of Trustees (BOT).
"To a large extent, Nigeria's future depends on you. You have been summoned to a national service that is not available to the rest of the 200 million population. It is a national calling that requires almost all of you," he said.
On his part, the Chairman, House Committee on Tertiary Education and Services, Hon. Aminu Suleiman said the work of the committee would open the windows of opportunities to tackle various developmental challenges confronting the country.
Suleiman, represented by Hon. Ikenna Elezieanya, lamented the way Nigeria has shown less concern to research, saying that many developed countries invested in research and development and thus helped to improve on their economy.
He said, "Research is the gateway of innovation. It is said that while countries like the USA, Korea, and the like have been investing in research and development, we seem to show less concern."
He encouraged beneficiaries to take good advantage of the initiative to solve problems for the betterment of the country.
Responding, the Chairman of the over 160-member TETFund's R & D Committee, Prof. Njidda M. Gadzama, said the epoch-making event will transform the socio-economic sector by ensuring the robust promotion of cutting-edge innovations.
"We promise to carry out our assignment with commitment and diligence and this will result in the R & D Culture and R&D Foundation to drive industrialization of the country," he said.
The standing committee whose membership is drawn from the academic, industry, and private sector, has the President of the Manufacturers Association of Nigeria, MAN, Mansur Ahmed, as one of the three Vice Presidents.
UNWTO, Google Host First Tourism Acceleration Program in Sub-Saharan Africa
The COVID-19 crisis has disproportionately affected tourism, a sector that accounts for millions of jobs around the globe.
While no one can say with certainty when the sector will recover, people are starting to dream of getaways again – whether closer to home or to remote destinations.
As more and more people go online to search where and when they can travel, accelerating the digitisation of the tourism sector will be key to helping it adapt and recover.
This is why the United Nations World Tourism Organisation (UNWTO) and Google have partnered to create and host an online Acceleration Program for UNWTO Member States' tourism ministers, top travel associations and tourism boards to further develop innovation and digital transformation skills.
Today, ahead of World Tourism Day, the organisations hosted the first UNWTO & Google Tourism Acceleration Program focused on insights from Nigeria, Kenya and South Africa.
Tourism is the backbone of many economies around the world. As data from UNWTO shows, tourism represents 9% of global trade for Africa and 1 in 10 jobs directly and indirectly. Moreover, the sector drives inclusive growth, as women make up 54% of the workforce.
Natalia Bayona, UNWTO director of Innovation, Digital Transformation and Investments, said "UNWTO is committed to helping Africa grow back stronger,"
"With the right policies, training and management in place, innovation and technology have the potential to foster new and better jobs and business opportunities for tourism in Africa while improving the overall wellbeing and prosperity of the region".
Africa is home to 30% of the world's population, adding hundreds of millions of new online users every year.
Google Search is one of the places Africans go when researching and booking travel.
Doron Avni, Google's Director of Government Affairs and Public Policy for Emerging Markets, said "We're here to help the tourism sector recover from this unprecedented crisis and emerge stronger.
"Our travel data insights and tools can help tourism authorities identify and understand the barriers and drivers to visit travel destinations for better tourism planning."
Below are some of the Nigeria travel data insights shared with participants in today's session:
Nigeria
Since Nigeria announced its intention to reopen its borders to international travel on August 29th, search interest for travel has grown.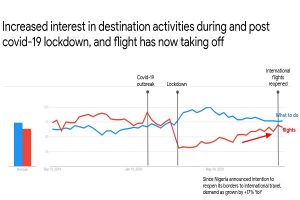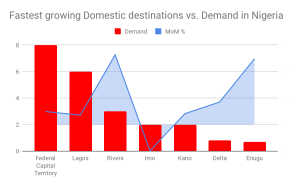 This slowdown presents an opportunity to rethink tourism, innovate and further develop the digital transformation of the sector so it can build the foundations for future sustainable growth.
MultiChoice in collaboration with Celestial Tiger Entertainment Launches KIX on DStv
Celestial Tiger Entertainment (CTE), the operator of the largest bouquet of pan-Asian channels dedicated to Asian entertainment, and MultiChoice Group, Africa's leading entertainment company, has launched action movie channel KIX, on DStv.
KIX will launch on Premium, Compact Plus and Compact packages in Nigeria from 1st October 2020 at 6:00 pm WAT.
The launch of KIX marks CTE's first foray into Africa.
Ofanny Choi, president of Celestial Tiger Entertainment, said, "We are very excited to be launching KIX on DStv in Africa with MultiChoice.
"Asian action entertainment has always resonated well with the audience worldwide, and we are proud to work with MultiChoice to bring this popular genre to viewers in Africa.
"With KIX's proven success in Asia, we are confident we can deliver the best of action movies to our African audience."
John Ugbe, Chief Executive Officer, MultiChoice Nigeria, said, "We at MultiChoice are delighted to announce the launch of this brand-new channel KIX, a channel that will expand our viewers content slate, giving them more variety and entertainment.
"Our customers are at the heart of everything we do and new collaborations such as this, help us expand their viewing experience".
Action fans can enjoy a high-octane blend of martial arts, action and thriller movies from the East and West on KIX, all presented in English.
Apart from the latest star-studded blockbuster premieres, KIX will also showcase never-seen-before movies from the various action genres, including kung fu classics from the legendary Shaw Brothers library, action comedies, adventure and fantasy action franchises, and action thrillers.
While fans of Asian action movies will see the legendary Jackie Chan, Jet Li, Donnie Yen and Bruce Lee in action, KIX also aims to present and delight viewers with movies featuring all other Asian action stars.
With all genres of action movies spanning from the 1960s to the present day, KIX is a one-stop-shop for all action movies entertainment throughout the years, with something for everyone. Viewers can now watch KIX and its catch-up programming anytime, anywhere, on DStv and DStv App!