Local OEMs Need Support to Create Job, Wealth- Balogun
Tunji Balogun is chief architect of Brian Integrated Systems, manufacturers of world class desktops and laptops as well as other computer accessories. A member of many ICT associations, Balogun started his career in the ICT industry over 30 years ago with NCR Plc. He is also the brain behind Balog Technology, distributors of computer products. Balogun spoke to chike onwuegbuchi and fumni Ilesanmi on a wide range of issues
Differences between Local OEMs, Cloned OEMs and Others
When you talk about original equipment manufacturers that means you must have gone through some set of rigorous test with your systems. There are procedures you are supposed to take in building systems meaning.
You have been certified to have gone through approved procedures in building your systems which are international procedures like the WHQL. This means that you have the knowledge to integrate hardware and software together. It is like communication where if there is any gap you cannot have the marriage, where there is a handshake that means the hardware and the software are not in conflict. Two, adapt both and marry both together. That's what makes you an OEM. But any body can build a clone system without going through specific specifications and procedures.
Using Clone Systems
It is a matter of choice. For example, you want to buy a brand new system which you know that the manufacturer put his name behind it and gives you warranty that if anything went wrong within a specific period, you are free to bring it back and he would either replace the part or gives you a new system. But in clone, there is no warranty. They are not giving you any warranty, so you are on your own. That is the difference.
Marketing Strategy
It is a matter of information. What we are doing presently is to get awareness out there. Get our products on every table and get the media to know what we are doing so that people can know that there is an OEM that is even better than buying international acclaimed systems. Because one, what we are telling people is that if you buy Brian you realize your warranty without any question asked. So the information needs to get across and then we need to expand the channel of distribution which we are in the process working on and don't forget all these things cost money. Local OEMs need some encouragement from the government either through import duty waiver or through getting loans from the banks at reduced interest rates. Some of our international partners get all kinds of relief from their base. That reduces the level of awareness, the money we can spend to create that awareness. Although we are doing it we are not there yet, but we know that we are in the process of even doing more than what we've been doing.
Government's Waiver on Knocked down Components
We thought the relief we have been fighting for came but in the same token we didn't enjoy it before it was withdrawn anyway. It was only said it wasn't written, it wasn't documented, so the Customs were not even accepting that. But right now we pay five percent duty on some products and on some products like the monitor we are paying 20 percent duty which is very high compared to our competitors in their home countries; they get all kinds of relief. Like in the US they don't pay anything duty on ICT for an OEM to encourage business and encourage entrepreneurs to create employment for people in their local environment whereby the incentive or the relief given on duty would pass to expand our businesses but we are not enjoying that.
Challenges
Well, I will say we need a conducive environment to operate in. For any manufacturing outfit to make profit, we must have constant supply of electricity, good roads and other infrastructures, apart from that as an OEM we should be proudly Nigerian. Government needs to have a policy where all the government agencies should not be allowed to make use of foreign made systems, that way we'll keep money in the country and we'll be able to employ people in Nigeria and create wealth for the people. Because by buying foreign brands we are encouraging and expanding their employment opportunities in their countries thereby driving away the needed job in Nigeria. But when you encourage local OEMs, they create jobs in return you reduce the number of unemployed youths in the society. In the area of support like I've said interest rates, you are not supposed to have your own money to do business. Banks are supposed to build on our resources, sit down with us and see areas where they can grow our business and the way they grow our business is to give us reduced interest rates to be able to support our buyers in buying our products.
Local Industries in Assembling Computer Components
That brings us back to the area of conducive environment again. You can not be successful in the manufacturing industry especially the ICT business if there is no regular supply of electricity. There are some components that are needed for you to have other people to complement each other for you to manufacture even a single component in the system. We don't have such industries on ground and for us to have such industries; we need a lot of capital. For example, to manufacture only a DVD writer you need a minimum of 2 to 3 million dollars to set up the factory. With the way technology changes rapidly, that kind of investment is not wise right now because you need other people to complement what you want to make, to buy parts from them. You cannot make all the components in a DVD writer that you want to make, there are some you have to sublet out to people so the industries must complement each other within reach for you to manufacture ICT products. So for now it's not visible.
Local Systems Builders Club
All I can say is that Brian system is coming up with new products everyday, our product development is working and we have products that can compete with any international acclaimed systems when placed side by side, I bet you Brian will beat most of them in design and in capacity.
Tax Evasion at Computer Village
It's not that members are not paying taxes, some are paying their taxes, fulfilling their civic responsibilities but we have few that are not paying. Those are the ones that are housed in shops, some of them have like two employees in their employment, and those are the people we are talking about. After reaching an agreement with the Lagos State government and with our members, everybody complied and everybody paid up the needed amount that needed to be paid for the taxes in question. So we have taken care of that and I believe the Lagos State government is happy with the association.
Plans for relocating the village
First of all I give kudos to the Lagos State Governor in person of Governor Fashola. He's doing a good job in Lagos, bringing the State to what it used to be in the 60s and early 70s. The governor said that he does not want street trading and emphatically that street trading is not allowed in Lagos State and computer village. Computer Village is a residential area which has been turned into a commercial area, but the Lagos State government is saying we need to vacate the place soon and we've been allocated a land which will house the present Computer Village and that place is the Kantagua market. So we are working with the Lagos State government to build a befitting ICT centre for Lagos State and Nigeria as a whole. A place big enough to house everybody, whether you are selling hardware, phones or anything that has to do with ICT that will be conducive for buyers and sellers to go about their business without any fear of being attacked. Such an environment is under construction in conjunction with Cadda and the Lagos State government with the Chairman of Oke- Odo Local Government along Ipaja area.
When realizable
In the next one year.
Financial Crisis and ICT Industry
As for the depreciation in the value of the naira, the government has a lot to do. If the naira keeps falling the way it is falling right now, that means the prices of everything will go up. For us to get the kind of penetration we are looking for, to put PC in every home so that people can be computer literate and have that skill set with our counterparts outside this country, we need to get the naira back to what it used to be. That is, one to 120 or less for that area but the ICT industry in Nigeria is growing at an appreciable level which you and I know that Nigerians are improving their skill set in the area of ICT if not anything. I encourage every body out there to go out and learn how to use one or two of the programmes that can help them not only for personal growth but do things in a more efficient way.
Two, cut down cost by using ICT equipment. Three, you will have what I call personal conviction that nothing is impossible for you to do because with the use of the computer the world is at your finger tips. So I'll encourage everybody to be computer literate.
CBN Pulls Rate Cut Trigger, King Dollar Returns
By Lukman Otunuga, Senior Research Analyst at FXTM,
In a move that caught investors off-guard this week, the Central Bank of Nigeria (CBN) slashed interest rates by 100 basis points bringing the MPR to 11.5%. Given how inflation has been above target since 2015, rates were expected to remain unchanged for the rest of 2020 and possibly early 2021.
The question on the mind of many is whether the rate cut will achieve the desired effect by stimulating consumption and economic growth? Ongoing border closures and disruptions created by COVID-19 have pushed inflation to levels not seen since March 2018 above 13.20% while a drop in the production and price of Oil continues to rub salt into the wound. While looser monetary policy could support growth, it may come at the cost of rising inflation and weaker Naira.
Over the past few months, central banks across the globe have deployed unprecedented measures to defend their respective economies against the coronavirus menace. However, fiscal policy has been identified as the sharper tool with governments across the world providing a critical lifeline to keep the wheels of their respective economies rolling.
Outside of Nigeria, King Dollar made a return by appreciating against every single G10 currency. In times of uncertainty, everyone wants a juicy piece of the world's most liquid currency. As coronavirus cases rise in Europe and other parts of the world, the flight to safety is likely to boost appetite for the Dollar. This is bad news for many emerging markets currencies, especially those with high Dollar-denominated debt.
On the commodity side, Oil prices remain heavily influenced by demand-side factors and the state of the global economy. Prices are likely to remain stuck around the $40 regions in the near term, especially If another round of possible lockdowns hit Oil demand. Looking at the technicals, WTI Crude is under pressure on the daily charts. If prices are unable to break away from the sticky $40 regions, the next key point of interest remains around $38. A weekly close above $41.50 could pave a path towards $43.
NCC Arrests Man for Hacking into DSTV System
Nigeria Copyright Commission (NCC), has arrested one Mr Aliu Olalekan, for allegedly hacking into DSTV system and watching the channels free without subscription.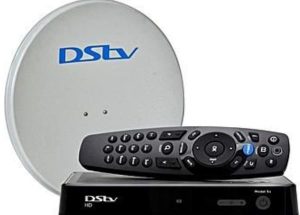 Mr Matthew Ojo, NCC Director in the Lagos Directorate Office said this while speaking with newsmen in Lagos, on Tuesday.
He said that the suspect used to watch DSTV channels free without subscription on his Android phone via an app which he downloaded on google play store.
"This suspect distributed the know-how to his telegram followers and on his blog with the aim of gaining more followers and viewership on his blog and makes more money through google ad-sense.
"The operation was based on surveillance which had earlier been carried out by the Multi-choice team and verified by a copyright inspector, " he said.
He added that the arrest was made in collaboration with a team of copyright inspectors led by the Head of Enforcement Department, Mr Charles Amudipe.
Others included; a team from Multichoice Nigeria led by Mr Umar Ibrahim and policemen from Lagos Command Headquarters, Ikeja.
Ojo said that the joint team conducted an anti-piracy operation at the premises of the culprit in Amukoko, Lagos.
According to him, the suspect was contacted on phone by a member of the operation team on the disguise of patronising him. "The suspect came out to meet the caller and in the process of discussion, he was apprehended.
"The suspect took the team to his resident. The squad paraded his one-room apartment and recovered his laptop and phones used in perpetrating the ungodly act. "He was arrested and brought to the copyright commission office for further investigation, " he said.
Ojo said that, on getting to the commission's office, the statement of the suspect was taken and the inventory of items seized from him taken. He said that investigation on the matter was still ongoing and if found guilty the suspect will be charged to court.
NCC, Digital Encode Support NITRA Innovative Tech Forum On Post-COVID-19 Strategies
The Nigerian Communications Commission (NCC), Nigeria's telecommunications regulator and Digital Encode, Cybersecurity and Compliance advisory company, have indicated interest to partner with the Nigeria Information Technology Reporters Association (NITRA), the national umbrella body of ICT reporters, as it organizes a forum that will x-ray the industry's future plans for ICT growth post pandemic era.
The event, slated to hold on October 15, 2020, will seek to discuss the needs for a fortified ICT sector after the COVID-19 era, and the level of preparedness of ICT stakeholders to embrace the challenge of being pivotal to the stability and growth of all other sectors.
A statement from NITRA National Secretariat in Lagos indicates that due to the pandemic and need to observe the COVID-19 protocol on social distancing, the event will be held via a Webinar.
This year's theme, "Multi-stakeholder Approach To National Recovery Post-Pandemic", is in line with the annual event's generic theme, 'NITRA Innovative Tech Forum', a contribution by NITRA to the development of Information and Communication Technologies (ICTs) innovations and policies in Nigeria.
Prof. Umar Danbatta, executive vice chairman, NCC is expected to deliver the keynote speech at the event and will throw more light on Federal Government's plans, programmes and policies on post-pandemic strategies using ICT.
Dr. Adewale Obadare and Dr. Seyi Akindeinde, founders of Digital Encode, while accepting to support the event expressed their readiness to offer their expertise in Cybersecurity for organisations to prepare against cyber- attacks with the new normal.
They will also highlight areas that are high risks that need fortification in terms of cybersecurity.
Speaking on the event, Mr. Chike Onwuegbuchi, national chairman, NITRA, noted that as the COVID-19 pandemic continues to leave its negative trails across the globe, economic reboot for countries will not only depend on how well they readapt to the new normal, but also more on their recovery plans.
According to him: "While the federal government has consistently expressed its willingness to set all policies in place to engender growth, and accelerated implementation of these policies, private sector firms have also shown great hunger for the task ahead in post-COVID-19 era.
However, the question that needs to be answered is whether all stakeholders are ready for the required task ahead."
The event will also offer participating companies opportunities to publicize some of their individual efforts at contributing to reacting a soft landing or lifeline for SMEs and other ancillary companies as the pandemic threatens their survival.
Digital Encode is a multi-award winning and leading consulting and integration firm that specializes in the design, management, and security of business-critical networks, telecommunications environments and other Information Technology (IT) infrastructures.