TECNO Launches Phantom 9 with AI Triple Camera
Africa's most preferred smartphone brand, TECNO, housed under renowned multinational, TRANSSION HOLDINGS, has launched the long-awaited addition to the TECNO Phantom smartphone series.
The new device, Phantom 9, comes with an array of enhanced features that bring a whole new dimension to the smartphone experience.
One of its exciting new features include an AI Triple Camera. With TECNO Phantom 9, you can take immersive wide-angle photographs of landscapes, cityscapes and indoor architecture, without breaking a sweat.
"This new device has been in the pipeline for a while. With the amazing AI Triple Camera plus other wonderful features, we are proud to say it was worth the wait.
"Photography enthusiasts and business professionals will find that is a great addition to their work and entertainment toolbox"said Stephen HA, Vice President of TRANSSION HOLDINGS and Managing Director of TECNO.
Aurora-Inspired Beauty
Besides sporting an amazing camera, the new TECNO Phantom 9 draws on beauty from the skies above – the colourful aurora! The impressive aurora, visible in both the Northern and Southern hemispheres, inspired the design of this new device. Encased in swirls of red, black and blue of various shades, the device is a stunning masterpiece.
Seasoned design engineers from Paris, France worked withthe TECNO team to create the look and feel of the new device. It is no wonder that its beauty is unlike any other.
More Than Just Another Camera Phone
The AI Triple rear Camera on the Phantom 9 is a 16MP+2MP+8MP, 120-degree main camera that makes wide angle photography possible. It also makes it possible to take close-up shots that still remain clear.
The triple camera supports 2.5cm extreme close-up shots, so details can be seen clearly. For example, if you take a close-up shot of jewelry, each tiny part of that jewelry stands out as the beauty of each detail shines through.
The triple camera function also comes equipped with Google Lens, so the TECNO Phantom 9 can do smart identification of objects as soon they come into the view of the camera.
The device does this by automatically showing all the relevant information on the object. This brings a whole new dimension to smartphone photography.
There are also other features that make the device stand out such an Octa-core 2.35GHz MT6765 Processor with 6GB RAM + 128GB memory space. That means plenty of memory space for storing lots of files and no freezing even while running three or more apps simultaneously!
All of this is powered by the 9.0 Android Pie and is showcased in a 6.4-inch Full HD AMOLED display. It also has 2 Nano SIM slots.
There is also a Drop Screen Dual Front Flashlight on the new smartphone and TECNO Phantom 9 is the first to feature this. This will greatly help users who take shots at night or in low light conditions. They can now do this with no worries about dark pictures.
Other features include Bluetooth 5.0 which makes connecting one device to another easier and transferring files faster; 4G LTE capacity for smooth high-speed browsing; and a sizeable 3,500mAh Battery. 
Last but not the least, the device features curved edges which make for an easy firm grip and spares you the heartache of having your phone fall out of your hands. All these and more are reasons to get the TECNO Phantom 9.
TECNO Phantom 9 is a great addition to the PHANTOM series and is an improvement on the older PHANTOM 8.The new device, TECNO Phantom 9, price data little over 100,000 naira, proves that TECNO is for Nigerians.
Right of Way: Experts to Discuss Next Steps for Broadband Internet Penetration for Africa
#StartupSouth, which educates, connects and attracts funding to founders and Startups within the South-South/South-East is hosting top Industry professionals and Government officials to a virtual event  on May 29, 2020 to discuss next steps towards Scaling Broadband Internet penetration in Nigeria in particular and Africa in general.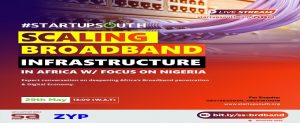 This followed the recent announcements of  per linear meter Right of Way charge review by different states in the cohtry.
Right of Way Charge Per Meter of Fiber Optics Cabling is considered one of the most vexatious and biggest hindrances to growth in the industry. Panelists will discuss challenges, solutions and next steps towards broadband Internet Penetration in Africa.
Panelists include Steve Song  (Fellow at Mozilla Foundation and Lead at NSCR – the organization behind the Africa Broadband map website) and Mr. Gerald Ilukwe – former Manager, Galaxy Backbone and Chief Information Officer, Kaduna State Government. Others are Bradley Shaw – Regional Manager, Middle East & Africa at NuRAN Wireless, Akintunde Oyebode – Special Adviser, Trade, Investment and Innovation, Ekiti State and more.
Speaking about the event, Uche Aniche – convener of #StartupSouth – said, "the event will enable professionals. Public officials and Investors to come together and discuss a way forward. You will recall that this was the central theme of our conference (#StartupSouth5) in Uyo last year. We expect more states to adopt this policy, but, more importantly, we want to see them do so in a very sustainable manner that ultimately unlocks the true benefits to citizens.
Liquid Telecom Eyes Datacentre Expansion in Nigeria, Ghana
Strive Masiyiwa, Executive Chairman of the Liquid Telecom Group, confirmed that plans are at an advanced stage to enter West Africa and said: "We have secured land to build the largest datacentres in Nigeria and Ghana."
Masiyiwa's confirmation was included in an announcement by Africa Data Centres, the pan-African network of interconnected, carrier-and cloud-neutral datacentres, that its deal to acquire a Tier IV datacentre in Johannesburg from Standard Bank has been unconditionally approved by the South African Competition Commission.
Africa Data Centres, part of the Liquid Telecom Group, believes the acquisition will prove highly disruptive to the South African datacentre and co-location market, and added that the facility is available on an open-access basis, giving every modern technology-driven enterprise the confidence to innovate and grow.
Stephane Duproz, CEO of Africa Data Centres, said the facility will redefine the datacentre experience for regional, continental and global customers. "The acquisition marks a significant extension to Africa Data Centres' pan-Africa network of interconnected, carrier and cloud-neutral datacentres."
Jörg Fischer of Standard Bank added, "Standard Bank is extremely pleased to have completed this historic milestone with Africa Data Centres, which is aligned with the Bank's cloud-first digital transformation strategy. Our digital vision is to bring innovation into every aspect of the bank's IT systems, transform the employee experience and in turn enable a consistently rich and rewarding customer experience."
In line with all Africa Data Centres' facilities, the Johannesburg site will also operate on a fully carrier-and cloud-neutral basis.
The unveiling of this remarkable facility coincides with an unprecedented level of demand from national, continental and global customers, expecting the highest levels of quality, security and reliability, according to the companies.
In response to this demand, Africa Data Centres has also started work on a further 10MW IT capacity facility at its Midrand campus.
CWG Plc Records Profit Before Tax of N634M in 2019 Financial Year
CWG Plc, the Pan-African Information and Communications Technology Company and Nigeria's largest system integration company has released its audited full-year financial statement for the period ended December 2019.
The results showed positive improvements from 2018 audited financial statements, as it increased its gross revenue by 23.4 percent to N9.6 Billion in FY 2019 from N7.8billion in 2018.
However, Net Assets grew by 67.4 percent to N192million from N115million in the previous year.
The growth in revenue and profit was achieved with a reduced OPEX of 23 percent over 2018 financial year.
CWG Plc closed 2019 with a positive EBITDA at N892million, PBT N634million and ended that year with a Profit after Tax of N73 million.
CWG Plc is one of Nigeria's leading players in the Hardware and IT enterprise solution industry.
As part of its efforts to step up its operational value, it got its shares listed on the Nigerian stock exchange a few years ago.