We Don't Need Foreign Software to Drive IM – Fambegbe
Folarin Fambegbe, director, Golden Scepter, a company dedicated to become a one-stop shop in records and archives management, is a civil engineer turned banker.
He worked in the defunct City Bank for 17 years.
Fambegbe believes that ICT is a critical force that can help meet the records management demand anchored on providing market-leading levels of trust, security and reliability. He spoke to peter ugwu.
Overview
Golden Scepter is a product of vision. In the course of my working in the bank, records management formed part of my duties.
I discovered that most of the banks in the country do not have good records keeping system; therefore retrieval of documents poses great challenge.
There are cases where directors were been chased by the economic and financial crimes commission (EFCC), not because they do not have the documents, but they could not present documents required during one investigation or the other hence the main problem is that the processes of management of those documents were haphazard in nature.

So, you see managing directors of banks and insurance companies running out of the country. Meanwhile, I and my partner saw that is a problem that must be addressed. So, the starting point for Golden Scepter was when we left the bank in 2003; they later invited us to come and help them out in organizing their archives management system.
However, after the bank capitalization we discovered that other banks have similar problems too. We thought it wise to set up a platform that will serve as a model in organizing institutions' records management system.
Consequently, other banks expressed interest in us ensuring that their records keeping systems are in other.
GS Phenomenal Growth
The point is that there is a vision and there is a need. Institutions are really concerned on how to keep adequate records management system.
And we as service providers leveraged on that to come into the system.
Even when heads of different companies meet they discuss this among themselves and some of them would always want to maintain proper records keeping knowing the importance.
Today, we have helped a number of banks maintain their records department, bringing them to contemporary practices.
Industry's Viability
Yes, the industry is viable, but Nigerians orientation towards records management is very low. Some companies would ask you the immediate gains they will generate from such project that is maintaining an updated archive.
The truth remains that when you have adequate document, it will be difficult for anybody to lay false claims, defraud you or take things for granted.
We should ask ourselves what constitutes the bottom-line: when you have increased revenue or decreased expenses then you have bigger profit.
Now, when you have even bigger profit with leakages through outrageous payments due to the fact that you cannot substantiate certain claims or through the injunctions of the law courts following your inability to present certain document(s), the somewhat a big revenue will start to depreciate. What you need to do is to block such leakages.
And it will ensure efficiency in service delivery. Helps in achieving company's goals, and customer services are better met when you have every bite of information available for use.
How about job creation?
Today we have over 30 staff. So, this is an industry waiting to be explored. With more companies coming on board, definitely we should be expecting that records management industry will add value to the Nigeria's Economy.
This is just an aspect of the industry, when you talk of document control; it is a very large setting traversing areas like construction, oil and gas, government institutions, etc. is such large because we are referring to documents that are still in use; where you have different strokes of projects going on almost at the same time and in the chain all the parties have to be involved.
Lack of Professionals
The first step is awareness creation. That is why a non-governmental body – Records and Information Management Awareness Foundation (Rima) is doing a great job.
But on our part we train people. We have trained personnel of 44 companies including schools, all within our four years of existence.
Interestingly, the more people are becoming aware of the profession, more companies are willing to absorb, all points to the fact that Nigeria is not an Ireland on its own.
We must embrace the opportunities exiting in this area by encouraging our young ones to embrace the discipline.
The Place of Records Management in Data Security
We highlight the importance of security that is why when we help companies in setting up their archives we advise them to train their staff alongside.
In setting up an archive is not just about the papers, you have to consider the security control measures.
More so, we advise institutions to have documents management policies.
The essence is to stipulate who handles what. There have been cases where companies lose valuable documents due to porous means by which its document bank is handled.
Fight against Corruption
Corruptions are not done from heaven. They are done with documents. So, document control or records management is quite apt in checkmating corruption because if you can trace the document, it serves a large purpose in tracing perpetrators of certain acts.
And in court system, they don't deal with stories; rather the substantive facts and figures give you an edge over your opponents as the case may be. So, one way to fight corruption is my ensuring that records are kept, well controlled and it can be retrieved when needed; anything short of that is a mirage.
In other words, it will help see justice is neither delayed nor denied.
Government's Support to the Industry
In the developed countries, the industrial standards are set by the government, thus other have to follow suit.
Apart from that, government needs to intervene by upgrading existing infrastructure in her centers like the National Archives of Nigeria (Nan) just like the Lagos State Government is doing by creating the Records and Archives Bureau.
When the infrastructures are in place, they will motivate our people to study this discipline. At a time we thought of collaborating with different state governments, but we discovered that most of them are not ready to embrace the change and we are also not interesting in becoming part of the corrupt systems; even the government that decry unavailability of employment opportunities for the teeming youths. Why can't they leverage on this platform to do so?
Now that we are looking at revisiting the 1999 constitution, there is a need to repeal the National Archives Act, for instance, to reflect contemporary practice; come up with something that can assist economy of the country.
Pending that, because government things are very slow, institutions can set up their framework or policies. Once that is done, it will be easier to register Nigeria's presence in the comity of proper records keeping nations.
Is ICT's a threat to Archives Management?
No! When people say that the evolution of information communications technology spells doom for the archives management, I would say, we are limiting the scope of the profession.
Although it is not just about filing physical papers or documents, then the electronic documents show that ICT is a complement and can never.
Currently, we are going beyond physical archiving system; therefore, users can seat anywhere and have access to certain document, because information transmission nowadays runs on a speed of light.
If you want to be relevant then have the relevant document that can be accessed 24 hours. ICT has made Archiving become cheaper.
Hence the software is there, there is nothing to fear about, because security can be assured as well.
However, in Golden Scepter we hold the view that records digitization is not a direct substitute to a well organized physical archive.
Remember everybody needs information as contained in a document to operate, but not everybody is connected to the ICT yet, which makes the relevance of physical archives paramount in our day to day activities.
People make a mistake by thinking that electronic records management means there is no paper. What ICT does is to reduce the paper, thereby helping the eco-system.
Today, in Nigeria, what does the court accept as written evidence if not physical documents, like bank statements which is different from original documents that is scanned.
Protection of Physical Archives
When you are talking about physical archives management, there are a lot of things that must be in place for security purpose.
Fire extinguishers are very important. Perhaps, you are not going to sleep in the archives; how do you secure the place from fire? So, there is need to install self-triggered apparatus that will 'fight' the fire even with no body present.
The sensitivity of archives demands that you fix CCTVs as well, to monitor movements, which is still IT complementary role.
These are part of the key safety measure that will complete efforts of skilled manpower to ensure the place works optimally.
We have a mechanism to dry wet or flooded documents. For instance, after the July 10, 2011 flood disaster in Lagos, many government and private companies' documents were drenched. Those who contacted us have better stories to tell.
Professionalism
When we talk of International Standard Organisation (ISO) set standards it depends on the organization that engages in the practice.
Meanwhile, some companies parading themselves as ISO certified are not real. They are certified on papers, but in practice they are below every reasonable standard.
It is in every profession, people cutting corners.
Is not about the certification, but what is behind. Having said that, it is important to embrace the stands; by doing that companies can save cost and protect sensitive projects during executions.
Career
I support the school of thought that our educational curriculum should be revisited to include records and information management.
I have come to understand that not all who studied Library Science can easily practice this. There is still a divide.
You find out that people don't actually have confidence in their discipline. In developed countries like in US and UK, people are making input to the economy and academic through courses like this.
We can follow suit. Recently, a particular university invited us to come and address that problem for them to cue-in to the modern practice.
Software
Ostensibly, there is no need we looking outward to purchase software for our applications, because what we are looking for are here in Nigeria.
We are now part of the global village.
Meanwhile, when you go to other place, South Africa, United Kingdom, etc, there is a way they keep their records, we should have our template.
Therefore, we can't fuse their model into our system. So, we are trying to build our standard here, bring it up to meet international standards.
CBN Pulls Rate Cut Trigger, King Dollar Returns
By Lukman Otunuga, Senior Research Analyst at FXTM,
In a move that caught investors off-guard this week, the Central Bank of Nigeria (CBN) slashed interest rates by 100 basis points bringing the MPR to 11.5%. Given how inflation has been above target since 2015, rates were expected to remain unchanged for the rest of 2020 and possibly early 2021.
The question on the mind of many is whether the rate cut will achieve the desired effect by stimulating consumption and economic growth? Ongoing border closures and disruptions created by COVID-19 have pushed inflation to levels not seen since March 2018 above 13.20% while a drop in the production and price of Oil continues to rub salt into the wound. While looser monetary policy could support growth, it may come at the cost of rising inflation and weaker Naira.
Over the past few months, central banks across the globe have deployed unprecedented measures to defend their respective economies against the coronavirus menace. However, fiscal policy has been identified as the sharper tool with governments across the world providing a critical lifeline to keep the wheels of their respective economies rolling.
Outside of Nigeria, King Dollar made a return by appreciating against every single G10 currency. In times of uncertainty, everyone wants a juicy piece of the world's most liquid currency. As coronavirus cases rise in Europe and other parts of the world, the flight to safety is likely to boost appetite for the Dollar. This is bad news for many emerging markets currencies, especially those with high Dollar-denominated debt.
On the commodity side, Oil prices remain heavily influenced by demand-side factors and the state of the global economy. Prices are likely to remain stuck around the $40 regions in the near term, especially If another round of possible lockdowns hit Oil demand. Looking at the technicals, WTI Crude is under pressure on the daily charts. If prices are unable to break away from the sticky $40 regions, the next key point of interest remains around $38. A weekly close above $41.50 could pave a path towards $43.
NCC Arrests Man for Hacking into DSTV System
Nigeria Copyright Commission (NCC), has arrested one Mr Aliu Olalekan, for allegedly hacking into DSTV system and watching the channels free without subscription.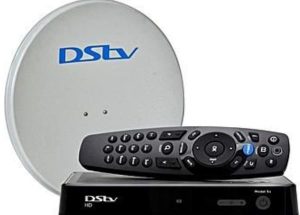 Mr Matthew Ojo, NCC Director in the Lagos Directorate Office said this while speaking with newsmen in Lagos, on Tuesday.
He said that the suspect used to watch DSTV channels free without subscription on his Android phone via an app which he downloaded on google play store.
"This suspect distributed the know-how to his telegram followers and on his blog with the aim of gaining more followers and viewership on his blog and makes more money through google ad-sense.
"The operation was based on surveillance which had earlier been carried out by the Multi-choice team and verified by a copyright inspector, " he said.
He added that the arrest was made in collaboration with a team of copyright inspectors led by the Head of Enforcement Department, Mr Charles Amudipe.
Others included; a team from Multichoice Nigeria led by Mr Umar Ibrahim and policemen from Lagos Command Headquarters, Ikeja.
Ojo said that the joint team conducted an anti-piracy operation at the premises of the culprit in Amukoko, Lagos.
According to him, the suspect was contacted on phone by a member of the operation team on the disguise of patronising him. "The suspect came out to meet the caller and in the process of discussion, he was apprehended.
"The suspect took the team to his resident. The squad paraded his one-room apartment and recovered his laptop and phones used in perpetrating the ungodly act. "He was arrested and brought to the copyright commission office for further investigation, " he said.
Ojo said that, on getting to the commission's office, the statement of the suspect was taken and the inventory of items seized from him taken. He said that investigation on the matter was still ongoing and if found guilty the suspect will be charged to court.
NCC, Digital Encode Support NITRA Innovative Tech Forum On Post-COVID-19 Strategies
The Nigerian Communications Commission (NCC), Nigeria's telecommunications regulator and Digital Encode, Cybersecurity and Compliance advisory company, have indicated interest to partner with the Nigeria Information Technology Reporters Association (NITRA), the national umbrella body of ICT reporters, as it organizes a forum that will x-ray the industry's future plans for ICT growth post pandemic era.
The event, slated to hold on October 15, 2020, will seek to discuss the needs for a fortified ICT sector after the COVID-19 era, and the level of preparedness of ICT stakeholders to embrace the challenge of being pivotal to the stability and growth of all other sectors.
A statement from NITRA National Secretariat in Lagos indicates that due to the pandemic and need to observe the COVID-19 protocol on social distancing, the event will be held via a Webinar.
This year's theme, "Multi-stakeholder Approach To National Recovery Post-Pandemic", is in line with the annual event's generic theme, 'NITRA Innovative Tech Forum', a contribution by NITRA to the development of Information and Communication Technologies (ICTs) innovations and policies in Nigeria.
Prof. Umar Danbatta, executive vice chairman, NCC is expected to deliver the keynote speech at the event and will throw more light on Federal Government's plans, programmes and policies on post-pandemic strategies using ICT.
Dr. Adewale Obadare and Dr. Seyi Akindeinde, founders of Digital Encode, while accepting to support the event expressed their readiness to offer their expertise in Cybersecurity for organisations to prepare against cyber- attacks with the new normal.
They will also highlight areas that are high risks that need fortification in terms of cybersecurity.
Speaking on the event, Mr. Chike Onwuegbuchi, national chairman, NITRA, noted that as the COVID-19 pandemic continues to leave its negative trails across the globe, economic reboot for countries will not only depend on how well they readapt to the new normal, but also more on their recovery plans.
According to him: "While the federal government has consistently expressed its willingness to set all policies in place to engender growth, and accelerated implementation of these policies, private sector firms have also shown great hunger for the task ahead in post-COVID-19 era.
However, the question that needs to be answered is whether all stakeholders are ready for the required task ahead."
The event will also offer participating companies opportunities to publicize some of their individual efforts at contributing to reacting a soft landing or lifeline for SMEs and other ancillary companies as the pandemic threatens their survival.
Digital Encode is a multi-award winning and leading consulting and integration firm that specializes in the design, management, and security of business-critical networks, telecommunications environments and other Information Technology (IT) infrastructures.