You probably thought I misspelled or you misread. Sadly, that is the title.
Location: Borno
Temperature: 40C/104F degrees scorching hot days and 12C/54F freezing cold nights.
Time: 2am approximately, some day in 2009
Two 9 year old almajiri boys were in bed; well, on the floor actually, inside or beside a mosque or nondescript shack somewhere in Borno state, north east of Nigeria.
One woke up to use the "bathroom" that fateful cold night and when he got back, the second had pulled his, and the only blanket over himself.
'Give me my blanket,' the almajiri boy demanded. The other "bully" would not let go, not just because he felt stronger, but because the nights get so cold in Borno, you just can't give that up.
At the end of the fight that ensued, one of the 9 year old almajiris, the smaller one who owned the blanket had pulled out his life protective dagger they always have on them, one of…actually the only asset they ever have, and stuck it into the bully.
He lay dead in a pool of his blood.
Fast forward to 2012, Amanda meets a nice, passionate lawyer who described this incident to her. 'That's why I'm here,' he said, 'I just can't let this boy keep rotting in jail.
You need to understand the predicament of these almajiri boys. They have nothing, they belong to no one.'
Amanda tells me how she once held conversation with an almajiri – about 7-8 years old, making his rounds on the dusty, harsh-weather roads of Borno.
Borno where they say, in the winter morning, you must open your mouth with care, else you hear your lips crack and see the blood gush from them.
'Where are you from?' Amanda asked him.
'I think somewhere in Katsina,' he replied.
'Who are your parents?' Amanda asked.
'I do not know, I came here when I was 3. … I am a child of the world.' The boy replied.
It brought tears to her eyes. It brought tears to mine too, hearing her narrate it.
This is the typical tale of the almajiri boys in the nuclear alms race on the dusty roads of cities in northern Nigeria.
The north eastern extremes of Nigeria which by Soludo's account, compares economically with places like Somalia and Eritrea.
With a 72.2% poverty rate in the North East region, the highest level of poverty in Nigeria, followed closely by North West (71.1%).
On the contrary the South East at 26.6% has the lowest level of poverty of poverty in Nigeria followed by South/South (35.1%) and South West (43.05%).
With such poverty levels, it is not surprising that the Boko Haram terrorist cult easily finds recruits.
What is even Boko's story? A people disgruntled with the system.
Who knows, its founders and top leaders may have all been almajiris, abandoned by their parents, their country and their traditional and religious leadership.
The Muslim mualims (teachers), almajiri's are hooked up with are slave masters at the best. They show these boys no love.
They whip them, sparingly teach them any quality Islam, and send them out to go race for alms.
Psychology and psychological trauma is a very important factor in propensity for criminality and terrorism.
Just last week, two Nigerian boys, both Michael Adebos, were reported to have killed a soldier in Woolwich, UK.
After the horror of the event was endured, details about circumstances leading to the extreme actions of Michael Adebolajo started slowly trickling into the news.
A serious Muslim revert with staunch views, Adebolajo visited Kenya for some form of Islamic experience.
While there, the Kenyan police allegedly picked him and a few others up from their village and interrogated them.
Adebolajo's friend, Abu Nusaybah recounted on BBC interview, that Adebolajo who told the security men that he would not speak, was promised,- 'this is Africa, not UK, we torture here.'
The torture and sexual abuse he was put through made him a changed man, his friend said. From then on, the young man with two wives became 'changed and withdrawn.'
To top it up, according to his friend, the British security services who it appears brought him back to the UK from detention in Kenya, routinely paid him visits and 'harassed,' and 'bugged,' him to work for them, as he reportedly complained to his friend. The rest is history.
A boy reportedly abandoned by his parents when he reverted to Islam and played hard cards by the local and foreign security, went to pick and kill a security related officer.
Their actions can never be justified in today's world; however a history of family, and societal abuse and dysfunction is hardly uncommon in so many cases related to the propensity for social oppositional and gravely violent behavior.
Research reveals that children from domestically violent homes are several times more likely to be abusive parents with up to half being involved in violent relationships and marriages.
These social and psychological developmental correlations are as many as there are disorders.
Amanda was on a journey with the lawyer who told her the story of his almajiri inadvertent murderer youth client.
But before the journey started, an almajiri boy had come to try to board their bus, with less than enough for the fare.
Amanda chipped in to enable him travel with them. The boy sat quiet till they got to Bauchi.
At a food and prayer stop in Bauchi, the boy came back and Amanda noticed he had had something 'spiritual,' not from the Mosque, behind it perhaps, or somewhere else altogether, ganja, marijuanna possibly.
Suddenly he was all loud and talkative. 'Those in this bus who think they are better than others….who think they can control what happens here… We have killed before, we will kill you here…' The almajiri revealed the inner ambitions of his heart.
His desire to subdue and control society. To revenge, to prove he is someone, that he has influence and power too.
He was not speaking in relation to any event or person on the bus. Hadn't Amanda, one of the passengers, given him money to enable his travel? He was talking to society at large.
Those were the kind of statements he was uttering, to everyone's distress. The driver was bothered, soon he parked.
The lawyer now went up to the boy and landed him a hot punch. From somewhere on his body, his dagger fell. The journey continued without him, as can be expected.
But he'll be just fine, like the cave men of the beginning of time, like animals in the wild; the almajiri has learned to get by in the dusty thatched jungles of the north.
Many crisscross countries in their race for alms. Oblivious of Nigeria, Niger, Cameroon and Chad's borders, these nuclear beggars traverse any type of terrain, with no one to miss them if they die; who cares.
Life is merely worth your pocket load of alms. Hopefully the picture you see attached to this UNICEF article is one I came across a while back, March 2012, of almajiri refugees who fled Nigeria to Chad due to early on Boko Haram-government clashes.
I spent a few minutes looking at the pictures. I still can't get over it. It was written in that story in 2012, that the boys were in the cross hairs:
Migrants told UNICEF they fled the villages of Douri and Madaye in eastern Nigeria when members of the Boko Haram militant group attacked them, burning down houses. Police and military forces then arrived and started firing at those who remained, claiming they were Boko Haram supporters, according to witness accounts.
The last few weeks have been weeks of reflection for north Nigeria. A region where the leaders – from the parents, to the traditional/religious leadership and up to the governors, and presidents, have failed in absolute proportions.
The governor of Kano, Rabi'u Musa Kwankwaso put it out straight and unglazed. 'Our problem, the insecurity is the failure of us as parents, the society at large and the leadership.'
Of the children, he said, "they grow up to hate themselves, hate their parents, hate the leaders, and hate the government and the society.
They feel they were deprived, they feel injustice and they become enemies of the state and constituted authorities; and thereby becoming vulnerable to crime and violence."
He further explained that typical northern parents have 20-30 children and keep two or three they like, while sending off the remaining dozens out into the almajiri world to never know love.
Senate president David Mark said the same thing days later, alleging that he spoke Nigeria's Sharia master who told him categorically that the almajiri system is Haram (forbidden in Islam).
Boko Haram's uncontrollable terror is the reward for this wickedness. Amanda told me the then Governor of Borno, hired these almajiris and defunct schools like that of late Muhammed Yusuf, arming them to be his political thugs.
For the first time in their lives, the almajiris got a job; they got some sort of social belonging, some meaning and relevance and along with it came finance.
How will they ever abandon such lucrative lifestyle, and opportunity to tell the world, we are better than you, we harass you, duck western civilization, duck the government of Nigeria, duck anyone who stands in our way.
To be on TV every day, on radio. To kill parents like theirs who abandoned them and sentence children, hitherto lucky, into a cold world without the shelter of a loving home? To revenge and get paid.
Cap that with the free flow of more potent 'spiritual' uplifting concoctions Boko Haram is said to be availing its recruits and the likelihood of surrender approaches the likelihood of the United States and Israel willingly accepting a Nuclear Iran.
The almajiri's are not going back. Nigeria must urgently find a way to start giving them something else, other than the permission to beg. Parents must be fined and incarcerated for child abandonment. A social welfare system must be immediately constituted. This is available in all developed societies.
The lack of it predicts sure and certain chaos. And the Mosques must preach that Islam does not permit riots and nonsensical violence, that hooliganism is not Jihad.
The Mualims and proponents of the almajiri system must know the prohibition in Islam of sending able-bodied young men to beg. To them, this message from the prophet of Islam:
Whoso openeth unto himself the door of begging, God will open unto him the door of poverty.
Verily it is better for any of you to take your rope and bring a bundle of wood upon your back and sell it, in which case God guardeth your honor than to beg of people, whether they give or not; if they do not give, your reputation suffereth, and you return disappointed; and if they give, it is worse than that, for it layeth you under obligation.
Whoever hath food for a day and a night, it is prohibited for him to beg.
It is time to start ending the nuclear alms race.
Dr. Peregrino Brimah
Every Nigerian Do Something [ http://ENDS.ng ]
Contact: [email protected]
Article References:
http://www.irinnews.org/report/95014/nigeria-chad-migrants-fleeing-boko-haram-violence-await-aid
http://saharareporters.com/news-page/kano-governor%C2%A0kwankwaso-blames-government-and-society%C2%A0for%C2%A0nigeria%E2%80%99s-insecurity
http://newsrescue.com/poverty-in-the-north-a-mayday-call/
http://www.vanguardngr.com/2013/05/abolish-al-majiri-system-mark-tells-northern-govs/
MTN Launches 'Visitor SIM', Designed for Guests Coming into the Country
MTN Nigeria has announced the introduction of its new Visitor SIM specially designed for guests travelling into the country.
The Visitor SIM comes pre-loaded with an appealing package that includes local and international call and data bundles.
This package will enable people visiting from other countries to stay connected with their friends, family and business associates on MTN's super-fast network.
MTN VisitorSIMs are easy for inbound international visitors to acquire, activate and use, in addition to which they offer far better value than any roaming tariff.
Not available from any other operator, the service is poised to deliver convenience and the best-in-class customer experience in line with MTN's brand promise.
According to Adekunle Adebiyi, chief sales and distribution Officer, MTN Nigeria, "The new Visitor SIMs will ensure that before setting foot outside the airport, people visiting Nigeria can plug in, reconnect – to loved ones, associates, tools and information, and begin sharing their remarkable experiences, with no concern about roaming charges."
MTN Visitor SIMs are available in the arrival halls of international airports and other ports of entry.
They are valid for 14 days, which can be extended up to 30 days via MTN's self-service menus or USSD.
Nigeria COVID-19 Response: UNICEF, IHS Nigeria Collaborate to Contribute Medical Supplies
United Nations Children's Fund (UNICEF) received the delivery of 115,800 COVID-19 test kits to support the fight against the COVID-19 pandemic in Nigeria. These supplies were funded by IHS Nigeria, the Nigerian subsidiary of IHS Towers.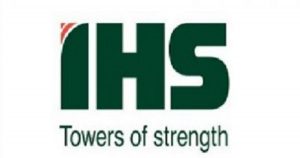 Testing remains the mainstay of the response led by the Presidential Task Force and Nigeria Centre for Disease Control (NCDC) and the first step towards diagnosing the infection. Tests enable health officials to understand the COVID-19 status of an individual and link that person to care, support and treatment while contributing to the protection of families and communities.
"Testing remains a core strategy of Nigeria's response to COVID-19. This is critical for understanding the burden of the disease on our population and targeting our response activities accordingly. The primary goal of the Nigerian Government is to control the spread of this disease.
"This donation from IHS Nigeria through UNICEF will contribute to the national stockpile of test kits managed by NCDC, and support efforts of the growing network of accredited laboratories across the country for the testing of COVID-19. We are grateful for the continued support from UNICEF, IHS Towers and other partners." said Dr. Chikwe Ihekweazu, Director General, NCDC.
IHS Towers has been a strong and continuing partner of UNICEF. At the onset of the coronavirus in Nigeria in late February, IHS Nigeria provided funding to UNICEF to urgently procure essential supplies and equipment with which UNICEF supported the Government of Nigeria in its COVID-19 response.
"UNICEF is deeply appreciative of IHS Towers' commitment to being a partner in UNICEF's work in Nigeria. Once more, IHS has shown great generosity in supporting UNICEF's ongoing efforts to work closely with the Government of Nigeria in the fight against COVID-19.
"I am very delighted to receive this huge contribution from IHS Towers, the benefit of which will reach many more children and their families", said Peter Hawkins, UNICEF Country Representative.
"We are proud to have played an important role in supporting the Government and our communities where we operate to provide crucial tools needed to fight this pandemic. We understand this virus is here to stay for the foreseeable future, but are confident that with our support, and that of our other private sector colleagues, we are helping to manage and mitigate the impact of the virus in our country" said Mohamad Darwish, Chief Executive Officer of IHS Nigeria.
This recent support of essential tests makes IHS Towers the biggest private sector donor for UNICEF Nigeria's emergency response to the COVID-19 pandemic.
Coca-Cola, Red Cross Society Expand Fight Against COVID-19 In Nigeria
In a bid to support the fight against the Coronavirus disease, the International Federation of Red Cross and Red Crescent Societies (IFRC) along with its national society Nigerian Red Cross (NRC) has started the distribution of PPEs and risk communications efforts to the tune of N228 Million to support its COVID-19 interventions in Nigeria.
This is part of The Coca-Cola Foundation's $2.5million grant to the International Federation of Red Cross and Red Crescent Societies (IFRC) to support the COVID-19 pandemic within the West and Central Africa sub-regions.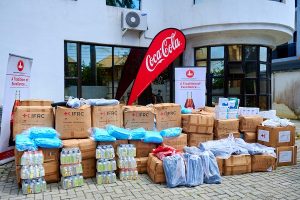 The grant, which leverages the long-standing partnership between The Coca-Cola Company and the International Federation of Red Cross and Red Crescent Societies (IFRC), seeks to support national efforts in the fight against the Coronavirus disease through the provision of essential medical supplies, personal protective equipment (PPE) and risk communications to impacted communities, healthcare personnel on the frontlines and treatment centres across the country.
Speaking on the donation, Yebeltal Getachew, managing director, Coca-Cola Nigeria Limited, explained, "The Coca-Cola System (Coca-Cola Nigeria, Nigeria Bottling Company and Chi Limited) remains committed to providing support to the communities we serve during these challenging times.
"By providing healthcare workers with much-needed PPEs, we are confident that this will go a long way in ensuring their safety as they remain on the frontlines of the fight against COVID-19.
"Coca-Cola is proud to support the Red Cross as we deliver on our purpose of making a difference across the world". 
Medical supplies being donated comprise N95 respirators, surgical masks, examination gloves, face shields, medical gowns, no-touch thermometers, disposable aprons, heavy-duty rubber gloves, rubber boots, basic masks, disposable gloves, and hand sanitizers.
Expressing his gratitude for the donation, Abubakar Kende, secretary-general for the Nigerian Red Cross Society explained, "We have identified the facilities in urgent need of these PPEs in consultation with NCDC and the Federal Ministry of Health and will subsequently be distributed to these centres.
"This will ensure that treatment centres across the country are properly equipped with necessary PPEs as we continue to fight the disease".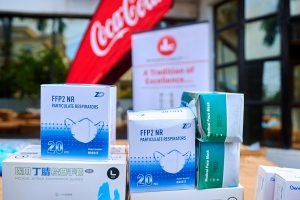 IFRC seeks to directly impact the lives of over 1.4 million people in Nigeria and across other countries in West and Central Africa under this partnership. For over a century, The Coca-Cola Company and the International Federation of Red Cross and Red Crescent Societies (IFRC) have sustained a rewarding partnership that has seen the rehabilitation and preservation of human lives across the world through the delivery of humanitarian aid and emergency response to communities affected by disasters.