How OTAs Are Changing The Travel Experience of Nigerians
By Adeniyi Ogunfowoke,
Once upon a time, around two decades ago, you had to seek the services of a local travel agent to research and book a trip on your behalf regardless of whether it is domestic or international.
With the debut of the internet, booking travel became seamless as online travel agencies started to leverage the internet to make travel seamless for millions of Nigerians. So, nowadays, travellers have many options available to them to help choose destinations, compare prices and make reservations independently and easily.
The undeniable fact is that online travel agencies have changed and disrupted the way we travel. Jumia's travel and flight marketplace, Jumia Travel is one of the few OTAs that are playing a huge role in making travel smooth for Nigerians.
By booking hotels for Nigerians at any time of the day, Jumia Travel eliminates the stress of scouting for hotels. Today, Jumia Travel has expanded to flight, packages, airport pickups and even cruises. The aim is to become an all-in-one travel agency. So, how is an OTA like Jumia Travel changing the travel experience of Nigerians?
Democratise travel
For some Nigerians, the reason why they do not travel is that they think travel is expensive, which is not always the case. However, with an OTA like Jumia Travel, every Nigerian has a better chance of travelling. This is because unlike other OTAs, Jumia Travel has one of the best available rates you can ever find on the internet. Hence, whether you have a huge amount in your account or not, you can still travel comfortably.
Take the stress off travel bookings
Travel planning can be overwhelming, especially if it is group travel. You have to put together a bucket list of destinations to visit and even book hotels you do not know anything about. If you get this wrong, it can make or mar the travel experience. This is where online travel agencies come into play. All over Nigeria, they have hotels on their platform; you simply reach out to your preferred OTA, for example, Jumia Travel and their travel advisors will recommend fantastic hotels you and your group can stay anywhere in Nigeria. This is, of course, at the best price.
Enhanced customer service
Customer service and satisfaction have also transformed the travel experience of Nigerians. The travel advisors of Jumia Travel help customers make informed decisions. Also, the vast majority of brands have a social media presence that is being used to make customers aware of the best packages and deals. And when necessary, to provide relevant information to help unsatisfied or confused customers.
Travel research transformed
One of the most profound effects that OTAs has had on travel in Nigeria is the democratization of online reviews. Today's travellers go online to research their future travel destinations and accommodations. When booking travel, a good number of Nigerians plan travel activities based on the content posted by their peers online. Hence, travel agencies do everything in their power to ensure they get positive reviews by offering sterling services.
Umeh Urges FG to Further Explore Gas as Nigeria's Future
Following the recent global plunge in oil prices primarily as a result of the Covid-19 pandemic, the CEO of a power generating company, Century Power Generation Ltd, Dr. Chukwueloka Umeh says there is no better time than now for the Federal Government (FG) to take definitive and courageous steps towards diversifying Nigeria's economy.
In the face of the cyclic oil prices, we must now see a Nigeria without oil and immediately start diversifying to agriculture and manufacturing. In order to do this successfully, the gas and power industries need to be unshackled and supported to encourage substantial private investments and growth.
Speaking during an online interactive session with the media, Dr. Umeh said that it is still unthinkable that despite the fact that Nigeria has the world's ninth-largest deposit, it still grapples with power generation and distribution issues in spite of millions of dollars spent on foreign experts, countless committees, public-private stakeholder meetings, and so on.
"Nigeria should essentially be a gas-producing country that happens to produce some oil. It is time to do things differently. We should stop the endless committee meetings, conferences and engagements.
"Pick a set of regulations, such as the ones that birthed the only project-financed power plant in Nigeria to date, Azura power, respect contracts and the rule of law to give local and foreign investors comfort, and just get it done.
"We have all the expertise we need to make the industry work, so let's stop searching for the perfect solution elsewhere. Take whatever we have, and just make it work.''
He said investors are not ploughing the much-needed resources into gas and power projects for several reasons, including constantly changing regulations, difficulty in enforcing agreements, ease of doing business, and unrealistic tariffs.
The Federal Government needs to relax its regulations enough to allow a real gas and power sector to come into existence and actually grow in a measurable form, driven by the private sector in partnership with the FG. Market forces and competition should be allowed to drive gas and power tariffs rather than allowing the prices to be set by a regulator.
He argued that government's role should be limited to providing appropriate regulations that will catalyze private entities to drive the much-needed diversification in the country.
He cited the example of several private estates in Lagos where steady, uninterrupted power is being supplied to as a result of the cost-reflective tariffs that the residents pay, which is far less than what they would have paid to operate fuel or diesel generators with the related health and safety hazards they come with.
This, according to him can be replicated on a larger scale across the country if the companies within the entire gas and power value chain are allowed to work under relaxed regulations as well as charge cost-reflective tariffs.
Speaking further on the issue, Dr Umeh praised the Federal Government's efforts so far to deregulate the power sector but urged them to do more and do it with more urgency to help stem the alarming growth in the unemployment rate in the country.
Dr. Umeh argued that once the power industry is working and adequate power supply is guaranteed, investors will begin to see the country as an investment destination.
"We must, however, understand that the privatization of power does not guarantee immediate availability of power because it takes at least three years to build a power plant from groundbreaking to actual generation.
"Private companies should be encouraged and incentivized to build power plants as well as strengthen transmission and distribution networks knowing that their investments will eventually be recovered through cost-reflective tariffs."
One of such projects is the Century Power Okija IPP, which is projected to generate about 1500 MW of power when its three phases are completed.
He pointed out that a lot of businesses have been disrupted due to the global pandemic and that money is in limited supply in Nigeria because of our over-dependence on oil for foreign exchange given this situation, diversification is urgently required to help the economy rebound in a sustainable manner.
"If we go back to basics by thinking of a Nigeria without oil, we can begin to look at developing other sectors such as gas, manufacturing, agriculture, just to name a few.
UBA Revamps Kiddies, Teens Accounts; Dangles Freebies
United Bank for Africa (UBA) Plc, Pan African financial institution, is set to reward consistent customers with a 13th month cash reward as well as access to scholarships in the upgraded and revamped UBA Kiddies and Teens Accounts.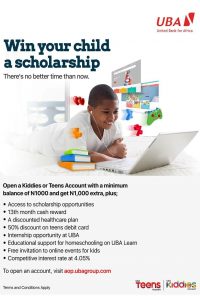 To qualify for these exciting rewards, customers need to maintain a minimum balance in these accounts which have been designed to enable parents and guardians save for their children aged between 0 – 12 years for the UBA Kiddies Accounts and from 13 to 17 years for UBA Teens Account, whilst also teaching the kids money management skills.
Breaking this down to both old and new customers, Michelle Nwoga, UBA's group head Marketing and Customer Experience, said, the Children banking proposition have been revamped with new offerings to assist parents imbibe the culture of savings in their kids from a very tender age.
To enjoy the 13th month reward all the customer needs to do is maintain a standing instruction of saving a minimum of N5,000 for 12 months and they are rewarded automatically; in the same vein, for the Scholarship reward of N200,000; the customer simply needs to maintain a standing instruction of saving a minimum of N10,000 for six months to qualify for a bi-annual draw.
In addition to saving for their child's future, holders of the UBA Kiddies and Teens accounts can also get discounted healthcare plans.
Nwoga said, "Typically, conversations about money start at home, when parents open their child's first account and the kids start asking questions about money. It's one of the most important conversations a parent has with their child, hoping to set them on the right track to managing money responsibly.
"And that is why we have introduced exciting benefits and rewards to these account holders to make it easier for parents as they help their kids develop financial and money management skills. Our Kiddies and Teens Account offers parents an opportunity to give their children a head start in life by starting to save for their future early, Nwoga stated.
In a similar development, UBA recently upgraded its mobile and internet banking applications, introducing lots of new, exciting and interactive features to aid banking, while allowing customers to perform unlimited transactions from the comfort of their mobile phones
Jude Anele, UBA's Group head, Consumer & Retail Banking, Marketing, who expressed delight with the upgrade said that the bank's numerous investments into digital transformation has begun to yield good returns for customers, going by the reviews already received.
"I will like to let you know that all the investments we have made over the years in the area of technology will begin to yield now, because already UBA's new Mobile Banking App demonstrates our resolve to provide unparalleled experience across all our channels is in line with UBA's vision to dominate Africa's digital banking space," Anele said.
The United Bank for Africa is a leading pan-African financial institution offering banking services to more than twenty million customers globally. With footprint in 20 African countries and presence globally in the United Kingdom, the USA and France, UBA is connecting people and businesses across Africa through retail, commercial and corporate banking, innovative cross border payments and remittances, trade finance and ancillary banking services.
How Telcos Can Rebuild Nigeria in Wake of COVID-19
The COVID-19 pandemic has had devastating effect on all social and economic sectors. In just three months, the pandemic has left tears, sweats and blood on the people and the economy.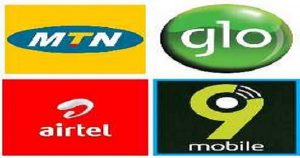 For Nigeria, the pandemic is an eye opener and a rude welcome to a new normal- knowledge economy.
Lagos state relies heavily on knowledge economy and that accounts for the success it is recoding in the fight against COVID-19.
Apart from the ingenuities by Lagos and a few other states, Nigeria's overall response to COVID-19 has been less than satisfactory.
The new phases of recovery; and thriving- will be defining for the country; and as seen in this crisis, telecommunications are playing role in retaining any semblance of normalcy.
In recovery stage, telcos will also help manage the transition out of COVID-19 related stagnation as well as provide a resilient national infrastructure to stimulate GDP growth.
ABI Research, global tech market advisory firm, in its new whitepaper, "Telcos As a National Growth Accelerator", identified several strategies that governments can utilize to invest in stimulating growth by strengthening the Telco position.
Locally, experts said Nigeria must leverage on the disruption to create a knowledge based economy.
To do this Stuart Carlaw, chief research officer at ABI Research, said that, "it could be argued that telcos could play a pivotal role in countries being able to rebound from the financial and productivity shock coming from COVID-19."
ABI Research found that telcos have been invaluable in enabling some semblance of societal continuation during lockdowns due to COVID-19.
"In a very tactical way, they have enabled governments to track, trace, and manage the spread of the virus, communicate effectively and directly with people, and keep supporting society in a virtual, but valuable way. Without the investment and operational diligence of many telcos, the impact of COVID-19 would have been far deeper and more profoundly felt in all economies." Carlaw stated.
For Olusola Teniola, president, Association of Telecommunications Companies of Nigeria (ATCON), the biggest recovery for Nigeria will be by the careful and full implementation of all recommendations in the Nigerian National Broadband Plan 2020-25.
"Secondly, for there to be an immediate impact, government needs to kickstart the e-Gov digital migration, which means the immediate development of e-systems in all the MDAs and web-portals in different languages (Yoruba, Igbo, Hausa as a minimum) with voice assistance for the physically challenged. This will refocus and redeploy government spending on creating jobs on the supply side for the youth and demand from the citizens interacting with the systems to fulfil different needs." He added.
According to him, underpinning all this is the massive employment and retraining of our citizens to become more productive whether from home, office or in business centers in malls.
Also, Mohammed Rudman, managing director, Internet Exchange Point of Nigeria (IXPN) said telcos could aid the recovery efforts through cost effective innovative data bundle for young entrepreneurs as well as lower bandwidth cost that will offer more data at lower cost.
"Telcos should ensure that their traffic is localised, that will help to reduce cost for them," he added.
Nodding in agreement, Muyiwa Ogungboye, managing director / chief executive officer, eStream Networks, said that Nigerians now appreciate telecommunications service as important in the economy with the lockdown.
He urged telcos to improve on the quality of service and ensure robust network that will accommodate new discovery of the new normal to be driven by ICT.
Looking to the future, Carlaw concluded by saying that "They (telcos) will be key in enabling a new digital society. Beyond the obvious conclusions that we are likely to see, including more remote working, more virtual meetings, and more virtual teams (all of which will be enabled thanks to the connectivity supplied by telcos), a raft of new solutions could accelerate GDP growth and all will require a robust level of support from the telco community,"