Must-Have Accessories For Your New Smartphone
By Adeniyi Ogunfowoke,
Smartphones were once considered a luxury. However, today, almost everyone owns a smartphone. In fact, it has become a necessity as they do not only help people keep in touch but can also allow them to get whatever they need. Nonetheless, when you buy a phone, all that you get is a phone with a few accessories, such as a charger and an earphone. There is a lot more than you can buy separately to improve your overall experience of using the phone. You can buy any of the accessories at a very affordable price on Jumia.
Power Banks
Despite carrying a lot of advanced features, mobile phones still don't have infinite battery life. You'll have to recharge them from time to time. Since charging points aren't always accessible, carrying a phone power bank now becomes essential. If you do not have a power bank, you can get one on Jumia.
Portable Bluetooth Speakers
Modern Bluetooth speakers are more compact and convenient to carry around. They are now wireless and come with really innovative features and eye-catching designs. Power banks have excellent sound performance, built-in LED and rechargeable batteries that can run for 5 to 8 hours. With the portable Bluetooth speaker, you will say goodbye to boredom.
Smartwatches
You can easily go without a smartwatch. However, considering how much time and effort it can save you from having to open your bag and fish out your devices, it may actually be worth it. You can answer calls, send text messages and check your email even if your phone isn't around.
Headphones
Whether you're on a flight or just walking around the city, blasting your favorite music can make the activity more worthwhile. A headphone is a great option for music enthusiasts. Apart from the good audio performance, it also has the ability to collect noise data and cancel them.
How Telcos Can Rebuild Nigeria in Wake of COVID-19
The COVID-19 pandemic has had devastating effect on all social and economic sectors. In just three months, the pandemic has left tears, sweats and blood on the people and the economy.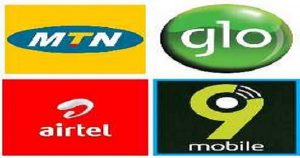 For Nigeria, the pandemic is an eye opener and a rude welcome to a new normal- knowledge economy.
Lagos state relies heavily on knowledge economy and that accounts for the success it is recoding in the fight against COVID-19.
Apart from the ingenuities by Lagos and a few other states, Nigeria's overall response to COVID-19 has been less than satisfactory.
The new phases of recovery; and thriving- will be defining for the country; and as seen in this crisis, telecommunications are playing role in retaining any semblance of normalcy.
In recovery stage, telcos will also help manage the transition out of COVID-19 related stagnation as well as provide a resilient national infrastructure to stimulate GDP growth.
ABI Research, global tech market advisory firm, in its new whitepaper, "Telcos As a National Growth Accelerator", identified several strategies that governments can utilize to invest in stimulating growth by strengthening the Telco position.
Locally, experts said Nigeria must leverage on the disruption to create a knowledge based economy.
To do this Stuart Carlaw, chief research officer at ABI Research, said that, "it could be argued that telcos could play a pivotal role in countries being able to rebound from the financial and productivity shock coming from COVID-19."
ABI Research found that telcos have been invaluable in enabling some semblance of societal continuation during lockdowns due to COVID-19.
"In a very tactical way, they have enabled governments to track, trace, and manage the spread of the virus, communicate effectively and directly with people, and keep supporting society in a virtual, but valuable way. Without the investment and operational diligence of many telcos, the impact of COVID-19 would have been far deeper and more profoundly felt in all economies." Carlaw stated.
For Olusola Teniola, president, Association of Telecommunications Companies of Nigeria (ATCON), the biggest recovery for Nigeria will be by the careful and full implementation of all recommendations in the Nigerian National Broadband Plan 2020-25.
"Secondly, for there to be an immediate impact, government needs to kickstart the e-Gov digital migration, which means the immediate development of e-systems in all the MDAs and web-portals in different languages (Yoruba, Igbo, Hausa as a minimum) with voice assistance for the physically challenged. This will refocus and redeploy government spending on creating jobs on the supply side for the youth and demand from the citizens interacting with the systems to fulfil different needs." He added.
According to him, underpinning all this is the massive employment and retraining of our citizens to become more productive whether from home, office or in business centers in malls.
Also, Mohammed Rudman, managing director, Internet Exchange Point of Nigeria (IXPN) said telcos could aid the recovery efforts through cost effective innovative data bundle for young entrepreneurs as well as lower bandwidth cost that will offer more data at lower cost.
"Telcos should ensure that their traffic is localised, that will help to reduce cost for them," he added.
Nodding in agreement, Muyiwa Ogungboye, managing director / chief executive officer, eStream Networks, said that Nigerians now appreciate telecommunications service as important in the economy with the lockdown.
He urged telcos to improve on the quality of service and ensure robust network that will accommodate new discovery of the new normal to be driven by ICT.
Looking to the future, Carlaw concluded by saying that "They (telcos) will be key in enabling a new digital society. Beyond the obvious conclusions that we are likely to see, including more remote working, more virtual meetings, and more virtual teams (all of which will be enabled thanks to the connectivity supplied by telcos), a raft of new solutions could accelerate GDP growth and all will require a robust level of support from the telco community,"
World Finance Names ICSFS as Best Islamic Banking & Finance Technology Provider
The latest edition of World Finance magazine is out now and has confirmed ICS Financial Systems (ICSFS) as Best Islamic Banking & Finance Technology Provider as part of its Islamic Finance Awards.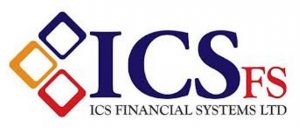 The Islamic banking sector has been growing rapidly in recent times and it is certainly an area of the market that ICSFS has been supporting through its Shari'a compliant solutions.
One of the products that particularly caught the eye of the World Finance judges was ICS BANKS, a fully integrated banking application developed by ICSFS that enables banks to automate and streamline their services.
ICS BANKS comes with a bespoke Islamic service that has helped financial institutions to achieve a competitive edge by offering a comprehensive suite of Islamic banking solutions. In an interview with World Finance, Robert Hazboun, Managing Director of ICSFS, explained why the platform is making such a difference to customers.
"ICS BANKS helps banks stay at the cutting-edge of technology through applications like cloud banking, APIs, open banking and blockchain," Hazboun explained. "ICS BANKS' customers can also enjoy a clear flow of information online using the platform's reporting tools.
"This enables them to easily understand and analyse their status at any time, which can help inform their decisions regarding mergers and acquisitions. Lastly, ICS BANKS' innovative technological tools future-proof banks and transform them into pioneers in their industry."
Although the popularity of Islamic banking has grown significantly in recent times, the products and services available to customers often remain underdeveloped. The work being undertaken by ICSFS demonstrates that this is unlikely to remain the case for much longer.
COVID-19: OAU OAK-Park Unveils Unique Nose Masks
As the nations of the world groan and grieve under the siege of Covid-19 pandemic, African scientists are being challenged to help Africa look inwards and create effective homegrown solutions in combating the pandemic.
In line with this challenge, the World Bank sponsored Africa Centre of Excellence, a technology innovation park of the Obafemi Awolowo University in Nigeria, is leading the way through the production of nose mask, a key Personal Protective Equipment as part of the concerted response against COVID-19.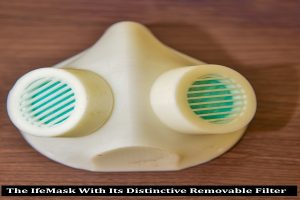 Prof Adesola Aderounmu, Dean, Faculty of Technology, Obafemi Awolowo University, OAU in a statement on Wednesday revealed that the locally made nose mask code named 'IfeMask' was designed, developed and produced using locally sourced materials by OAU ICT-Driven Knowledge Park (OAK-Park).
According to him, "the mask is unique. It draws its uniqueness in its durability, reusability and comfortability.
"The reinforced rubber material and acrylic painted body makes it possible to be washed and decontaminate after each use.
"The mask does not change shape on reuse and is comfortable to wear. It also embeds an N95 compliant high-efficiency particulate air filter material which allow for breathing while trapping foreign objects.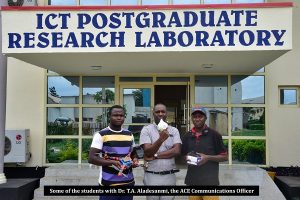 "The filtering material can be changed after each use. The detachable mask is easy to assemble and dissemble within 2 minutes".
Prof Aderounmu noted that the design, developing and production of IfeMask aligns with the vision of the World Bank, to create regionally-recognized and acknowledged Centres in Africa that is driven by high quality, commercialized research and technology; and in the case of OAK-Park, to also advance the growth of ICT industry.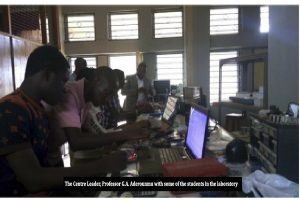 "OAK-Park has been a trailblazer in this regard with other products such as drone and finger print scanner all locally produced in its line.
"Currently, the Park is engaging potential manufacturers for a large scale production of the Ife Mask in order to make it widely available, he added.